Who's the coolest and most enthusiastic member of Star Guardians? It's Seraphine, no doubt.
The starry-eyed songstress is one of the newest additions to Riot Games' cosmic protectors in the Star Guardian 2022 skin line. Her spontaneity shines in Wild Rift's promotional videos, which show her as the squad's vlogger who enjoys filming her fellow members and her white cat, Bao.
Soon after her official SG splash art was released, SeeU worked her magic and portrayed the champion in her Star Guardian attire.
---
SeeU nails everything in this Star Guardian Seraphine cosplay
Chinese cosplayer SeeU stunned LoL and Wild Rift fans with one of her latest works. She showed off the beauty of Star Guardian Seraphine dressed in the champion's pink and orange outfit, complete with her prop star-shaped microphone.
The champion's blonde hair and orange color palette appears to be heavily inspired by the Sailor Moon franchise's Minako Aino, also known as Sailor Venus.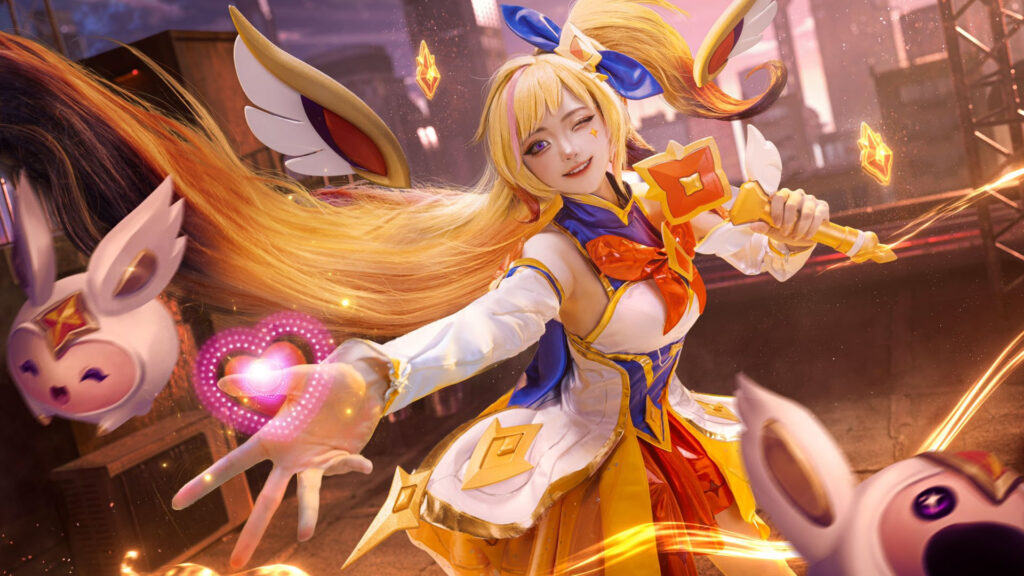 ---
---
Not only has she perfectly portrayed the champion in terms of makeup, wig, and costume, SeeU's editing skills were also on a whole new level. Instead of opting for a plain background or an outdoor setup, SeeU edited her cosplay photos to look like the official Wild Rift splash art.
These photos showed the Star Guardian Seraphine cosplayer on her Hextech Music Platform hovering around the school's rooftop building together with her familiars.
Star Guardian Seraphine is a Wild Rift-exclusive skin priced at 990 Wild Cores.
The Star Guardian skin line debuted in 2015 as Riot Games' tribute to the magical girl genre (maho shojo) in anime, drawing inspiration from classics like Cardcaptor Sakura and Sailor Moon. It started as a thematic in League of Legends, and slowly expanded to other Riot Games titles like Wild Rift and Legends of Runeterra due to its popularity.
SeeU has also cosplayed other League of Legends characters like Arcane's Powder and Jinx. Check out more of her cosplays on her Twitter (@seeu_cosplay) and Instagram accounts (@seeuxiaorou).
READ MORE: Exclusive: How Shunsuke's dad went from confused to crying about cosplay