Updated on February 27, 5:35 p.m. (GMT+8): Edited introduction, added photos.
If you're new to Valorant, you'll notice that you can only play a select few agents in the game.
Only five agents are immediately available for players, so it is essential to know how to unlock agents in Valorant.
There is a maximum of one unique agent per team, so it's important to unlock as many agents as you can so that you won't be forced to play a character you're unfamiliar with.
In addition, a larger agent pool will give your team more options when selecting duelist, controller, initiator, and sentinel roles.
---
---
This is how to unlock agents in Valorant
It is important to understand how experience points (XP) work in Valorant. You can earn XP by completing the tasks in your daily and weekly missions. 
Reaching certain XP thresholds will unlock tiers in your agent contract. To unlock a new agent in Valorant, you must first go to the agent tab on the main menu, select the agent you want to unlock, and activate their contract.
Keep playing until you reach tier 5 of the contract and earn 60,000 XP to unlock the selected agent.
Players can also purchase new agents for 1,000 Valorant Points (VP), which is around US$10 – the same amount as the Valorant Battle Pass.
Step-by-step guide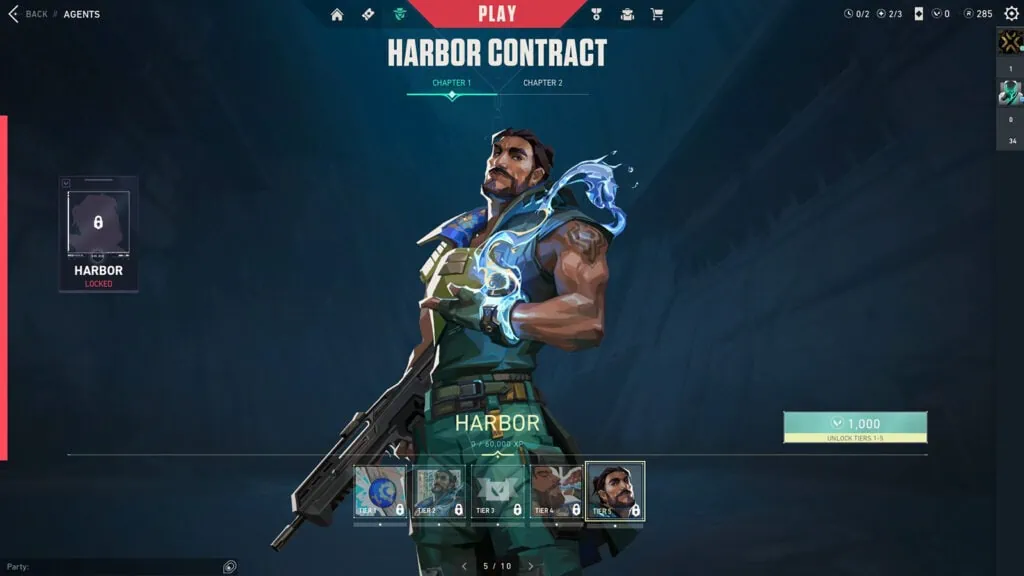 Log in to Valorant
Select the Agents tab on the main menu
Select the agent you want to unlock
Activate the agent contract
Complete tier 5 of the contract and earn 60,000 XP
READ MORE: The best maps for Harbor in Valorant