Taiwanese mandopop king Jay Chou just released his 15th studio album two months ago in July 2022 titled "Greatest Works of Art", his first after a six year break.
Now, he's achieved his best rank in League of Legends: Wild Rift.
In between recording new music, he still makes time for his favorite PC game, League of Legends, participate in special LPL segments, China's League of Legends Pro League, and even rank up on its mobile counter part.
Today, he just hit Master in WR, and was quick to share his accomplishment on Instagram with his 7.5 million followers with a screenshot of his Master emblem on his feed.
---
---
It took thousands of games for Jay Chou to finally achieve Master rank in Wild Rift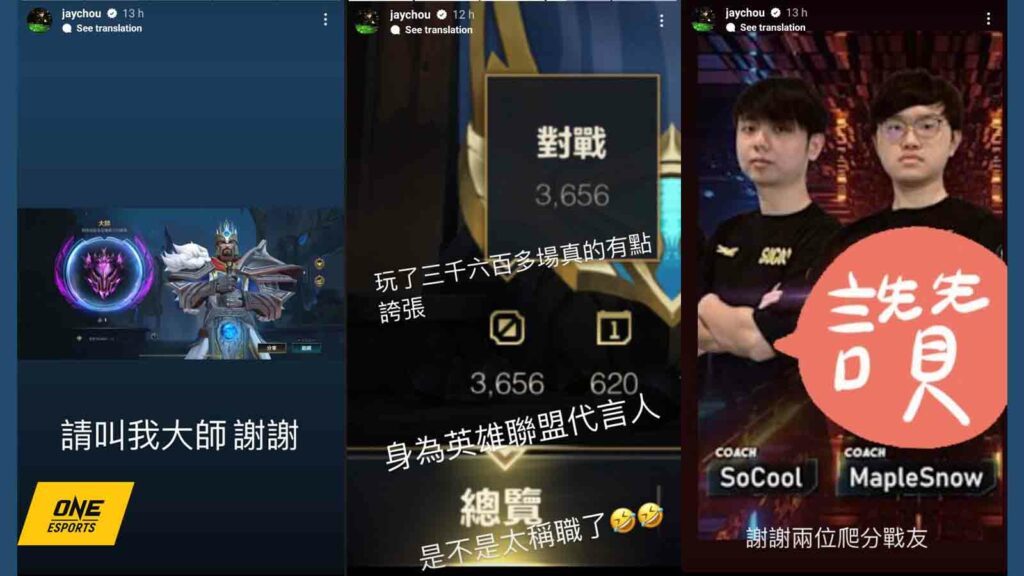 "Call me master, thank you," he wrote in his Instagram story, and followed up by sharing that it took him more than 3,600 ranked games just for him to hit this milestone.
He commented that playing this amount of games to reach this rank is a bit much, especially for a League of Legends ambassador.
"I'm too competent, don't you think?" he joked.
Jay Chou then thanked Chang "SoCool" Bo-hsin and Yang "MapleSnow" Yu-wei for duo queuing with him. They are currently coaches of ONE Team, a professional WR team founded by Samsung Taiwan and Cathay Financial Holdings.
"If you want to do something, you should go all the way but… I've already achieved Master. I shall rest for a bit," he added in his Instagram post.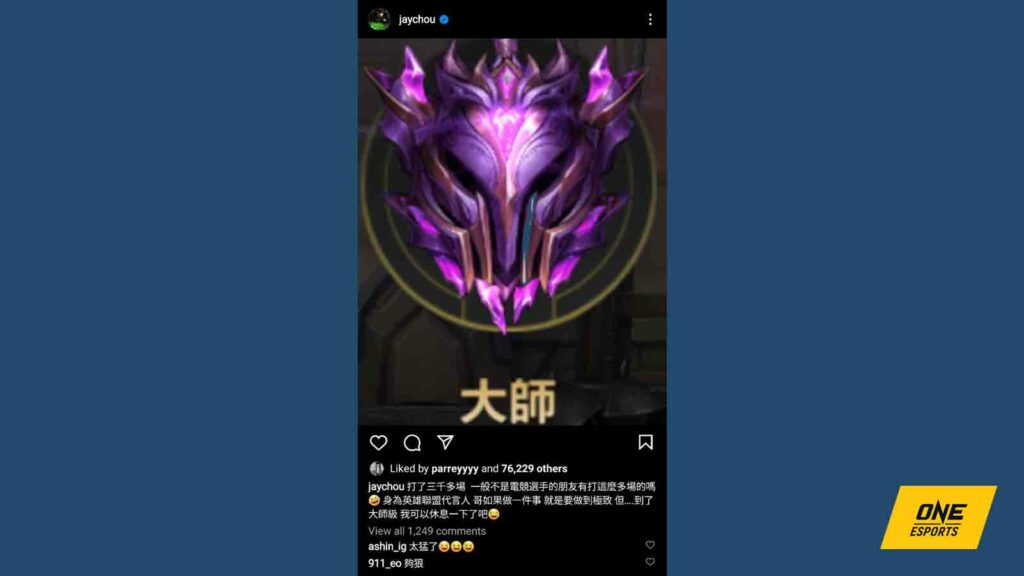 Master is the third highest tier in the Wild Rift ranked system, which run from Iron, Bronze, Silver, Gold, Platinum, Emerald, Diamond, then Master.
Above lies Grandmaster and Challenger, the tier which most pro players are in.
Majority of the player base are in Silver and Gold, which makes the mandopop star top 0.16% in the world according to Esports Tales, which pulls data from Riot Games' API to chart players' rank distribution.
Impressive, for a 43-year-old.
READ MORE: I can't tell if this is a Star Guardian Seraphine cosplay or official splash art