Valorant's new map is just around the corner. Codenamed Pitt, the map is all but confirmed to be set underwater on Omega Earth's version of Lisbon, Portugal.
Previous in-game clues in the form of email messages on Fracture and a player card in the Episode 4 Act III battlepass also point to the existence of a geodome, which was featured in the latest teaser posted on Valorant's official Twitter account.
The teaser image was posted alongside the caption "Prepare to dive," showing a sprawling city set beneath a vast underwater dome.
---
---
Dive beneath the waves on Valorant's new map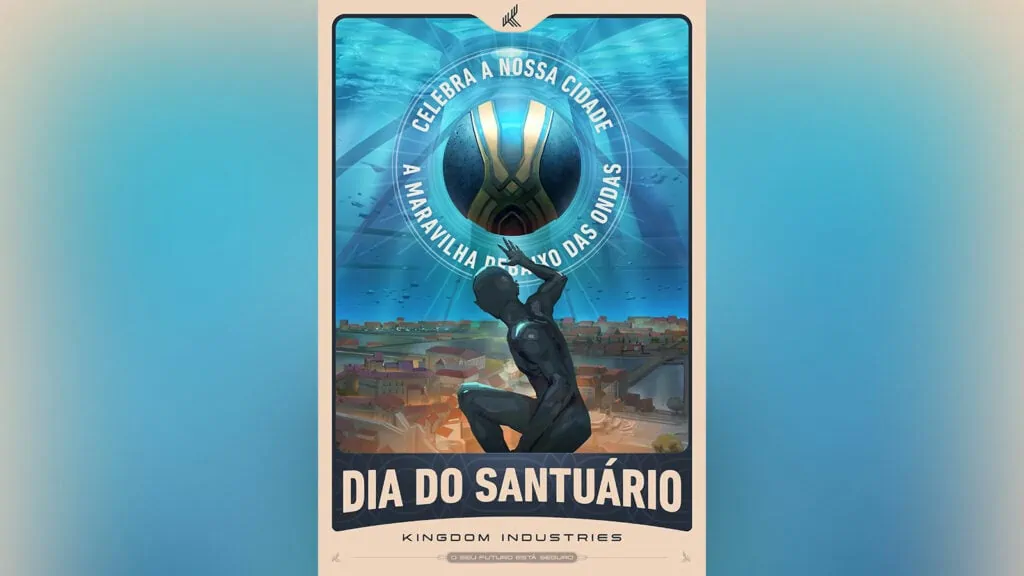 The picture looks like some sort of advertisement for an event, complete with a blue orb and bold text in Portuguese.
"Celebrate our city. The wonder beneath the waves," reads the text surrounding the orb. The bold words at the bottom roughly translate to "Day of the sanctuary," while the small text below the Kingdom Industries callout assures residents that "Your future is safe."
Thanks to the email messages on Fracture from Aurora, presumably the niece of Kingdom Industries employee Rúben Pontes, we know that the city faces a constant threat from high tides.
A statue sits in the foreground of the image, looking out into the distance and seemingly shielding itself from the geodome.
Fans were quick to draw similarities between this version of Lisbon and the underwater city of Rapture in hit franchise BioShock. The celebratory tone of the teaser and assurances of safety also echo Rapture's original goal of creating a utopian society for the elite to flourish.
The map is likely to arrive in Episode 5 Act I, which is expected to go live around July 7. It will be the first new map since Fracture was added to the game last September.
READ MORE: High-tech Xenohunter skin bundle looks like something out of Starship Troopers