The new interactive narrative objects found on latest map Fracture are Riot Games' way of pushing the boundaries of Valorant's lore.
Valorant consists of an intriguing world and larger-than-life characters, and the upcoming Act marks the arrival of lore-centric interactive narrative objects that can be found during the buy phase before rounds begin.
There are three in total for now, and players can activate them using the "F" key.
All the interactive narrative objects locations on Fracture
| | |
| --- | --- |
| Location | Interactive Object |
| Attacker Side Bridge | Level 5 Security Clearance for Paul Delmann |
| Defender Side Spawn | Welcome to Everett-Linde e-mail |
| Defender Side Spawn | Double Check e-mail |
Attacker Side Bridge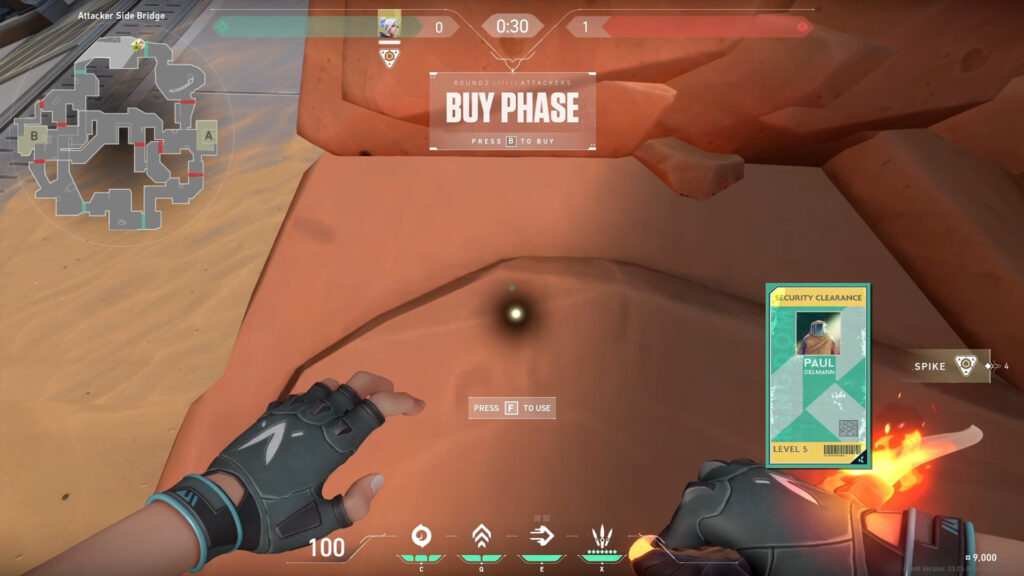 The first interactive narrative object can be located in the rocky high-ground portion of Attacker Side Bridge. Attackers will have to take the zipline across the map at the start of the round to get to it.
Upon prompting the object, players will find that it is a level 5 security clearance for Paul Delmann.
Fans will recall that he is Kingdom's employee of the year from Episode 2: Formation, Act 2 Battle Pass. The 'Good Job, Paul!' playercard had a green and gold variant as well.
Fans will also remember Paul from Icebox's kitchen where he was congratulated for being the employee of the month.
---
---
Defender Side Spawn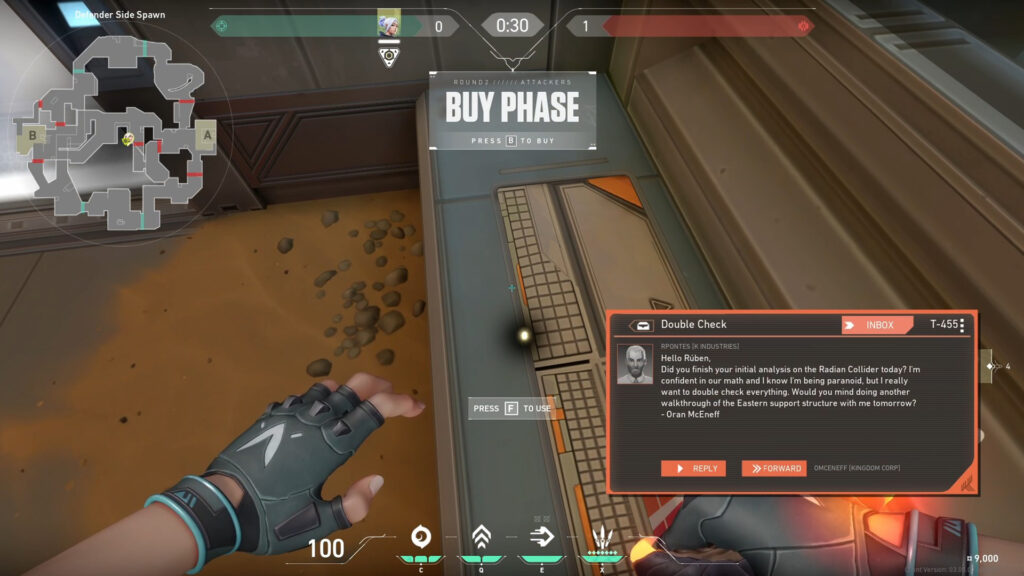 The Defender Side Spawn is where the Fracture map is split in two. Coincidentally, there are two interactive narrative objects located in it. One is a message from Oran McEneff to a man named Ruben Pontes, regarding a device called the Radian Collider.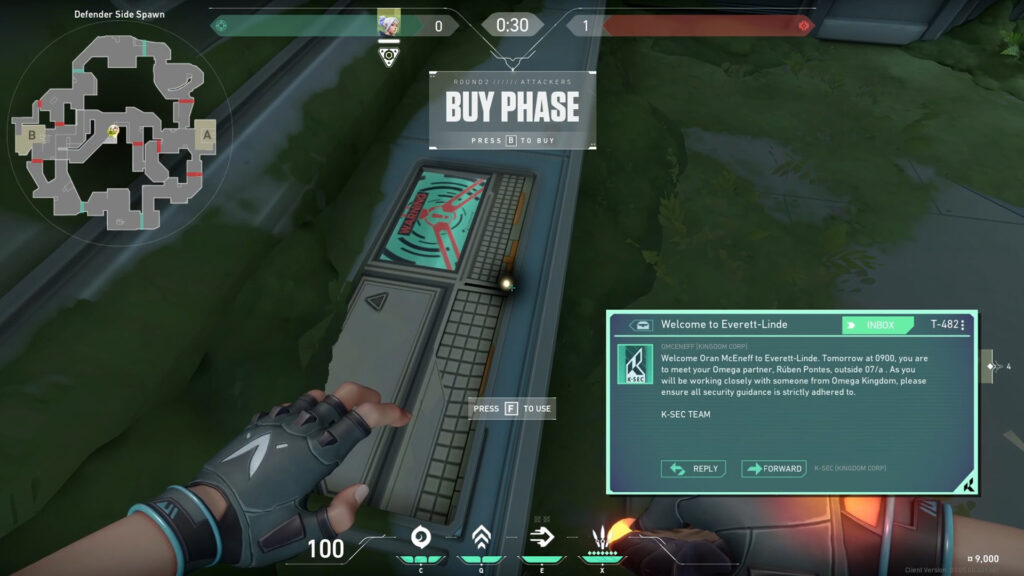 The other interactive narrative object reveals another message, this time sent by the K-SEC Team to Oran McEneff. It mentions that Ruben Pontes is McEneff's 'Omega partner' and they're to meet outside '07/a' the following day at 9:00 a.m. or 0900 military time.
These two interactive narrative objects hint towards Valorant's lore revolving around a separate universe with Earth-1, and the mirrorverse which we saw in the Duality cinematic released by Riot Games.
Fracture will have more interactive narrative objects in the future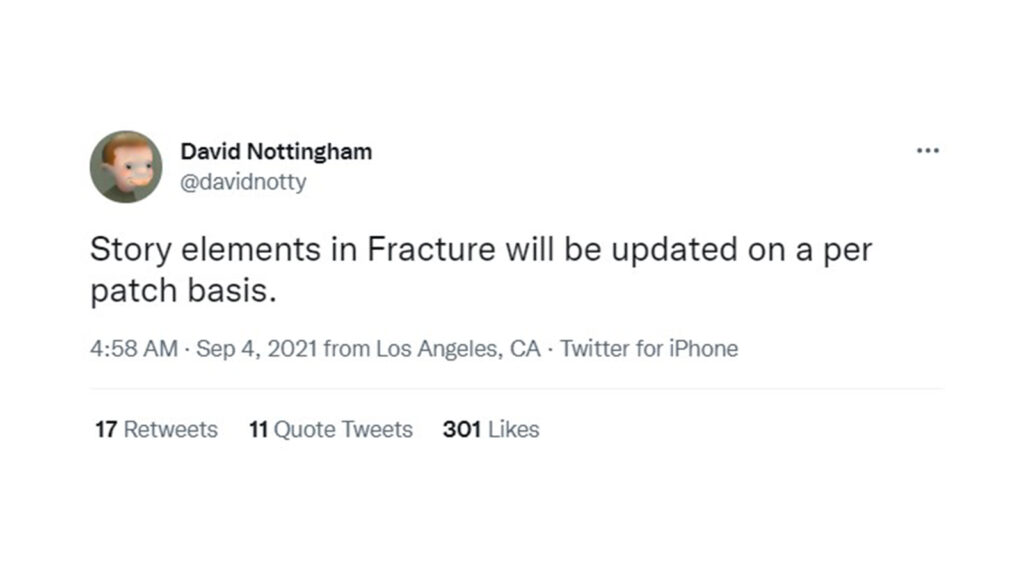 According to Valorant's Creative Director David Nottingham, players can expect new story elements to appear on Fracture after each patch. This isn't the first time we've seen Riot Games change parts of the map right before a new Valorant element was set to be released.
Longtime Valorant fans will remember that Killjoy was first teased through one of the stores on Split. They also changed what A-site looked like on Icebox when Yoru was released.
Both Astra and KAY/O also had their own Easter Eggs scattered around Haven and Breeze a few days before they were added to the game.
These new interactive narrative objects might indicate an upcoming agent or new map in the future. Could Kingdom's superstar employee Paul Delmann actually be the next agent in Valorant?
These new story elements will be updated after each patch moving forward so fans will have to wait for their Valorant lore questions to be answered.
READ MORE: Valorant Fracture map guide: Best strategies for attackers and defenders