Hong Kong esports organization Talon Esports is looking to enter the Valorant scene with a Filipino Valorant roster in the coming months.
The organization is currently scouting for players in the Philippines, with the hopes of competing in Riot Games' upcoming 2022 VCT Philippines Stage 2 Challengers in May.
Talon has been on a path of expansion in recent months, entering Dota 2 in late 2021 with an all-star roster.
Talon Esports is entering competitive Valorant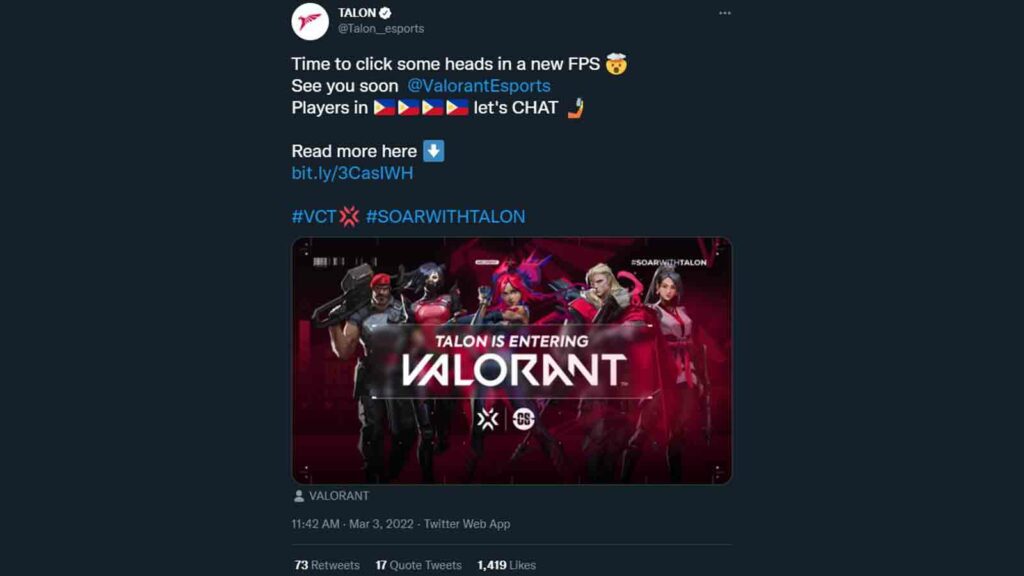 Talon has a rich history in competitive first-person shooters in the APAC region. It has won four Overwatch Contenders tournaments and is currently competing in the APAC North Division for Rainbow Six Siege, another tactical shooter.
---
---
The organization will be looking to find similar success as it ventures into Valorant. This will be the second time it has looked to the Philippines for talent when assembling a team. Its Dota 2 roster was originally headlined by Filipino player Kim "Gabbi" Villafuerte, although he has since departed the team.
Talon has had its eye on pro Valorant for a while now. Last December, the organization was reportedly exploring an entry into the Korean Valorant scene, but it eventually decided not to go ahead with those plans.
Talon Esports will first have to make it through the open qualifiers in the VCT Philippines Stage 2 Challengers. If the team moves forward to the group stage, they could eventually face VCT Philippines Stage 1 winners South Built Esports, or even Valorant Champions 2021 contenders Team Secret.
VCT Philippines Stage 2 Challengers is scheduled to kick off in May.
READ MORE: Hiko on Brimstone buff: 'Anyone on his team turns into a mini-Neon'