Wang "Jinggg" Jing Jie will not be part of Paper Rex's Valorant roster for the VCT 2024 season.
The team's coach, Alexandre "alecks" Sallé, said in a recent interview with Round Up Gamers that an unexpected roster change is scheduled to take place after Valorant Champions 2023.
Jinggg is expected to enter National Service at the start of 2024, preventing him from competing for at least one year. The compulsory duration of service is two years.
Jinggg will not return to Paper Rex's roster next year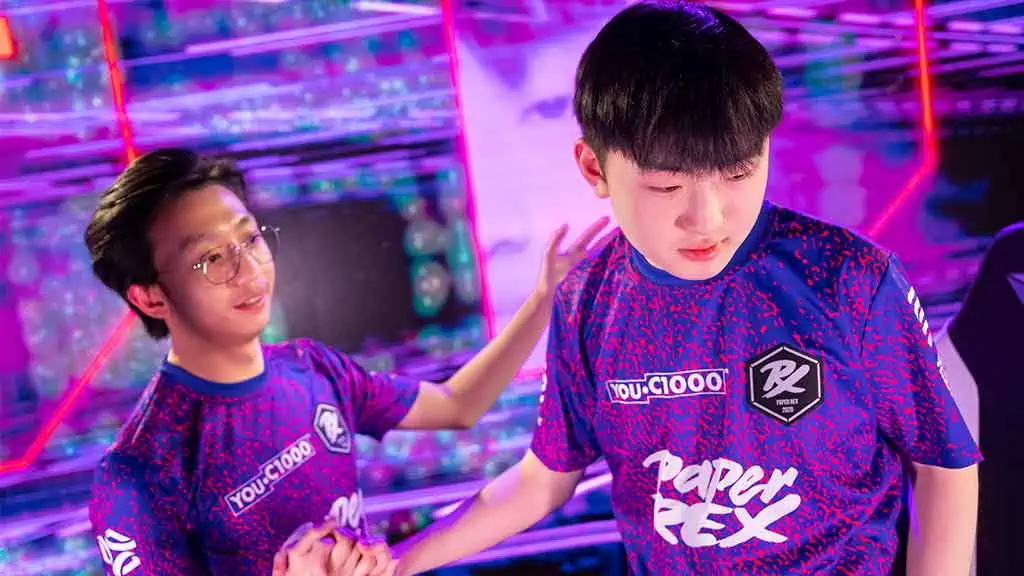 "Jinggg is leaving PRX at the end of this season and will not be participating in the 2024 season," said alecks. "We would like to send him to the army as soon as possible. That way, he will retire from the army sooner."
PRX has been the best team in their region this year, winning the inaugural VCT Pacific League and finishing 3rd at Masters Tokyo. The Singaporean-based team is also close to making history.
PRX has secured a top 3 finish at Valorant Champions 2023 after winning their first four matches in Los Angeles. They are now two series wins away from becoming the first Pacific team to win an international VCT event.
Jinggg joined PRX in 2021, replacing Zhang Teng "Shiba" Toh. The Singaporean star's addition to the team brought stability to the PRX roster, significantly improving the squad's tournament results.
In 2022, PRX showcased their prowess as the top team in the APAC region by emerging victorious in both the VCT APAC Stage 1 and 2 Challengers. The team's achievements extended beyond their region, with notable performances on the international stage, securing a 4th place finish at Masters Reykjavik and an impressive 2nd place at Masters Copenhagen.
PRX has had to go through player changes this season, with the team benching their IGL Benedict "Benkai" Tan before Masters Tokyo while adding Russian star Ilya "something" Petrov at the start of VCT Pacific.
Something missed out on making his international debut at Masters Tokyo because of visa issues. PRX had their substitute player Patiphan "CigaretteS" Posri compete with the team in Japan instead.
At the time of writing, the organization has yet to confirm who will take Jinggg's place on PRX's active roster for next year.
READ MORE: After undergoing extensive balance changes, Breeze is finally back in Valorant