At long last, Chinese Valorant teams will finally have a chance to compete at Valorant Champions through the recently announced East Asia Last Chance Qualifier (LCQ).
China does not have its own regional VCT league, which meant that teams did not have any way to break into international Masters events or Champions. While there is still no Chinese VCT league, this is the first time that teams are being offered a spot at the LCQ.
The East Asia LCQ is the final opportunity for teams from South Korea, Japan, and China to secure a spot at Champions.
---
---
The East Asia LCQ marks China's debut in the VCT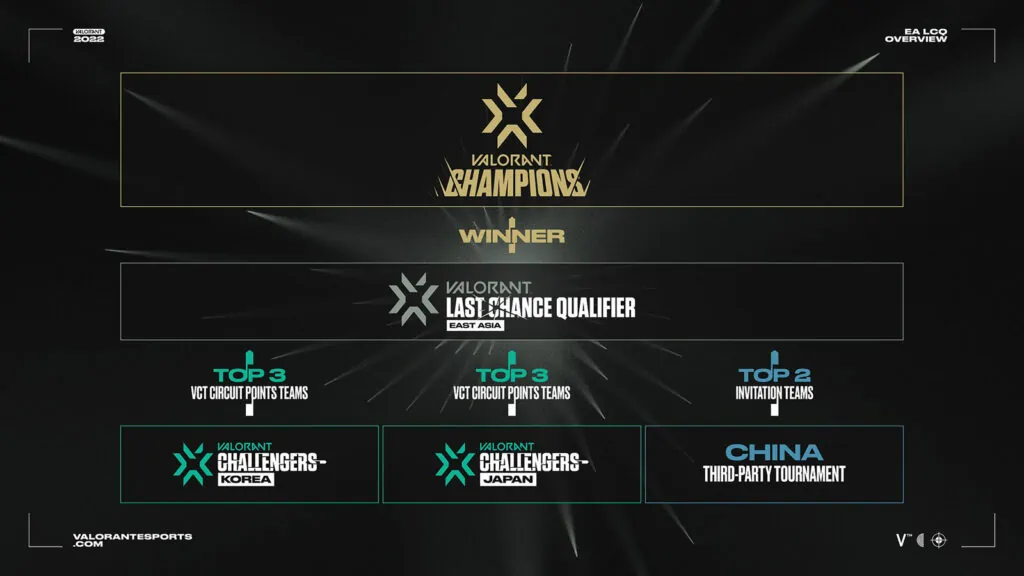 The East Asia LCQ will run online from August 8 to 14, featuring a total of eight teams. The top three teams from South Korea and Japan will automatically qualify for the LCQ, alongside the top two from China.
It is one of five LCQ tournaments that will take place globally, comprising North America, EMEA, Brazil and Latin America, and Asia Pacific.
The LCQ contenders from Japan and Korea will be selected based on the number of VCT circuit points accrued after VCT Stage 2 Masters Copenhagen. On the other hand, the Chinese teams will be determined based on past performances at third-party tournaments, such as the FGC Valorant Invitational.
However, it is far from certain that we will see a Chinese team at Valorant Champions, the biggest event of the VCT season. In order to qualify, a Chinese team would have to win the entire LCQ.
With Riot Games shifting toward its new partnership model in 2023 and introducing three new international leagues, it's also not yet clear how Chinese teams will fit into its new structure. The Asia league currently includes just Korea, Japan, Southeast Asia, South Asia, and Oceania.
That said, the Chinese League of Legends Pro League (LPL) is the largest top-tier professional league in League of Legends with 17 teams, so it may just be a matter of time before Riot expands the VCT to the country.
READ MORE: High-tech Xenohunter skin bundle looks like something out of Starship Troopers