Acend have announced that they are moving Aleksander "zeek" Zygmunt to the bench, just ahead of the EMEA Last Chance Qualifier in August.
Zeek first joined Acend last June from G2 Esports, where he traded places with Jose "koldamenta" Luis Aranguren.
The Polish player was part of the roster that won Valorant Champions in December, the biggest event in the VCT 2021 season. However, the world champions struggled to replicate their results in the 2022 season, narrowly avoiding dropping to the VCT Promotion tournament in Stage 1.
The team showed improvement in Stage 2 after bringing on Vakaris "vakk" Bebravičius and Ondřej "MONSTEERR" Petrů, advancing to the playoffs. However, they failed to make it to the top three in order to qualify for Masters Copenhagen.
---
---
Acend will trial new players to compete in the LCQ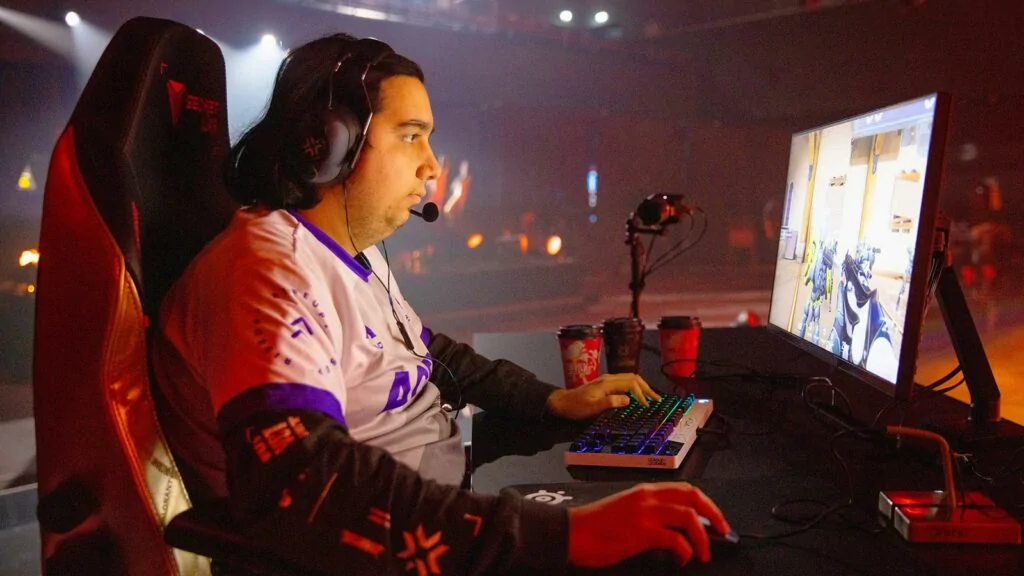 Zeek's benching means that only Mehmet Yağız "cNed" İpek and Patryk "starxo" Kopczyński remain from the roster that won Valorant Champions.
Santeri "BONECOLD" Sassi and Vladyslav "Kiles" Shvets were both dropped in the aftermath of VCT EMEA Stage 1 Challengers, with newcomer vakk taking over as the in-game leader.
In an announcement on Twitter, the organization said that "change was necessary" in order to improve its chances at the LCQ. At the same time, it confirmed that it would begin trialing a new player to prepare for the tournament.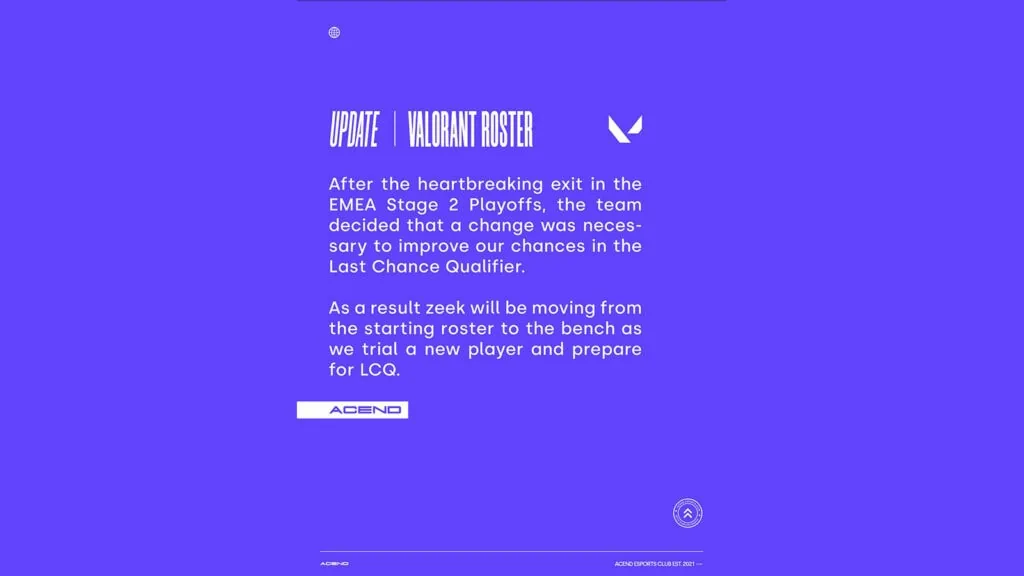 While some fans speculated that zeek's benching was related to his mental health, the 20-year-old swiftly quashed those rumors on Twitter. While he had missed a match in Stage 1, citing mental health struggles, the player said he was in a good place now.
"Since that horrible time during the first two months of the year, I am back to my normal self," he said. "My benching has nothing to do with it."
Instead, he said differences in vision were why he was being moved to the bench. "Acend staff and members of the team had different visions than I did," he explained. "It was beneficial for both of us to part ways."
This echoes what Mark "Krimson" Senior, Acend's Head of Esports, said about Bonecold's benching back in March, and it seems like the team has continued to be wracked with differing points of view since then.
Zeek had been serving as a secondary IGL of sorts, responsible for mid-round calling, getting players into position, and reading opponents. It's not clear if vakk will now assume those responsibilities, or if the team will be looking at their new player to shoulder the burden.
Acend exited the VCT EMEA Stage 2 Challengers playoffs after losses to M3 Champions and FunPlus Phoenix. They will have one more chance to qualify for Valorant Champions in the upcoming EMEA LCQ and defend their world title.
READ MORE: XSET BcJ: 'DRX stax is from a worse region and he gets too much credit'