At the end of the CPT North American Regional Finals, Street Fighter producer, Yoshinori Ono, took the stage to announce a new version of Street Fighter V called Champion Edition, and a new addition to the roster: Gill.
Gill first appeared in Street Fighter 3: New Generation as the final boss, but hasn't been a playable character since then.
The announcement also revealed a gorgeous new stage called Sun Chase Moon, which perfectly matches Gill's half-red, half-blue color scheme. Ono mentioned that the new character will be playable in December.
Based on the reveal trailer, it looks like Gill will be faithful to his SF3 incarnation, with a similar moveset to his brother Urien, but with added options and setups.
His first V-Trigger called Primal Fire is offense-oriented, while his second V-Trigger, Ice of Doom, has moves that extend combos and a parry function.
Other details revealed for Champion Edition include 40 playable characters, 34 stages, over 200 costumes, and new sets of V-Triggers and V-Skills for every character.
The game will also include an Arcade Mode, Team Battle, Online Matches, Cinematic Story, Extra Battle Challenges, and Fighting Chance as base features.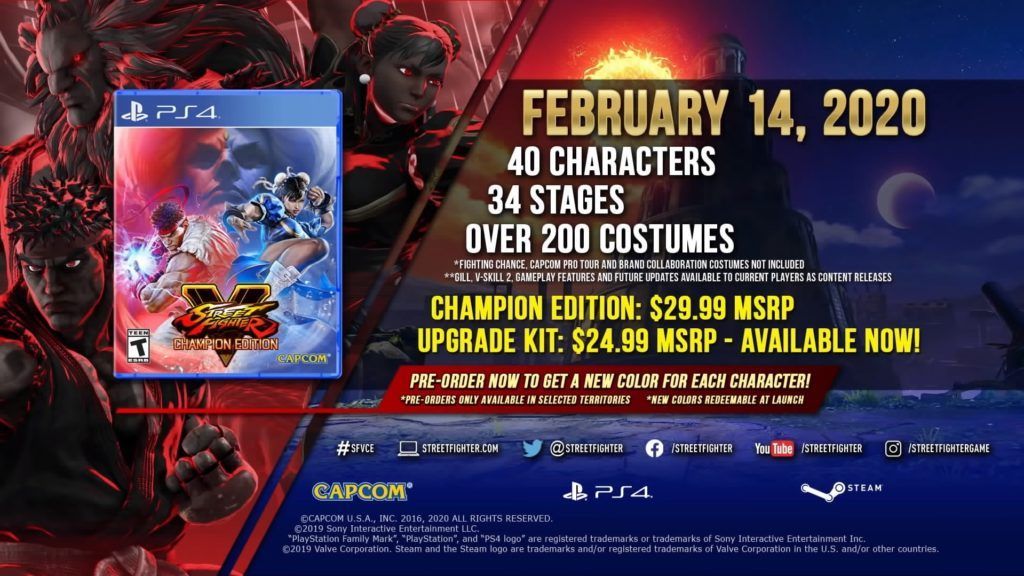 Street Fighter V: Champion Edition is available for preorder now and will be released on February 14, 2020. The game will cost US$30, with the upgrade kit priced at US$25.
READ MORE: Meet SherryJenix: The only female pro in Street Fighter League