It's official: Amjad "AngryBird" Alshalabi will be going to Capcom Cup 2020.
The Emirati SFV: CE pro player qualified after winning the Capcom Pro Tour Europe/Middle East 2 online qualifier.
And he didn't just win; AngryBird didn't lose a single match, advancing to the grand final on the winners' side.
He also defeated fellow competitor and close friend, Adel "Big Bird" Anouche during the winners' final en route to his online qualifier win.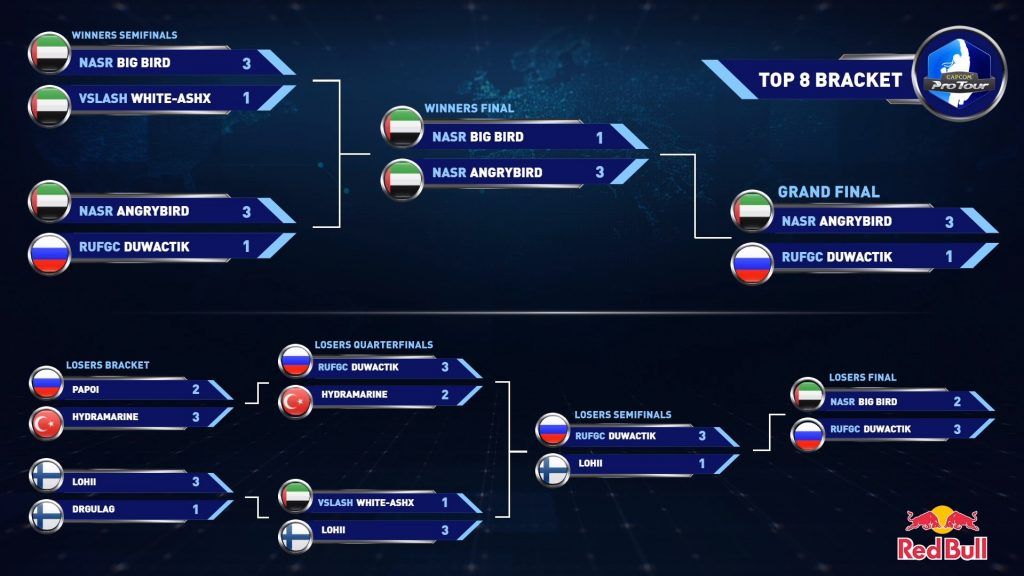 In the grand final, AngryBird faced skilled Urien player Alexey "Duwactik" Nikolaev.
AngryBird set the tempo in the first game of the grand final, destroying Duwactik with two quick perfect rounds. AngryBird made perfect use of Zeku's quick jabs and long range normals to counter Duwactik's attacks, answering with his own damaging combos.
---
---
After losing three convincing rounds in a row, Duwactik got back into the match by making use of Urien's Headbutt which stopped AngryBird's offensive pressure.
However, AngryBird made the proper adjustments and used Zeku's Shoulder Tackle from mid-range to stop Duwactik's long range attacks. And, after each knockdown, AngryBird mixed up his wakeup pressure with low attacks, overheads, and jump-ins that opened up Duwactik.
Duwactik was on the verge of pulling off an impressive comeback after trapping AngryBird in the corner. But, AngryBird was able to escape in the nick of time by landing a sliding attack and clutched out the round with two timely throws.
AngryBird now joins Arman "Phenom" Hanjani, Yoryi "DR Mandrake" Bueno, Niel "SKZ" Chong, Gonzalo "Pikoro" Buleje, Houmaid "Takamura" Rabie, Daigo "The Beast" Umehara, Christopher "Caba" Rodriguez, Alan "Nephew" Sun, Bryant "Smug" Huggins, and reigning Capcom Cup champion Derek "iDom" Ruffin as competitors for Capcom Cup 2020.
READ MORE: 'Street Fighter Alpha III is the best fighting game system ever' says Daigo