The 2020 Capcom Pro Tour has officially started, with the European East & Middle East 1 online qualifier.
After two days of intense Street Fighter V: Champion Edition action, Arman "Phenom" Hanjani became the first player to win an online qualifier tournament, defeating tournament favorite Adel "Big Bird" Anouche in the Grand Final.
The online qualifier event included 105 participants and had three clear contenders: Phenom, Big Bird, and Amjad "AngryBird" Alshalabi, who finished in first, second, and third place respectively.
Phenom dominated the competition with Karin, and outplayed AngryBird 3-2 in the Winner's Semifinals. He then moved on to defeat Big Bird twice — once in the Winner's Final 3-1, and again in the Grand Final 3-2.
With Phenom's first place finish, he became the first player to qualify for Capcom Cup 2020. He will be joined by Capcom Cup 2019 champion Derek "iDom" Ruffin, 17 online tournament qualifiers, and a Capcom Cup 2019 fan favorite player voted in by the fans.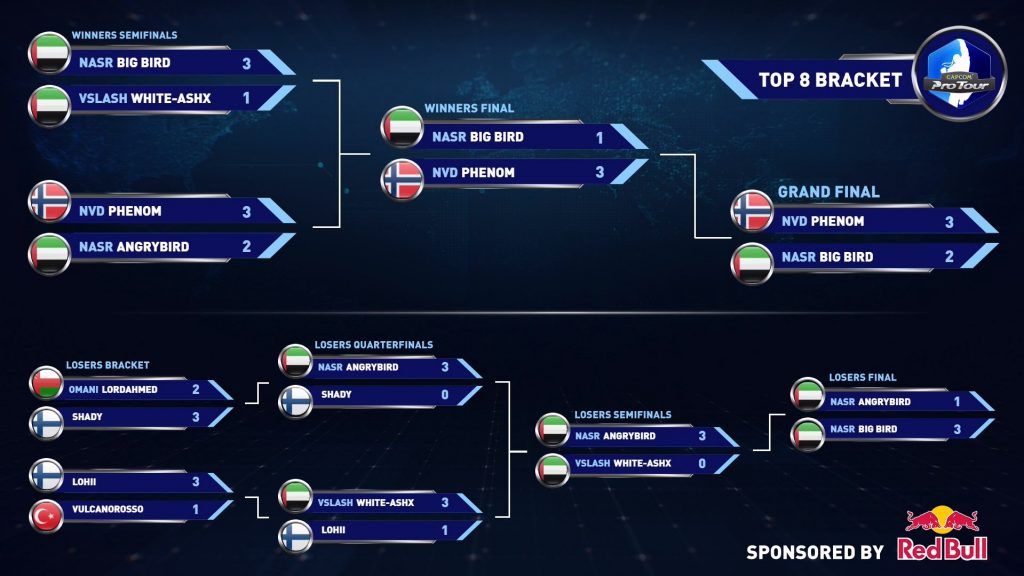 ---
Grand Final
In the Grand Final match, Big Bird was able to win the first game by adjusting to Phenom's patient play style with his own rush down offensive strategy. Big Bird also made use of Rashid's new wall jump V-Skill to open up Phenom.
Phenom then stopped Big Bird's momentum and evened the score 1-1 by using more throws in the match. Phenom also displayed amazing defense by blocking Big Bird's incoming attacks while being trapped in the corner.
Phenom then won his most dominant game of the Grand Final by trapping Big Bird in the corner, which prevented Rashid from going on the offensive.
---
---
With Phenom on match point, Big Bird then put together three impressive rounds and was on the verge of resetting the brackets.
But, Phenom would not be denied as he pulled off the most impressive comeback round of the tournament to reach tournament point.
The final round of the tournament was highly contested as both players exchanged blows, but Phenom managed to clutch it out after landing two counter his to win the qualifier event.
After the match, Big Bird congratulated Phenom for winning the qualifier, but then brought up his concerns regarding Capcom lumping the Arabian Peninsula with the European qualifier.
READ MORE: Daigo reveals the characters he wants to see added to Street Fighter V: Champion edition