The top 20 teams from five countries will face off for the $100,000 USD prize pool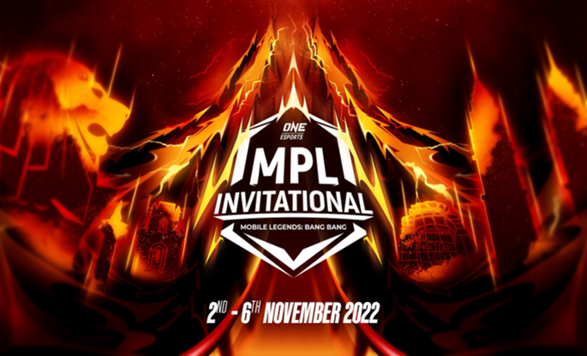 ONE Esports, a subsidiary of Group ONE Holdings (ONE), together with MOONTON Games, will host the Mobile Legends Professional League Invitational (MPLI) 2022 for the third year running. The online tournament will take place from 2 – 6 November 2022 and will be livestreamed on ONE Esports' Facebook, TikTok, Twitch, Twitter, and YouTube platforms. The event will be streamed in Bahasa Indonesia, Bahasa Melayu, English, Tagalog, and Khmer.
The top Mobile Legends: Bang Bang teams from the Mobile Legends: Bang Bang Professional League (MPL) in Southeast Asia will participate in the highly anticipated event. A total of 20 teams will compete in a single elimination bracket for the $100,000 USD prize pool. The 20 teams competing in this year's MPLI are:
Country
Team Name
Cambodia
Burn x Flash
Indonesia
Alter Ego Esports
AURA Fire
Bigetron Alpha
EVOS Legends
Geek Fam
ONIC Esports
Rebellion Zion
RRQ Hoshi
Malaysia
Team HAQ
Todak
Orange Esports
Philippines
Blacklist International
Bren Esports
Echo
ONIC Philippines
RSG Philippines
Smart Omega
Singapore
RSG SG
Slate Esports
This year's MPLI features a unique Captain's Draft format that will determine the first-round bracket. The four MPL Champions from Indonesia, Malaysia, Philippines, and Singapore will automatically qualify for the quarterfinals, be drafted into four groups, and will pick their opponents by drafting teams into their brackets. The draft order will be determined with a lottery-style draw. Once the order has been determined, the Captain's Draft will proceed in a snake format (i.e. 1, 2, 3, 4, 4, 3, 2, 1) until all teams have been selected.
The Captain's Draft will take place on 28 October at 7PM (GMT+8) and will be livestreamed in English on the ONE Esports' Facebook, TikTok, Twitch, Twitter, and YouTube platforms. The draft will be hosted by popular Indonesian streamer, Aeterna, and MPL shoutcaster, Mirko, who clinched the title of Best Junior Caster during the MPL ID S7.
MPLI 2022 will begin on 2 November at 1PM (GMT+8) with the finals culminating on 6 November at 1PM (GMT+8).
– END –
About ONE Esports
ONE Esports features the world's biggest games, the world's best teams, and the world's best esports athletes. As the Home of Esports Heroes, ONE Esports unleashes esports heroes who ignite the world with hope, strength, dreams, and inspiration. ONE Esports also owns oneesports.gg, a top global esports site that reaches millions of visitors each month, and delivers to its community the latest esports news, reviews, features, how-to guides, and in-depth stories on esports athletes, teams, and fans.

For more updates on ONE Esports, please visit www.oneesports.gg, follow us on Twitter and Instagram @ONEEsports, Facebook at www.facebook.com/ONEEsports, and LinkedIn at www.linkedin.com/company/ONEEsports/.
Media Contact:
ONE Esports
Elissa Young
Senior Manager of PR & Communications
(e): e.young@oneesports.gg
(m): +65 9226 4022