San Francisco Shock and Team South Korea head coach, Da-hee "Crusty" Park, has announced the full 12-man roster that will be winning competing at this year's Overwatch World Cup at Blizzcon in November.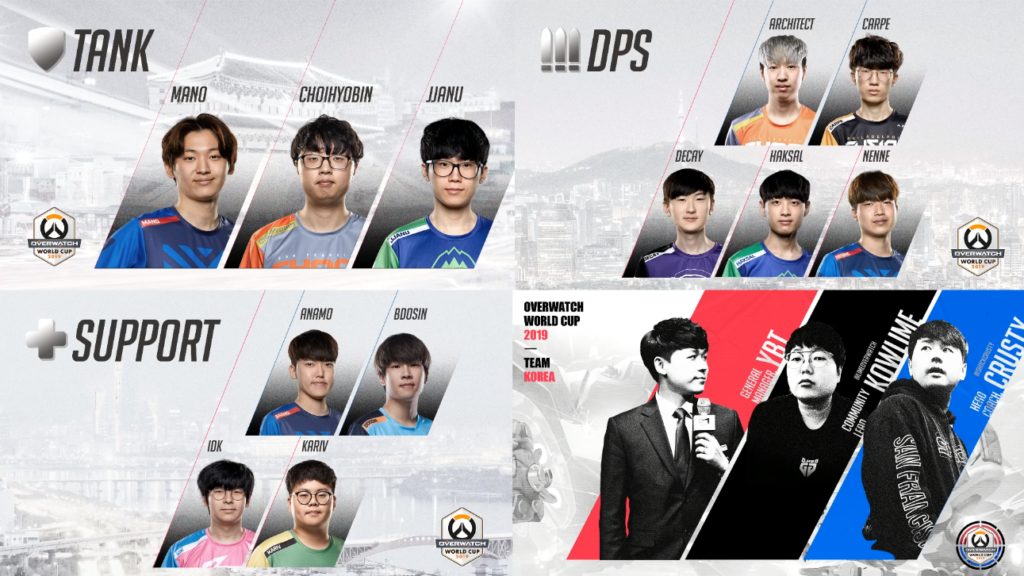 Tanks:
Dong-gyu "Mano" Kim — New York Excelsior
Hyo-bin "ChoiHyoBin" Choi — San Francisco Shock
Hyeon-Woo "JJANU" Choi — Vancouver Titans
DPS:
Minho "Architect" Park — San Francisco Shock
Jae-hyeok "Carpe" Lee — Philadelphia Fusion
Gui-un "Decay" Jang — LA Gladiators
Hyojong "Haksal" Kim — Vancouver Titans
Yeon-kwan "Nenne" Jeong — New York Excelsior
Support:
Taesung "Anamo" Jung — New York Excelsior
Seung-tae "Bdosin" Choi — London Spitfire
Ho-jin "iDK" Park — Hangzhou Spark
Young-seo "KariV" Park — LA Valiant
Crusty also revealed that a few players declined to participate in the Overwatch World Cup this year, naming Jae-hee "Gesture" Hong, Jun-ho "Fury" Kim, last year's World Cup MVP, Sung-hyeon "JJoNak" Bang, and Min-seong "diem" Bae, unfortunately denying us the chance of a Carpe diem DPS lineup.
Crusty also explained that Kariv and Bdosin were chosen over Vancouver Titans star support and MVP finalist, Ju-Seok "Twilight" Lee, because he didn't perform as well in the mixed roster tryouts.
Anamo and iDK were also chosen over the Titans other support player, Sung-jun "SLIME" Kim, because they complimented Bdosin and Kariv better.
There's also a reason why Architect was picked over other star DPS players like Byung-sun "Fleta" Kim and Hae-seong "Libero" Kim.
"If I were the NYXL coach, I would have picked Libero. If I were the Seoul coach I would have picked Fleta. But I'm coaching Architect, and that's why I picked him," said Crusty.
READ MORE: Invincible: The South Korean overlords of Overwatch