After an action-packed two days of Mobile Legends: Bang Bang, Indonesia's PSG.RRQ emerged victorious as the first ever SEA Clash of Champions tournament winners.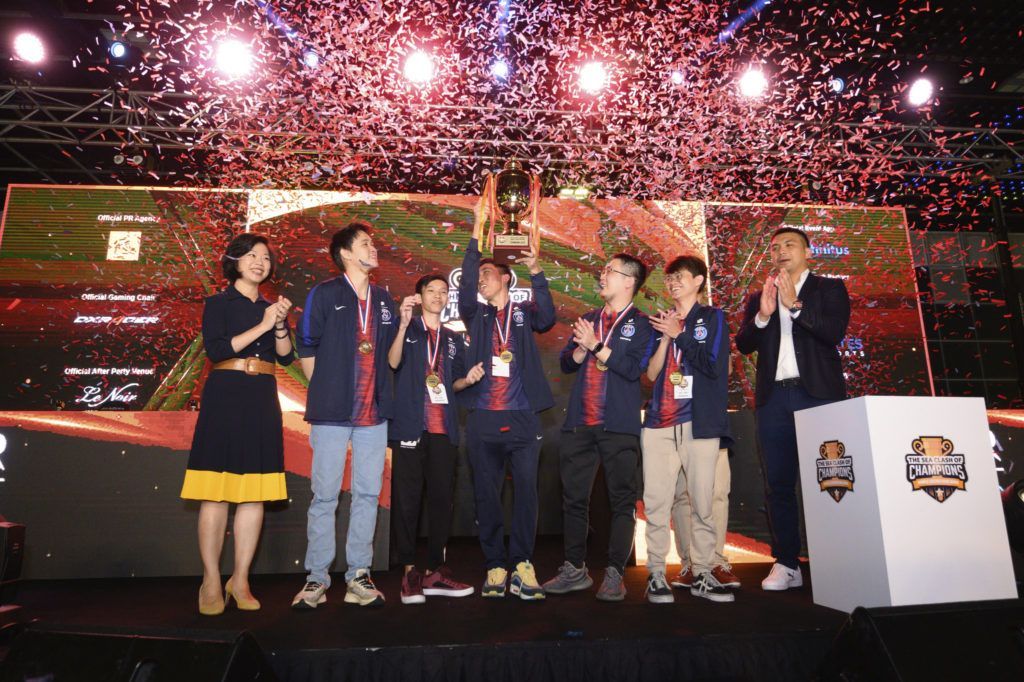 With two semifinals to play, only four teams remained at the start of the day: Indonesia's PSG.RRQ, Singapore's Evos Esports, Malaysia's Geek Fam, and the Philippines' Cignal Ultra. Both the semifinals and finals were played as a best-of-three series.
Here's how it all went down.
---
Semifinals
PSG.RRQ Vs Geek Fam
The first semifinal saw Indonesia's PSG.RRQ take on Malaysia's Geek Fam. Both teams came out swinging, with first blood coming just 40 seconds into the game when Geek Fam's Angelo and Karrie caught PSG.RRQ's Khufra out of position.
Both teams traded kills until around the 8-minute mark when a huge team fight broke out around the Turtle with PSG.RRQ almost completely wiping Geek Fam, losing only their Kimmy in the process. Another big team wipe by PSG.RRQ at the 10-minute mark and it was all over for Geek Fam.
In Game 2, Geek Fam looked strong in the early game, once again taking first blood just 50 seconds in when their Grock and Kadita swooped in on PSG.RRQ's Guinevere.
The Malaysian squad built themselves a slim lead until the 5-minute mark when a massive team fight ended in carnage with just Harith and Khufra left standing from PSG.RRQ and only Hayabusa escaping on Geek Fam.
From there, PSG.RRQ started to take control of the match, and while Geek Fam were able to keep the kill count fairly level, PSG.RRQ were able to take out both turrets on Geek Fam's bottom lane without too much resistance.
At the 12-minute mark, with Geek Fam staggering, PSG.RRQ killed the Lord, and a minute later, pushed into Geek Fam's base, team wiping them, and finishing off the game and the series 2-0.
Evos Esports Vs Cignal Ultra
The second semifinal of the day saw Singapore's Evos Esports taking on the Philippines' Cignal Ultra. Two weeks ago, Evos captain Robert "Oh Deer Bambi" Boon had singled out Cignal Ultra as the team he was "most afraid of" calling them "the best in the region."
First blood came just 40 seconds into game one, when CU's Khufra was caught out of position in the middle lane by Evos' Kimmy and Minotaur. At just under the 3-minute mark, CU managed to take down the Turtle, but Evos made them pay for it, taking out three members of CU in return.
Five minutes in, Evos were in the driving position with a 1,500 gold lead and an 8-2 kill lead. They took down the next Turtle, and started pushing CU's top lane. At 9-minutes, Evos won another decisive team fight and mowed down the Lord. With a 10,000 gold lead, and only two turrets remaining for CU it looked all but over for the Filipino squad.
However, Evos weren't able to finish it, getting team wiped in CU's base on their next push. While Evos were reviving, CU took down the level 2 Lord and immediately went on the counterattack with the Lord attacking Evos' top lane while CU attacked the middle.
With Evos reeling, CU pushed in again but Evos were able to defend, killing three from CU and chasing their retreating Grock and Selena all the way back base to CU's base. CU weren't able to revive in time and Evos finished it off, taking a nailbiting Game 1.
In the second game, Evos score first blood one minute into the game, taking out CU's Kadita, but after that, it was all CU. The Filipino squad took out the Turtle at the 3-minute mark and pressured Evos for the rest of the game, racking up 11 kills without retaliation. With an 11,000 gold lead at the 9-minute mark, and a huge level advantage, there was no way for Evos to come back and CU easily took Game 2.
Game 3 started with both teams playing cautiously, until a big team fight just over one minute in saw four members of Evos go down, with only one death on CU's side.
Another team fight over the Turtle at the 5-minute mark saw Evos emerge victorious this time, taking down three members of CU. By the 7-minute mark, Evos held a slim gold lead, but CU was up 9-6 in kills. CU took the next Turtle, but Evos started pushing their top and bottom lane, taking out both first turrets.
Just over ten minutes in, a huge team fight over the Lord saw both teams take heavy losses. While this was happening, Evos' Hayabusa tried a sneak attack on CU's bottom lane, nearly taking down the last turret but paying for it with his life.
Both teams regrouped and went again for the Lord. With three members of Evos dead, it looked like CU had the fight won and started attacking the Lord, however Evo's Akihiro "JPL" Furusawa's Khufra came out of nowhere, making an amazing play to steal the Lord from right under CU's noses, even managing to escape with his life. With the Lord on their side, Evos pushed in but CU were able to defend.
At the 17-minute mark, Evos tried to kill the Lord again but were chased off by CU. Evo's Hayabusa went for another sneak attack on the bottom turret, and this time was successful.
The rest of Evos took out the remaining CU turrets but CU wouldn't give up, killing two and forcing the rest of Evos to retreat. However, in the mayhem, Oh Deer Bambi's Harley managed to circle back into CU's base and, despite being surrounded by three CU players, somehow was able to finish off CU's base, winning the game and series in incredible fashion.
Finals
PSG.RRQ Vs Evos Esports
The finals pitted the undefeated PSG.RRQ against the hometown heroes, Evos Esports.
Both teams played cautiously to start, and first blood didn't come until the third minute when PSG.RRQ managed to pick off Evos' Lunox. By then PSG.RRQ had already killed the Turtle and climbed to a 1,000 gold advantage.
PSG.RRQ continued building momentum, and by the 8-minute mark were already up 9-1 in kills with an 11,000 gold advantage and huge level lead. Evos were never able to get into this one and just before the 10-minute mark, PSG.RRQ pushed into their base and finished it.
The second game was a lot more competitive, with both teams trading kills throughout. At the 10-minute mark, a big team fight broke out at mid, but PSG.RRQ somehow managed to whiff two ultimates, giving Evos a small chance.
With PSG.RRQ retreating, Evos pushed hard, taking out two turrets and threatening PSG.RRQ's base. PSG.RRQ managed to defend however and Evos were forced to fall back. Regrouping, Evos went for the Lord, but weren't able to finish it off before PSG.RRQ arrived on the scene. Somehow PSG.RRQ managed to steal the Lord away from Evos, but lost three players in the process.
At the 16-minute mark another huge fight broke out at mid over the Lord. This time Evos managed to get a full team wipe on PSG.RRQ, then immediately pushed their advantage, taking out RRQ's base while they were still reviving.
With one game to decide it all, RRQ stormed out of the gates aggressively. First blood came just over one minute in, when Evos' Leomord was caught out of position by RRQ's Lunox and Franco.
Evos' Grock and Harith fell soon after when RRQ pushed deep into Evos' top lane. At the 5-minute mark a team fight broke out over the Turtle, but RRQ emerged victorious again, taking down three members of Evos and the Turtle.
With an 8,000 gold lead, RRQ pushed Evo's middle lane and Evos had no answer, getting completely team wiped. At the 8-minute mark, up 14-3 on kills, RRQ decided to kill the Turtle again and had a commanding 13,000 gold lead. Just a minute later they pushed into Evos' base, wiping them yet again and sealing the victory and with it, the trophy and US$5,000..
"It feels really amazing to win. Evos is probably one of the best in Singapore — they put up a tough fight throughout. Our team combination was meant for a full team fight but we got a little complacent, allowing Evos to catch up," said M "Lemon" Ikshan of PSG.RRQ.
"It boiled down to our skills and mentality — we kept composure and read the map, changed our strategy to counter what Evos picked and were then able to control the game,"
Evos Esports walked away with US$2,500 as second-place finishers. While the Singapore team didn't win it all, they were able to avenge their MPL-MY/SG finals loss to Malaysia's Geek Fam in yesterday's group stages, and took out Cignal Ultra, who are considered one of the best teams in Asia.
"We had a little bit of miscommunication at the start — different ideas on how to play the early stages — but we managed to keep our composure and work as a team again," said Evos' Robert "Oh Deer Bambi" Boon.
"It's all about mentality; the last game meant that whoever won would be champions and that got us nervous — it'll be something we will work on for future games."
The Evos captain also added that he was satisfied with this team's performance, and was happy to have taken a game off PSG.RRQ.
SEE ALSO: K-pop idols who are also hardcore gamers