The last week of Mobile Legends: Bang Bang Professional League Philippines Season 8 (MPL PH Season 8) was action-packed, as every team scrambled to secure crucial points for the upcoming playoffs.
However, in the last series of Week 7, Nexplay EVOS and Smart Omega's match was met with a lot of criticisms. It even forced the MPL PH Operating Committee to launch an investigation into what actually happened in the bizarre series.
What happened in Nexplay EVOS and Smart Omega's match in MPL PH Season 8?
It turns out, some questionable decisions were made by teams in the first and second game of the MPL PH Season 8 series.
In the first game, all members of Nexplay EVOS went took Flame Shot as their Battle Spell, without a single Retribution. Renejay "Renejay" Barcase, Tristian "Yawi" Cabrera, and Jeniel "Haze" Bata-anon also locked in unusual heroes outside of their role.
Smart Omega went on to win that match with a 39-4 onslaught as both teams slugged it out in the midlane.
In the second game, Smart Omega went with two pure support heroes, Angela and Diggie.
It was now Nexplay EVOS who got the upper hand as Setsuna "Dogie" went on to finish with an astounding 17/12/15 KDA. With a feeding Diggie strategy in full effect, the game ended with a 61-26 kill score in just 15 minutes of game time.
Nexplay EVOS went on to win the series, 2-1, after a much more serious game three decider.
---
---
MPL PH operating committee's statement on Nexplay EVOS and Smart Omega's match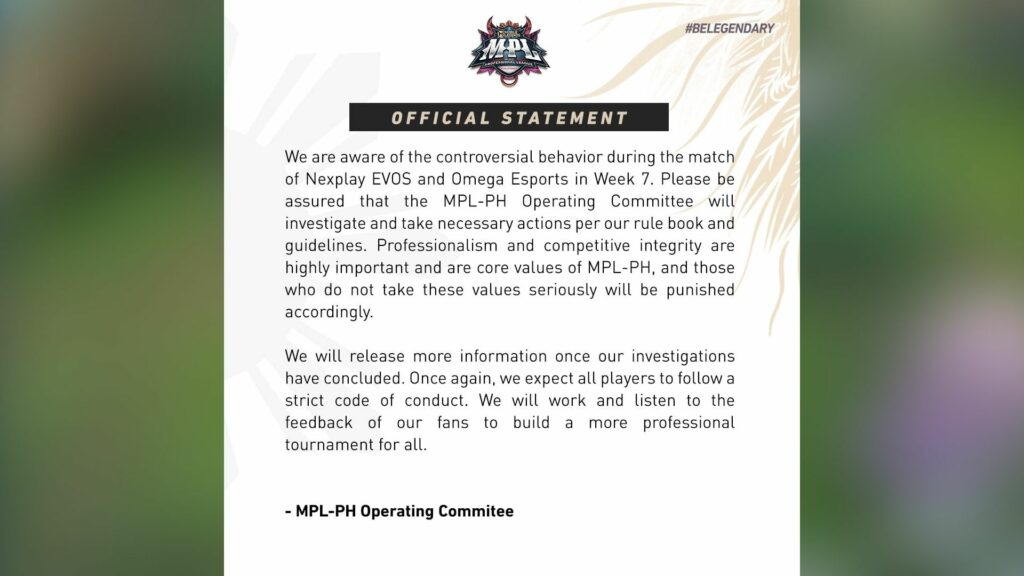 The MPL PH Operating Committee immediately released a statement after the series, informing fans that they are currently looking into the controversy.
"We are aware of the controversial behavior during the match between Nexplay EVOS and Omega Esports in Week 7," they wrote. "Please be assured that the MPL PH Operating Committee will investigate and take necessary actions per our rule book and guidelines,"
The statement ended with a reassurance that the integrity of the tournament will be upheld in the Nexplay EVOS and Smart Omega investigation.
"We will release more information once our investigations have concluded. Once again, we expect all players to follow a strict code of conduct. We will work and listen to the feedback of our fans to build a more professional tournament for all," the statement concluded.
READ MORE: OhMyV33nus on becoming a pro player: 'Attitude comes before skill'