The MLBB x Transformers collaboration is back once again, and this time there are three new skins that are poised to wreak havoc in the Land of Dawn.
The second phase of the event kicked off May 24, alongside the release of patch 1.6.84. It also features a new event called Battle for Energon, where players will have a chance to draw permanent heroes, borders, and a Transformer Pass just by completing tasks.
Here is everything you need to know about the new MLBB x Transformers event.
---
---
Release date of the three new MLBB x Transformers skins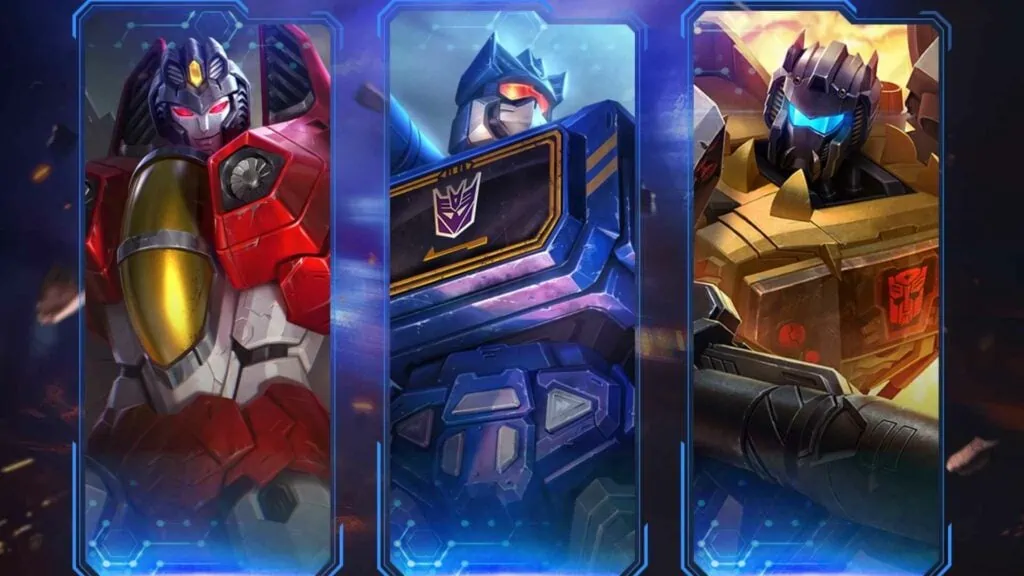 The three new skins, namely, Starscream Aldous, Grimlock Roger, and Popol and Kupa Soundwave and Ravage, were released on May 24. The previous three skins during the first phase of the event, Optimus Prime Johnson, Bumblebee X.Borg, and Megatron Granger, are also available.
Players can obtain these skins through a special bingo event similar to the King of Fighters collaboration last year. Each draw costs diamonds, and completing 10 draws lights up a random piece on a bingo board.
Lighting up three bingo pieces horizontally, vertically, or diagonally will give you a Transformers or an Epic skin not currently in your collection. While it may take some time, and a lot of diamonds, to get a Transformers skin, Moonton has guaranteed that players will get Grimlock Roger within their first 10 draws.
You can also preregister on the events tab to get a free Transformers pass, which can be used to enter the draw in the event from May 28 onward.
The bingo event will run from May 24 to July 7.
---
Battle for Energon event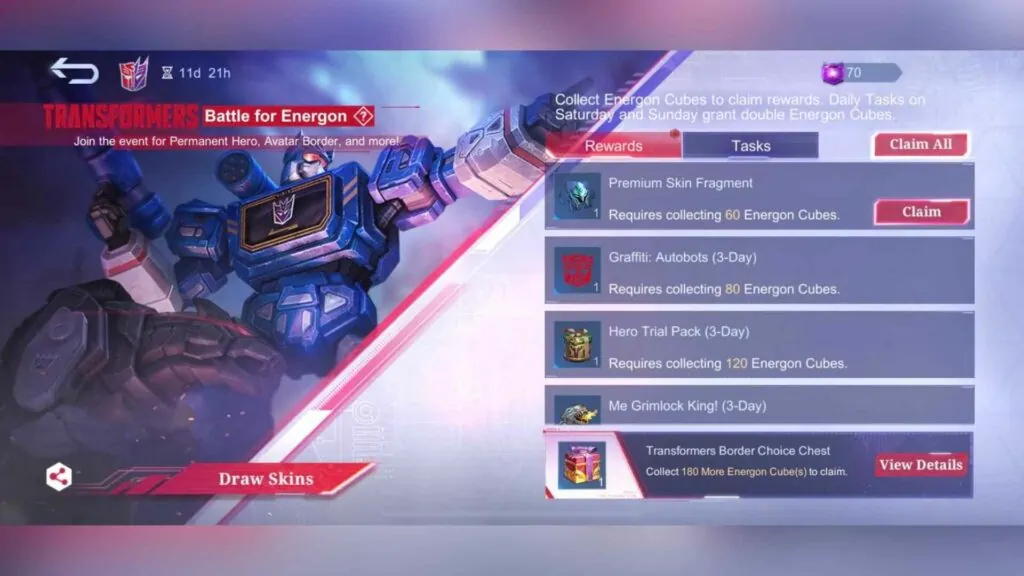 Players can also get permanent heroes, borders, and a Transformers Pass for free in the Battle for Energon event. You'll receive Energon Cubes for completing in-game tasks like playing matches with friends or simply logging into the game. These Cubes can in turn be exchanged for items like a Hero Fragment.
Here are all the possible rewards in the event, which runs from May 24 to June 5.
| | |
| --- | --- |
| REWARD | NUMBER OF ENERGON CUBES |
| Magic Dust | 20 |
| Ravage Eject! emote (trial) | 40 |
| Premium Skin Fragment | 60 |
| Grafitti: Autobots | 80 |
| Hero Trial Pack | 120 |
| Me Grimlock King! emote (trial) | 160 |
| Magic Dust | 200 |
| Transformers Border Choice Chest | 250 |
| Hero Fragment | 300 |
| My Time Will Come! emote (trial) | 350 |
| Epic Skin Trial Card Pack | 400 |
| Graffiti: Decepticons | 450 |
| Magic Dust | 500 |
| Hero Choice Chest | 550 |
| Premium Skin Fragment | 600 |
| Lucky Ticket | 700 |
| Epic Skin Trial Card Pack | 800 |
| Transformers Pass | 900 |
Follow ONE Esports on Facebook for more Mobile Legends: Bang Bang news, updates, and guides.
READ MORE: The second phase of the MLBB x Transformers event features three badass new skins