Burn x Team Flash have secured the first M4 World Championship slot, after taking down Logic Esports at the Mobile Legends: Bang Bang Professional League Cambodia Autumn Split 2022 (MPL KH Autumn Split 2022) at the Aeon Mall in Sen Sok, Phnom Penh.
Led by Filipino coaches John Michael "Zico" Dizon and Jhonwin "Hesa" Vergara, the Cambodian squad notched a dominant 3-1 performance to win their first-ever MPL KH title.
It was also a marked improvement over their performance in the Spring season, where they placed fourth.
---
---
Burn x Team Flash are headed to the M4 World Championship in Indonesia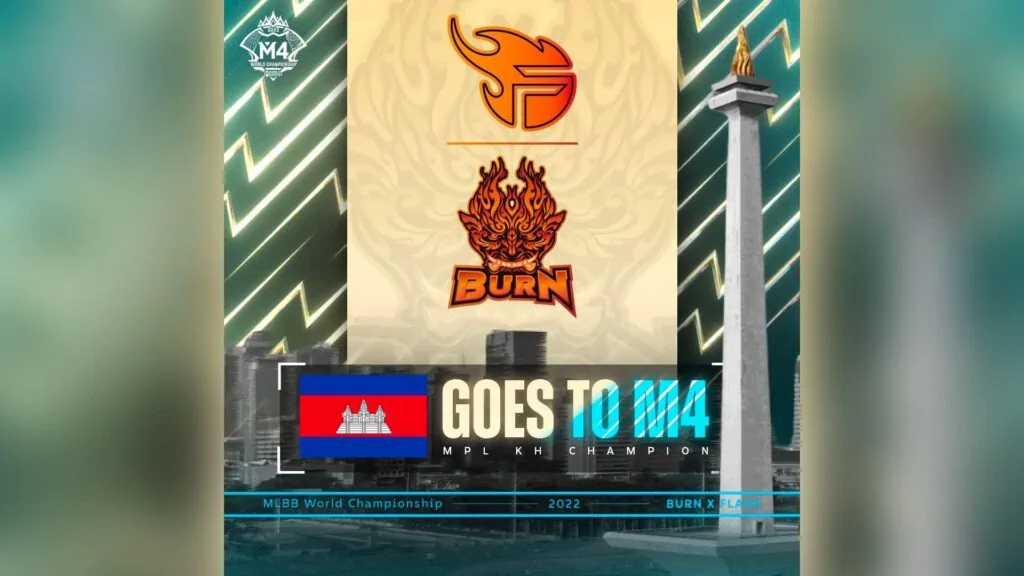 In the playoffs, Burn x Team Flash took down Team Max in the quarterfinal, before scoring a huge upset against Season 1 champion SeeYouSoon in the semifinal. Logic Esports also managed a coup of their own, narrowly defeating defending champions Impunity KH in their semifinal match to book their first grand final appearance.
When the two teams met in the grand final, Burn x Flash breezed through the first two games off the back of Ty "D7" Oudom's Valentina and Hesa's Claude. The duo went ham in the first game, posting a combined KDA of 6/0/12.
Burn x Team Flash maintained their momentum in the second game. Two crucial Lords at the 10 and 18-minute marks helped Burn x Flash destroy all the towers of Logic Esports.
---
---
With the crystal exposed, Logic forced a team fight in the top lane to try and turn the game around. The plan backfired after D7's Valentina stole the Cult Altar ultimate of Tang "BEST" Illshung's Faramis in a crucial team fight, resulting in the death of three Logic Esports players.
With only two remaining to defend the base, Burn x Team Flash went straight for Logic's base to secure game two.
However, Logic managed to get one on board after a lopsided third game, where they drafted a hyperaggressive lineup comprising Tep "BranTzy" Sokthai's Irithel, Lim "HOUV" Kimhouv's Akai, and BEST's Valentina.
After securing a Lord at the 11-minute mark, Logic pushed the bot lane, took down two players, and destroyed the crystal. Logic also focused on ganking Hesa's Wanwan in the early game, and the Filipino import languished with a 0/3/3 KDA.
---
---
It was a close and intense fourth game as both teams had similar gold and objectives secured. But it all changed at the 15-minute mark.
A team fight erupted after Logic caught D7's Franco all alone in the midlane. However, Logic had no idea that all four enemy players were close by. The ensuing team fight resulted in a clean wipeout by Burn x Flash, allowing for a five-man midlane push to win the MPL KH crown.
In addition to representing Cambodia at the M4 World Championship in Indonesia early next year, Burn x Team Flash will also be taking home the lion's share of the US$40,000 prize pool.
Follow ONE Esports on Facebook for more Mobile Legends: Bang Bang guides, news and updates.
READ MORE: Where to buy tickets to watch the MPL PH Season 10 playoffs live