T1 members made a very dashing entrance at League of Legends Champions Korea (LCK).
The team surprised viewers of the Spring 2023 regular season by showing up on the stage holding long-stemmed, red roses in their hands.
The flowers were dedicated to a very special person in their lives — the team's star player and exceptional mid laner, Lee "Faker" Sang-hyeok, who is celebrating his 10th anniversary as a professional League of Legends player.
---
---
T1 members celebrate Faker's 10th debut anniversary with a rosy team entrance at LCK Spring 2023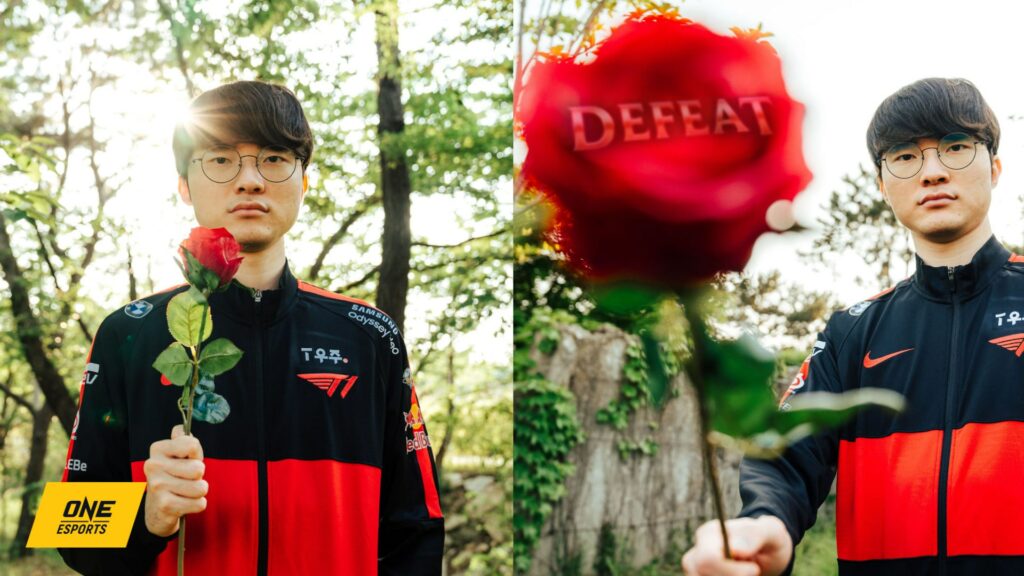 All five T1 members lined up during the team entrance, each holding a red rose in a different fashion.
Top laner Choi "Zeus" Woo-je appeared first, innocently smelling the flower he was holding.
The camera then panned to jungler Mun "Oner" Hyeon-jun, who carried the flower on his back, just like how he sometimes carries T1's games.
When it was Faker's turn, the unkillable demon king whipped out his rose, as if he was asking the audience to take it. This is reminiscent of one of his feature photos during the Mid-Season Invitational (MSI) 2022.
If this was a contest, bot lane duo Lee "Gumayusi" Min-hyeong and Ryu "Keria" Min-seok would have won thanks to their cuteness and creativity. The bot laner bit the rose's stem and winked at the camera, while the support tucked the flower over his left ear and blew a charming kiss to the viewers.
---
---
What red roses signify in T1 Faker's League of Legends career
Roses have a deeper meaning in the GOAT's decade-long career as a professional League of Legends player.
During the Korean league's early days around season 3, members of CJ Blaze and SK Telecom T1 2 (later renamed T1) all used the Debonair Rose icon in the League of Legends client during their official matches.
Upon seeing this, former CJ Blaze mid laner Kang "Ambition" Chan-yong made a bet between the two teams to fight for the rose icon, Korean journalist Kevin Kim translated. Ultimately, the winning team gets to keep the right to use the flower icon during competitive games.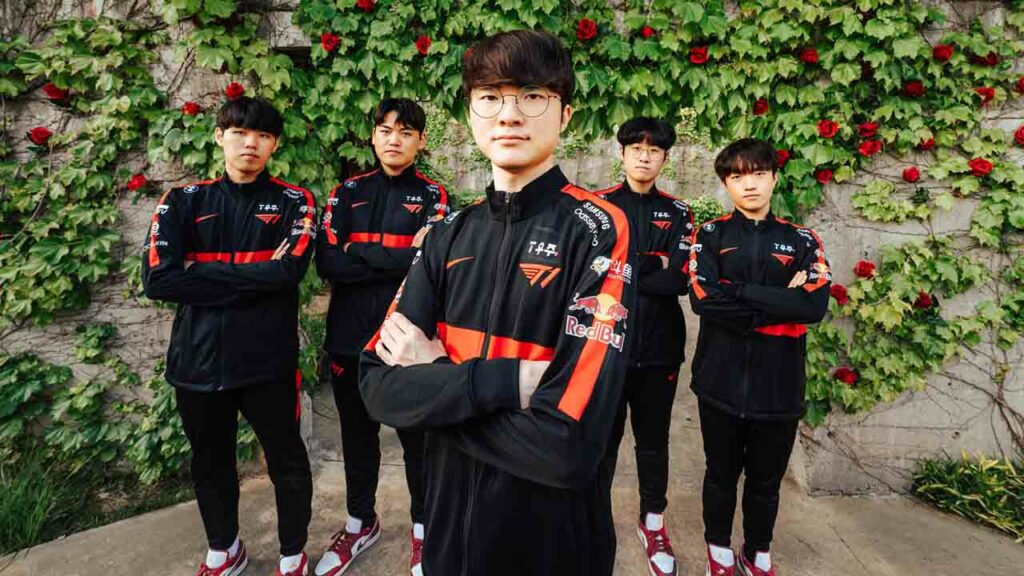 Coincidentally, the bet happened on Faker's debut match during OGN Olympus Champions Spring 2013. The rookie mid laner back then won the bet for SKT T1 K and made a memorable debut performance using Nidalee.
Ambition stopped using the Debonair Rose icon in his official matches, while present and former members of T1 continued to equip the Summoner Icon.
Faker made his debut in 2013 and has grown to become one of the greatest mid laners in League of Legends history. A star player of T1, the Korean player has numerous titles and awards to his name, including three World Championships and numerous LCK championships.
---
Follow ONE Esports on Facebook and Twitter for more LoL news, guides, and highlights.
READ MORE: Exclusive: Even ShowMaker gets emotional after losses — this is how he bounces back