In an effort to increase the appeal of the Jungle to lower-ranked players, Riot Games has buffed seven champions to become junglers in the League of Legends 10.4 patch update.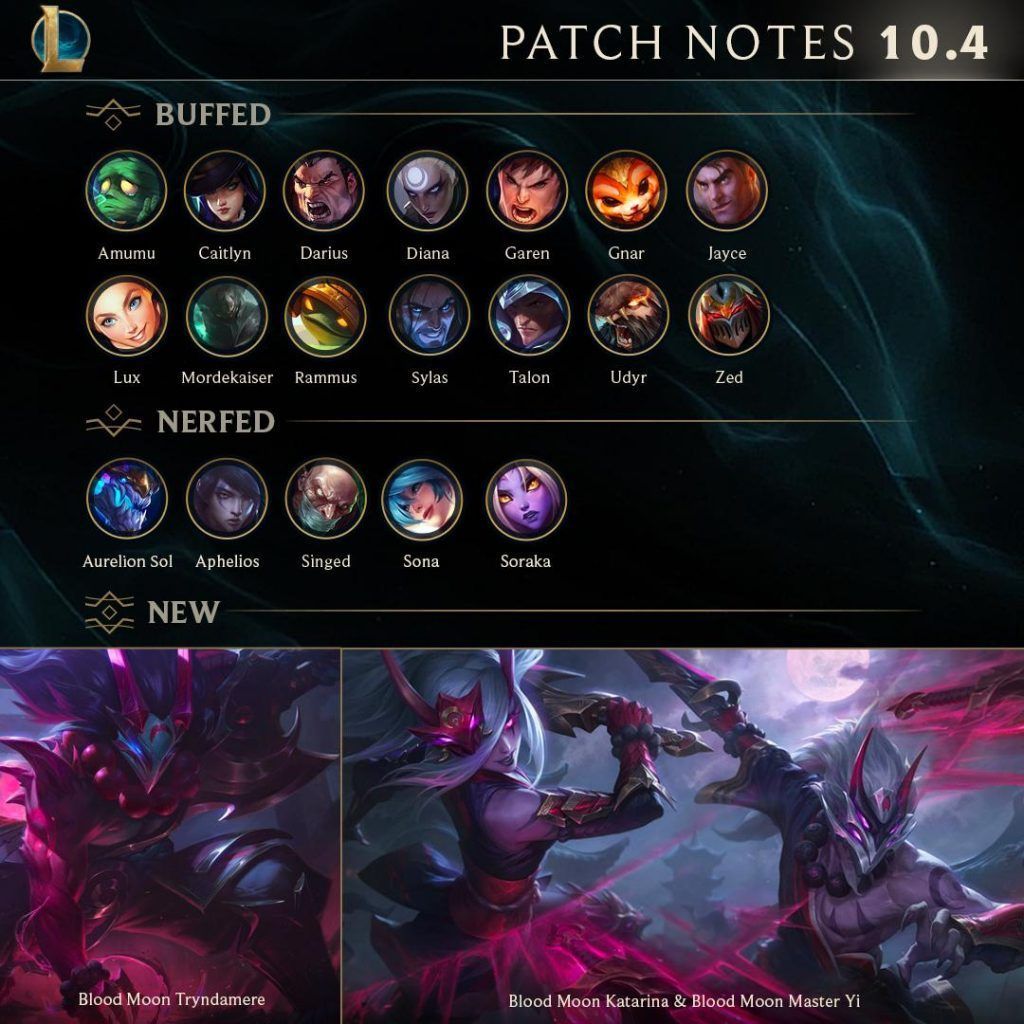 Here is the list of all the jungle champions and their modified skills:
Darius

Hemorrhage passive now deals 120% damage to all monsters
Q (Decimate) now heals from large monsters

Diana

Moonsilver Blade Passive is increased to 150% damage on non-Epic monsters

Garen

E (Judgement) now deals 150% damage to non-Epic monsters

Gnar

W (Hyper/Wallop) now has 300 damage bonus at all levels

Mordekaiser

Darkness Rise passive now deals 25-120 maximum damage to monsters (levels 1-18)

Talon

Abilities now wound all monsters for 120% damage

Zed

Contempt For The Weak passive is increased by 100% against monsters
Passive maximum damage is now 200/350/500 (levels 1, 7, 17)
These champions now do significantly more damage to clear camps more easily. Seeing as to how the changes are purely monster-exclusive buffs, the mentioned champions are still viable in their original roles.
---
---
Aside from the new jungling champions, Sona and Soraka are getting in-depth nerfs in the top-lane position. Although the two have had a dominant presence in the pro leagues, Riot has made a few adjustments to make these support champs pack a smaller punch.
Sona

NEW Mana Restore (Q, W, and E): Sona now gains 30 mana the first time she tags an ally with her aura
Increased mana costs on Q, W, and E

Q – 50/55/60/65/70 mana ⇒ 75/80/85/90/95 mana
W – 80/85/90/95/100 mana ⇒ 105/110/115/120/125 mana
E – 65 mana ⇒ 90 mana

Soraka

Base stats have decreased

Health 529.04 ⇒ 535
Health growth 78 ⇒ 74
Mana 350.8 ⇒ 375
Mana growth 60 ⇒ 40
Attack damage 50.04 ⇒ 50

Q (Starcall)

Self-heal 60/80/100/120/140 (+0.5 ability power) ⇒ 40/50/60/70/80 (+0.3 ability power)
Rejuvenation heal duration 5 seconds ⇒ 2.5 seconds
Cost 40/45/50/55/60 mana ⇒ 60/65/70/75/80 mana
Bonus movement speed 15/20/25/30/35% ⇒ 10/12.5/15/17.5/20%

W (Astral Infusion)

NEW Me after a massage and ice cream: While Soraka is Rejuvenated, the 10% maximum health cost for casting Astral Infusion will be reduced by 40/55/70/85/100%
Heal: 80/110/140/170/200 ⇒ 80/115/150/185/220
We'll likely see a new meta in the works with this dense update. With more jungling champions available, we'll possibly see the new junglers team up with other unorthodox top-laners other than Soraka and Sona.
For the full patch notes, you can check out the official blog post here.
READ MORE: First look at Alistar, Rek'Sai, and Renektok's new Blackfrost skins