Updated on October 17, 8:30 a.m. (GMT+8): Added the patch in which he'll be released.
One day after releasing his champion teaser, Riot Games dropped the official K'Sante cinematic which dives a bit deeper into his lore, lover, and abilities.
Entitled "Defeat Your Monster", it opens by showing the new top lane tank champion at the bottom of a waterfall holding a pair of enlarged tonfas, a T-shaped melee weapon that originated in Asia, most commonly used in Okinawan martial arts. This is a step away from the usual swords, spears, axes, and magical books commonly used by League of Legends champions and the larger MOBA genre.
Faced against a great beast many times his size and height, we're told that this is the "tale of a younger hunter and his greatest battle", which we later find out, contains a double meaning.
---
---
Meet K'Sante, the latest top lane tank champion and his lover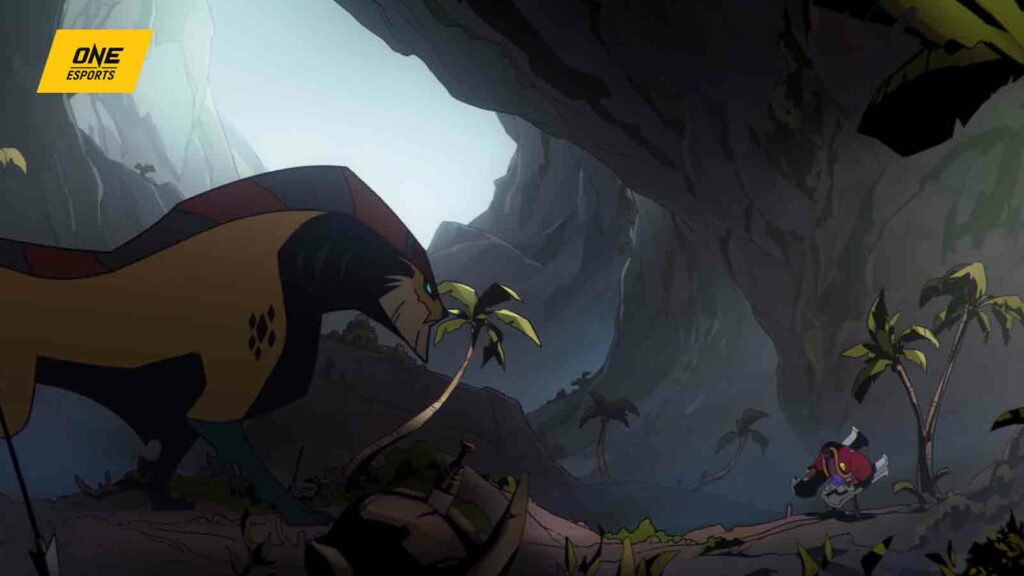 The first black LGBTQ champion in the League of Legends universe, as confirmed by his voice actor DeObia Oparei, K'Sante, Pride of Nazumah, hails from the desert lands in Shurima.
His story in the cinematic not only depicts him fighting valiantly against a tougher opponent, but also shows "The Archer", his lover, who once fought such beasts alongside him, protecting their homeland.
During their journey, we learn that his partner had advised him one too many times to "temper his skill with strategy" instead of basking in boastful pride, which he ignored. In the end, The Archer parted aways and left for new adventures.
Over time, K'Sante had learned his lesson, and eventually let go of his arrogance. At the end of the final waterfall scene reminiscent of Marvel's Black Panther, we also get a glimpse of how his broken Ntofos, as Riot calls it, regenerates itself naturally.
---
---
K'Sante will be released in League of Legends patch 12.21, which will likely be in November. Read more about the new champion's background, and his ability rundown here.
Follow ONE Esports on Facebook and Twitter for more LoL news, guides, and highlights.
READ MORE: Ranking all Spirit Blossom skins in League of Legends