With a 9-1 match record, Weibo Gaming is currently at the top of the 2022 LPL Spring Split table.
This comes as a surprise, for many League of Legends Pro League (LPL) fans expected the 2021 World Champions Edward Gaming and superstar team LNG Esports to topple the competition.
Formerly Suning, the rebranded Weibo Gaming roster made two major changes this year — replacing Chen "Bin" Ze-Bin with Invictus Gaming top laner Kang "TheShy" Seung-lok, and adding substitute support Hu "SwordArt" Shuo-Chieh.
Just last week, they made a statement by defeating LNG Esports, a lineup led by 2019 World Champion mid laner Kim "Doinb" Tae-sang and star jungler Lee "Tarzan" Seung-yong.
ONE Esports translated PentaQ's interview with Tang "huanfeng" Huan-Feng after Weibo Gaming's 2-1 victory to find out more about his relationship with TheShy.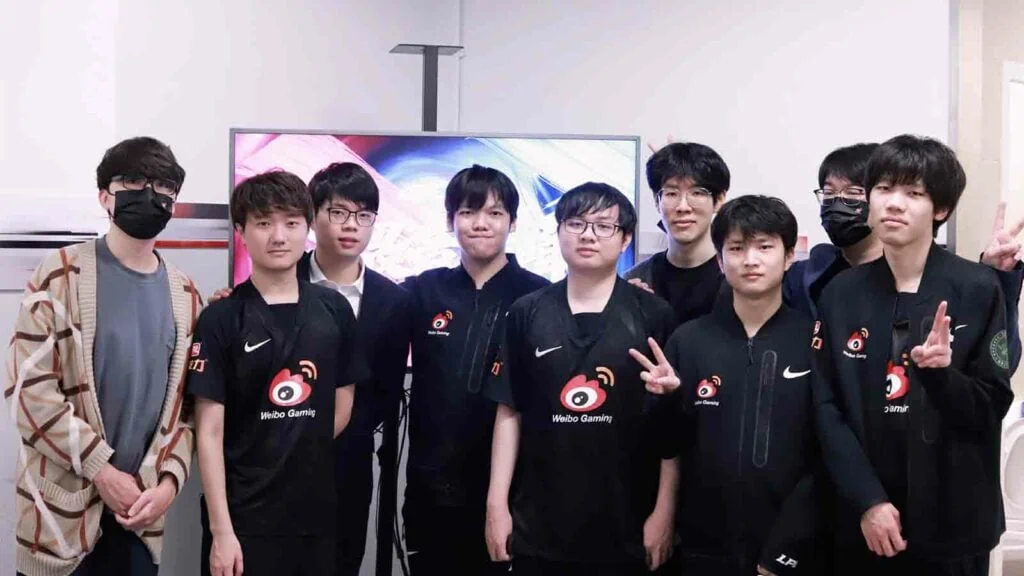 ---
---
Weibo Gaming's huanfeng talks about how TheShy is getting along with the rest of the team
During Mic Checks, fans have noticed that WBG's team atmosphere remains light, even during tense situations. According to the bot laner, it's none other than TheShy who keeps things positive.
"As long as he says something, the entire team will sit up. It's that kind of feeling," he explained.
Even during daily practice, TheShy contributes as the third most vocal member on the team, said huanfeng, after jungler Lê "SofM" Quang Duy and mid laner Xiang "Angel" Tao take the lead.
"Luo 'ON' Wen-Jun and I, we're probably at the bottom of the pack," he added.
Outside of the game, there were times TheShy was seen sharing food with him during his livestream, taking care of him like a younger brother.
When asked about what he would like to say to him in return, huanfeng was quick to express his gratitude. "There's a lot to say. Mostly I want to thank him from the bottom of my heart," he continued. "What I want to say to him is: I'll work hard and get stronger."
The 20 year-old bot laner has had a good season so far, and just received the best AD carry award in Week 5 of the LPL Spring Split, but remains humble. "I feel that my performance is sometimes good, sometimes bad," he reflected. "In the LPL there are many teams and the AD carries have different playstyles, so I'm able to learn a lot."
Weibo Gaming will face Royal Never Give Up on March 2 and LGD Gaming on March 5 later this week. Catch the LPL Spring Split 2022 livestream on its official Twitch and YouTube channels.
Read the full Mandarin interview by PentaQ on Weibo here.
READ MORE: Suning's Huanfeng grew up in poverty but never gave up on his dream of going pro