China's League of Legends Pro League (LPL) is the most competitive region in the world. The last two World Championships in 2018 and 2019 were won by LPL teams Invictus Gaming, and FunPlus Phoenix.
LPL is the only region to field a total of 17 teams, more than any other major league's ten. Most of the LPL players are handpicked from the League of Legends Development League (LDL), China's academy circuit.
Even if an academy team gets good results in the LDL, individual players are still subjected to tryouts by esports organizations in the big league. Needless to say, only the cream of the crop gets a chance to compete professionally.
In his debut season, Suning's bot laner Tang "huanfeng" Huan-Feng received eight MVPs in Spring 2020. Tied with seasoned AD carries Oh My God's Han "Smlz" Jin and Invicuts Gaming's Ding "Puff" Wang, he had one of the most number of MVPs after veterans Kim "Doinb" Tae-sang's 13 and Song "Rookie" Eui-ji's 11.
In Summer 2020, Huanfeng scored seven MVPs. Together with Suning, they finished their best performing season with a 12-4 record, and qualified for playoffs.
This talented rookie made the decision to go pro when he was only Platinum rank.
---
Deciding on his dream
That day was New Year's Day in China, a culturally significant festive period where almost everyone heads back to their hometowns to reunite with their family. Huanfeng was in middle school, and he had just returned to the countryside with his father.
On New Year's Eve, he secretly left the house with two other relatives who were around his age. They made a beeline to a nearby Internet cafe, where they spent the night playing League of Legends. At that time, the "Bromance of Demacia" was popular, so one played Jarvan, one played Xin Zhao, and one played Garen.
They played throughout the night until 7 a.m. in the morning on New Year's Day. Trudging back home for breakfast, one of them said, "Let's go pro in the future."
At first, Huanfeng did not take it seriously. Even though he watched professional LoL esports matches, he never felt like he could be one of them. But that morning, something shifted, and he took those words to heart.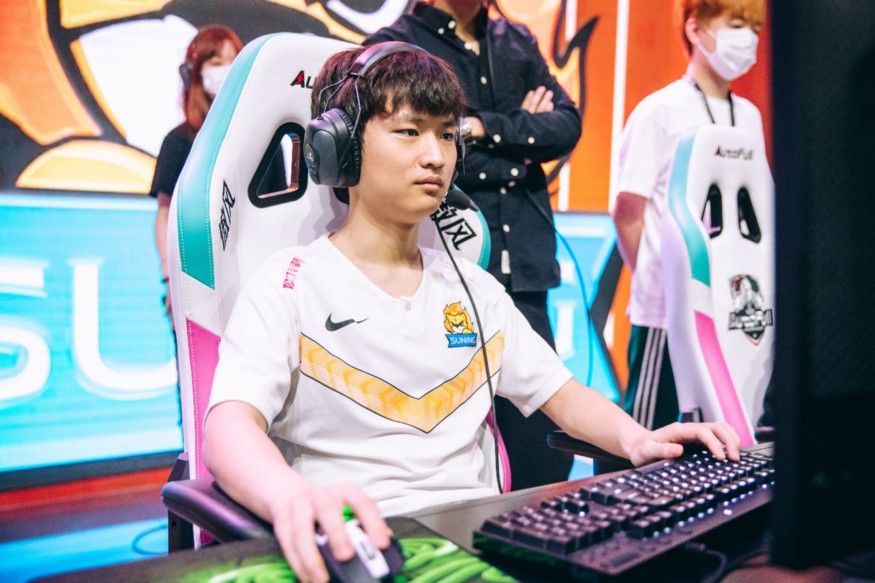 "As a child, when my parents fought, my mom always said that everything my dad said was rubbish; that it was just lies. And then she'd tell me, men must take responsibility for their own words," said Huanfeng.
Once he returned to his small room in the city of Dongxing after New Year, Huanfeng started to work on himself. He would get up at 5 a.m., play one game of ranked, catch up with classmates, bike to school, then bike home after classes before grinding more ranked games until 11 p.m. at night.
He repeated this routine daily.
Even though he started out playing mid, it felt "wrong" to him. Once he switched to AD carry, he started to feel like "this role should be mine."
By the end of middle school, Huanfeng hit Diamond I with a high win rate. Afterwards, he hit Master with 200 to 300LP.
"Sometimes, when a person really wants to do something, they can do it well. Believe in it," added Huanfeng.
Alongside a high solo queue rank, Huanfeng's grades were top of the class when he entered a local high school. There, he maintained rank one or two while improving his level of play.
He did all this while living alone in poverty without parental support since he was 12 years old.
Growing up, his parents fought all the time, often about money. When he was in fourth or fifth grade in primary school, his mother picked him up on an electric bicycle. On the road, she told him that they had no money to buy food. They could only afford one scallion.
His mother did not have a job back then, and demanded money from his father, who was staying with his other family.
In the first semester of middle school, his mother left their home, which was just a small room, for a short period of time. In the next semester, she returned only to pack up all her bags to leave for good. Even though he asked her where she was going, she did not answer him.
His father gave him 200 yuan (US$29) every half a month. But at some point, the 200 yuan only came in once a month. At times, especially during the latter half of the month, Huanfeng only had one bottle of water and two steamed buns for the day.
After his first year of high school, after getting transferred to the honors class, Huanfeng left in the second half of the semester.
He couldn't get along with the students in his new class, and fought with them. He did not want to stay in school any longer, so after the school suspended him temporarily to give him time to sort out his feelings, Huanfeng made a decision.
"Forget it, I'm going pro," he told himself.
---
Joining his first team at an internet cafe
As soon as he left school, he sent out his resume to every esports organization he knew. On it, he wrote his age, server, rank, and his reason for wanting to go pro. Some were never addressed, while others wrote back saying that his rank was too low, that it wasn't that good, and asked him to try again.
This caused him to feel anxious. "Stressed, I was too stressed back then," recalled Huanfeng.
After a period of fruitless searching, someone finally found him. It was an organization located in Yinchuan, Ningxia. The owner ran his own Internet cafe and wanted to form an esports team. The salary was 3000 yuan (US$432) a month. Huan-Feng didn't think much; he immediately jumped onto this opportunity.
Before he left, his father told him, "If you're going to go, then do this properly. If it doesn't work out, come back and join the military."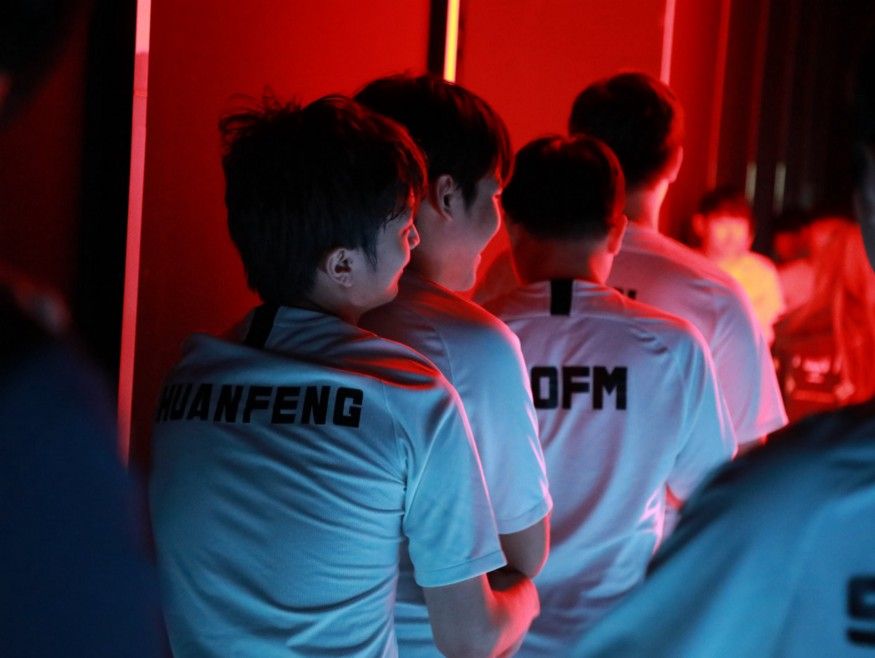 The journey from Internet cafe esports team to LPL was a long and winded one. With the Yinchuan internet cafe team, they competed in several cities until they finally won a spot in the 2018 LDL Spring Split.
LDL first started in 2018. The whole nation was divided into four regions, namely Nanjing, Shenzhen, Chongqing and Beijing. There were qualification matches before the Spring and Summer split in which teams competed for spots.
After winning an LDL spot, the team moved to a comfortable villa. However, the truth came out later: The owner chose to exchange their LDL spot for a place with a better training environment.
Hearing the news, Huanfeng felt like he couldn't stay there any longer. He asked his father to help him make up an excuse and returned home at once. He felt that he had only gained experience in the first year, but didn't improve.
---
---
Competing in the LDL with WuDu
He stayed home for a while before heading out once more. This time, he joined WuDu (Snake Esports' sister team), located in the municipality of Chongqing.
In May that year, together with his WuDu teammates, Huanfeng won a spot in the LDL again, this time in the Summer Split. During the split, they placed third in their group within the Chongqing region, but couldn't qualify for the finals because the team did not have any points from Spring.
Back then, Huanfeng did not understand what a spot in the LDL meant. He thought, "It's fine as long as I can compete."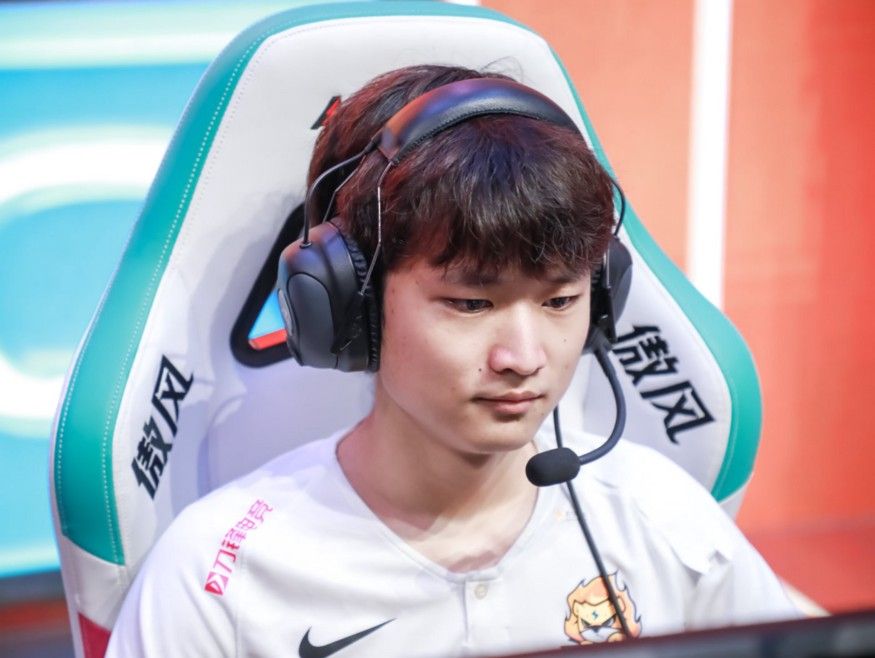 When a former LPL player joined WuDu later on, he shared the significance of the LDL and LPL and told Huanfeng, "You can't make it to the LPL. Only a dozen or so people in this world can make it there, so why would it be you?"
Once the regular season ended, the manager told Huanfeng that he and the support player were off the team. On the day he was dismissed, he had just reached Challenger on the Korean server.
He asked WuDu's management for answers. They claimed that they wanted him to find a better platform and a better team.
---
A new life at Invictus Gaming Young
Stuck at home again for about three months, Huanfeng eventually found himself flying to Shanghai to join Invictus Gaming Young (IGY).
At that time, IGY was a brand new academy team of Invictus. They focused on building a team centered around their core jungler, Lu "Leyan" Jue, who became IG's starter jungler from Summer 2019 to Spring 2020.
As the recruiting process went underway, Leyan was the one who thought of Huanfeng. He was the same person who brought over Huanfeng from the Yinchuan internet cafe team to WuDu a year ago.
In Spring split 2019, IGY went 17-7 in the regular season, but were eliminated by Bilibili Gaming Junior in the quarterfinals.
During the summer split, former player and coach, Li "GuoKui" Wen-Jing, had the IGY players set their own goals. He encouraged them to read books on improving communication skills and cultivating values.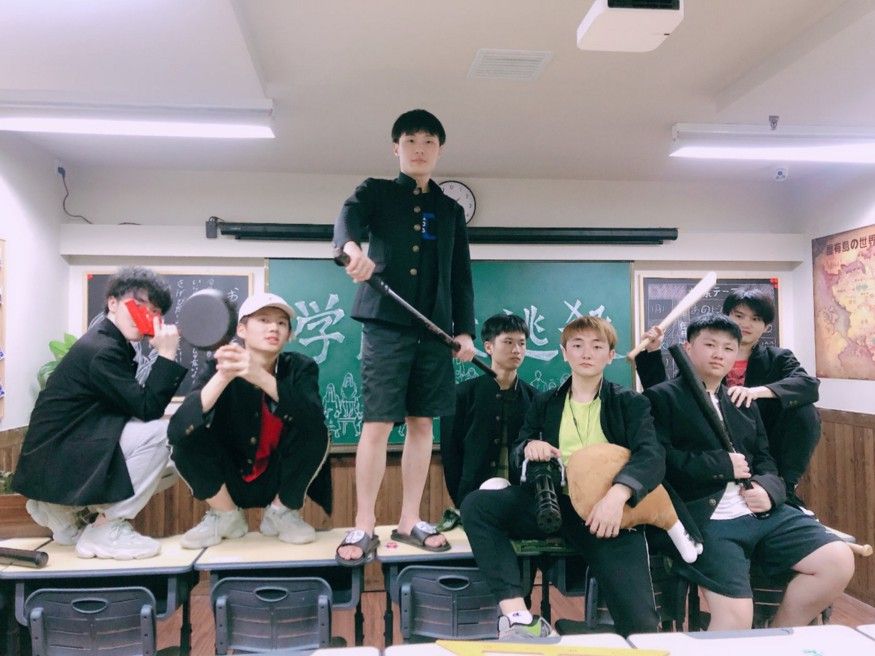 Under GuoKui's leadership, not a single person dropped out of the team. He reckoned that Huanfeng was "the person who worked the hardest in the team, no one else could compare."
"Sometimes, when we went out together for dinner, he would say, 'I feel like my mechanics haven't been very good lately. We're gonna compete soon, so I'll just play two more ranked games. You guys can just put whatever's left in a doggy bag for me, it's alright," said GuoKui.
Midway through the split in August 2019, IG announced Leyan's promotion to the main team. This impacted Huanfeng greatly. As he was friends and teammates with Leyan since WuDu's days, he felt envious.
In a conversation with GuoKui, Huanfeng expressed how he wanted to help the team. He wanted them to try playing around him in the following matches. He was confident he could carry.
That split, Huanfeng played ranked until 5 or 6 a.m. every day, and didn't go outside during vacations.
With a 18-6 performance, IGY placed second out of 25 teams in the regular season, and advanced to the LDL Summer Playoffs.
Fourteen days later, IGY defeated Edward Gaming Youth in the final, and lifted the LDL championship trophy.
---
Finally, the LPL
Despite winning the 2019 LDL championship, Huanfeng almost missed out on LPL Spring 2020.
Apart from Leyan who was already in Invictus Gaming, Deng "Forge" Jie had signed with Vici Gaming. Huanfeng was the first player who embarked on tryouts, first at JD Gaming.
"It was only after I'd gone there that I realized just how big the gap between the LPL and the LDL was," said Huanfeng.
He performed very nervously, and in the end, didn't make the cut.
Feeling disheartened, he sent a message to GuoKui saying that he didn't want to do any tryouts again. He felt like he was "trash", and wanted to go home by himself to rest.
When GuoKui saw Huanfeng's message, he got angry. They texted it out and finally reached an agreement that allowed Huanfeng him go home for two days before returning to Shanghai for more tryouts.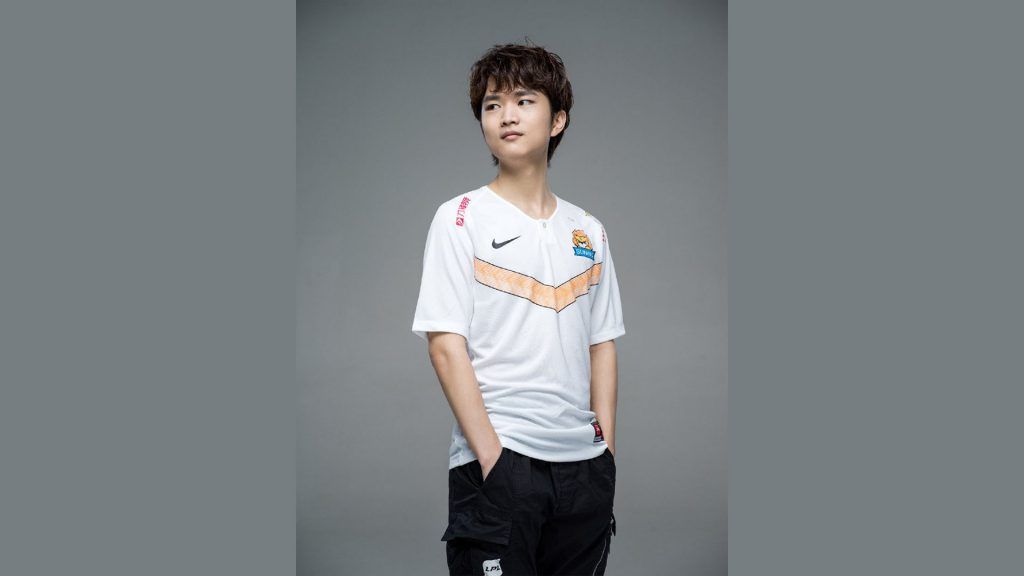 Huanfeng trialed with other organizations, but the results were the same. He became the first player who started tryouts, to the last player who still couldn't find an LPL team, and the transfer period was rapidly closing.
At that same time, Suning contacted IGY and GuoKui asked him to try again. Huanfeng, who almost settled for another season in the LDL, decided to seize this last chance.
"You play in the LDL, you win the championship, what's next? Obviously you want to go for even bigger stages. But if things still hadn't worked out then, I would've acknowledged it," GuoKui had said to him.
Towards the end of the 2020 LPL Spring Split transfer period, Huanfeng finally passed a tryout — with Suning.
---
Life in Suning
The day before Huanfeng's official debut on Suning, support Hu "SwordArt" Shuo-Chieh told him while eating, "If you don't know what to do in tomorrow's match, or if we have our backs against the wall, don't stop talking. You just tell everyone 'there's no problem, don't worry, I'll carry' even if you don't think you can carry, you still have to say it like that. You have to let your team feel at ease."
Regretfully, Suning lost on their first day. Nevertheless, SwordArt thought his ADC performed well.
A support from Taiwan and an AD carry from Guangxi, these two players five years apart gradually formed a brotherly bond. At the end of every match, SwordArt would always talk to Huanfeng about the mistakes made. If he didn't listen the first time, SwordArt would sharply repeat his words.
In the summer split, following various team adjustments, Huanfeng made attempts to play the role of the sacrificial pawn.
"Some players often just have one characteristic. That is, does the team play around them? Or, can they guarantee they'll farm on their own while their teammates are somewhere else on the map? We could see both possibilities in Huanfeng," told Yuan "Blinky" Xi, Suning's manager.
One night, before playoffs had begun, Yuan Xi spoke to all the players. "Now that we've come this far, remember, we're human. We must have some ambition. There's nothing wrong with being ambitious, especially in esports."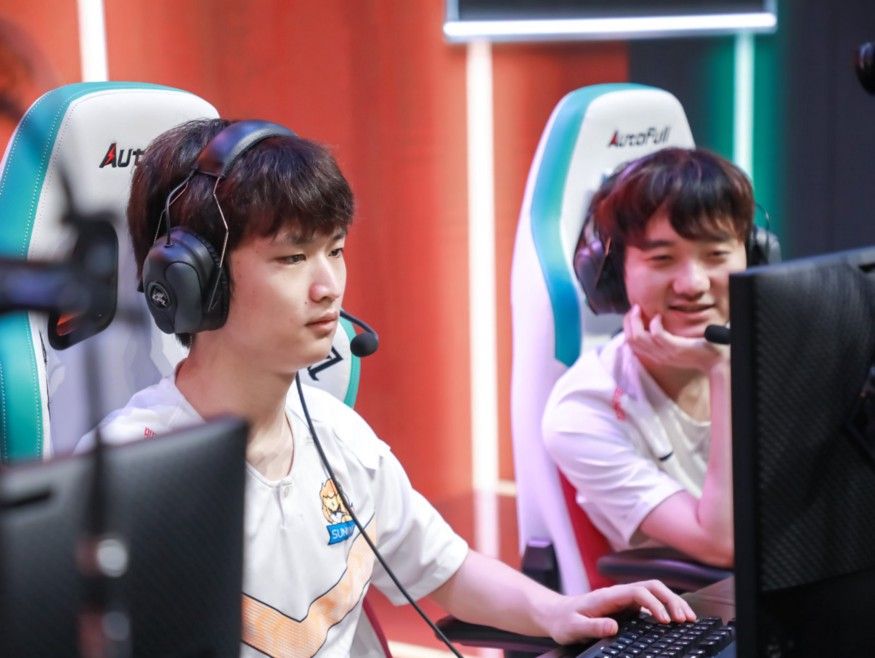 The person who knew Huanfeng the best, the one who shared the same room as him, and the one who saw shadows of his past self in this young ambitious boy who slept later than him, and woke up earlier than him every single day, was SwordArt.
"He practices so much. He's that kind of person who really puts his back into it. And every time I see this, I'll think about myself when I just started out as a pro player. Not wanting anything outside of the game, just thinking about playing better, and if I just went all out, just a tiny bit more, then maybe I'd have a chance."
---
Read the full translated English version of "The Boy Arrived at the Seaside" by iCrystalization here from the original Mandarin release by LPL.
READ MORE: Leaving Singapore – by Chawy