Fnatic's grim Worlds 2022 situation is finally looking up. Just a day before the start of the League of Legends World Championship 2022 Play-In stage, the organization announced that their bot lane tandem, Elias "Upset" Lipp and Zdravets Iliev "Hylissang" Galabov, has tested negative for COVID-19.
On September 24, the League of Legends European Championship (LEC) team issued a statement regarding Upset and Hylissang's health situations, and declared that both players had tested positive for COVID-19, which delayed their travel to Mexico.
In light of the situation, Riot Games granted the team permission to create an emergency roster and add their academy team player, Rúben "Rhuckz" Barbosa, as their seventh player.
Fnatic duo Upset, Hylissang test negative for COVID-19 ahead of Worlds 2022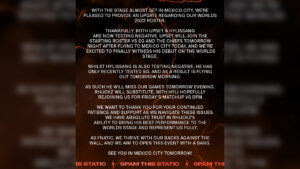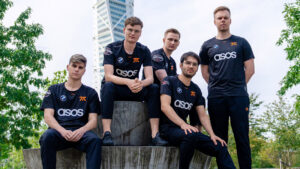 A day before the annual tournament starts, the LEC team announced that Upset has tested negative for the COVID-19 virus and will fly to Mexico City, Mexico, the venue of the Play-Ins, to join their starting roster.
They are set to play against North American team Evil Geniuses and the Oceanic team Chiefs Esports Club on the first day. Rhuckz will temporarily take over the support role for Fnatic's games on the first day of the Play-Ins.
---
---
"We have absolute trust in Rhuckz's ability to bring his best performance to the Worlds stage and represent us fully," said Fnatic in an official statement.
Since Hylissang was only recently tested, he will be on a later flight, and will miss the first day of the Play-In stage. He is expected to rejoin the team on day two on September 30 in their match against Japanese team DetonatioN FocusMe.
Fnatic's Worlds 2022 starting roster (Play-Ins Day 1)
The team experienced a similar situation during Worlds 2021 in Reykjavík, Iceland, when Upset was "forced to return home" due to "an urgent family matter".
Because of this, the team was forced to substitute their academy player, Louis "Bean" Schmitz, to the main lineup. The emergency roster change took a toll on the team's Worlds 2021 run, as they were eliminated from the Group Stage with a 1-5 standing.
How will Upset fare in his first appearance at the World Championship stage? Catch Fnatic on the Play-In stage, which kicks off on September 29 at 1 p.m. PST.
---
Follow ONE Esports on Facebook and Twitter for more LoL news, guides, and highlights.
READ MORE: Worlds power rankings: Gen.G lead the way