The League of Legends World Championship (Worlds) stage has showcased some of the best, out-of-this-world plays in the MOBA scene.
Yes, we're talking about legendary moments, jaw-dropping shots, and the best wombo combos of all-time.
ONE Esports lists down five of the best gameplay moments from 11 great years of competitive League of Legends action — with unforgettable performances from icons like Enrique "xPeke" Cedeño Martínez to three-time champions SK Telecom T1 (SKT T1).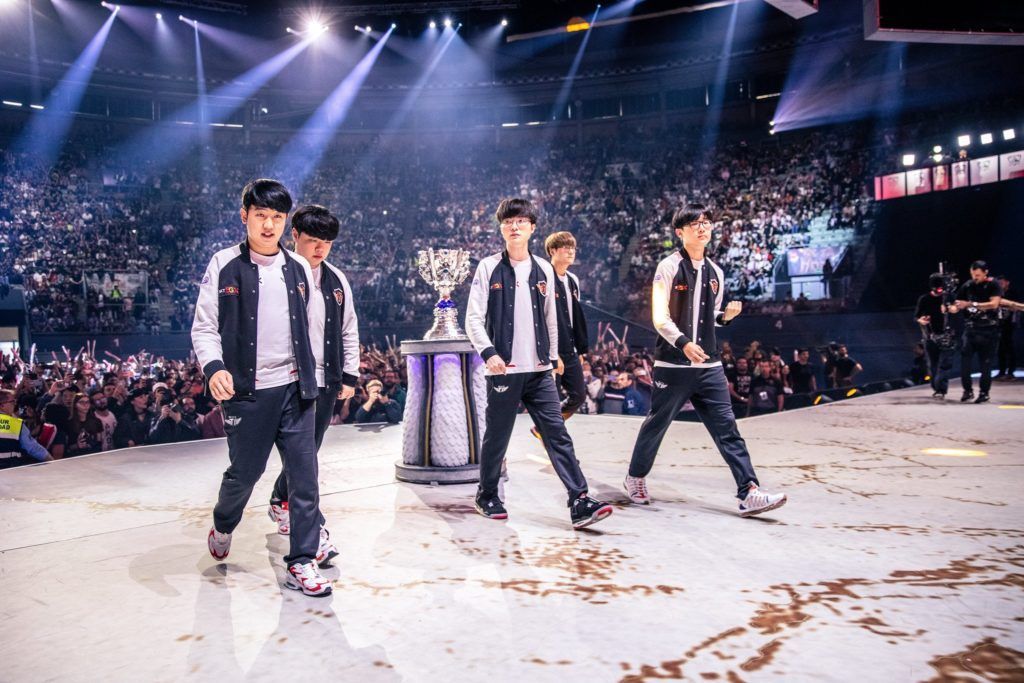 This is what peak League of Legends looks like, all from Worlds!
---
The 5 best gameplay moments in League of Legends Worlds history
5. Origen xPeke's Orianna 4-man shockwave (Worlds 2015)
The oldest entry on this list dates back to Worlds 2015, when Summoners witnessed the rise of Spanish player Enrique "xPeke" Cedeño Martínez.
During Origen's match against LGD Gaming, xPeke landed a 4-man Shockwave using one of his favorite champions, Orianna. This was set up with the help of Jesper "Niels" Svenningsen's (now known as Zven) Kalista ultimate, which knocked up three of LGD's members.
The Shockwave greatly assisted xPeke and even resulted in a Quadrakill, leaving Choi "Acorn" Cheon-ju all alone to defend.
---
4. ROX Tigers Smeb's Kennen ultimate (Worlds 2016)
With power players like Smeb, ROX Tigers climbed their way through Worlds and became the underdog favorites.
In this gameplay moment, Smeb's Kennen delivered the most beautiful four-man Slicing Maelstrom we have ever seen, which deleted G2 Esports' Kim "Trick" Gang-yun, Luka "Perkz" Perković, and Alfonso "Mithy" Aguirre Rodríguez in one blow. PraY picked off the remaining G2 members and scored an Ace.
---
3. KT Rolster and Invictus Gaming base race (Worlds 2018)
Who could ever forget this exhilarating base race from KT Rolster and Invictus Gaming during the Worlds 2018 Quarterfinals?
Spectators practically held their breaths for nearly 40 seconds as Invictus Gaming and KT Rolster defended their respective Nexus. For KT Rolster, this gameplay moment was everything since Invictus Gaming was already ahead with two wins in this best-of-five series. Another loss would conclude their Worlds run.
Just when Kang "TheShy" Seung-lok's Fiora was about to deliver the final blow and end the game, KT Rolster and their three remaining members Song "Smeb" Kyung-ho's Irelia, Go "Score" Dong-bin's Gragas, and Son "Ucal" Woo-hyeon's Azir pulled off the impossible and crossed the finish line first in this base race.
They may have suffered a minor setback, but Invictus Gaming would still advance from this series and later on be crowned as the Worlds 2018 champions over Fnatic.
---
---
2. ROX Tigers PraY's iconic arrow (Worlds 2016)
In a play that would officially be known as "The Longshot," ROX Tigers' Kim "PraY" Jong-in landed the arrow of his lifetime against SKT T1 in their matchup in Worlds 2016.
From SKT T1's base, PraY cast Ashe's ultimate ability Enchanted Crystal Arrow in the direction of Lee "Duke" Ho-seong's Ekko who was performing a teleport at the time. After a thrilling seven seconds from the moment the arrow took off, it precisely hit Duke which delayed him from getting back to the base. This bought ROX precious time to deal damage to the rest of the SKT T1 members and eventually destroy their Nexus and win the game.
"He (PraY) received a roaring cheer," said Korean caster Kim Dong-jun. "Fans described it as a godly shot."
---
1. SKT T1's Wombo Combo was the best gameplay moment in Worlds history (Worlds 2017)
Three years seem just like yesterday, especially when you reminisce this insane play pulled off by three-time Worlds champions SKT T1.
They caught Edward Gaming off-guard on Day 2 of the Group Stage matches when Lee "Wolf" Jae-wan's Rakan and Heo "Huni" Seung-hoon's Cho'Gath simultaneously flashed towards EDG to cast The Quickness and Rupture and Feral Scream.
With SKT T1 getting enough crowd control over the Chinese team, Bae "Bang" Jun-sik's Twitch followed up with his poisonous abilities Venom Cask and Spray and Pray, as well as Lee "Faker" Sang-hyeok's Command: Shockwave. Han "Peanut" Wang-ho ensured that EDG had a hard time escaping by activating his Cataclysm to finish the wombo combo.
READ MORE: Suning's SofM: 'I'm really proud as the only Vietnamese player to make it this far'