Update as of April 6: The 2022 LPL Spring Playoffs matches have been postponed a second time due to the ongoing COVID-19 situation in Shanghai, China. The first Round 4 match between Victory Five and Top Esports will take place on April 12, Tuesday.
The 2022 LPL Spring Playoffs kicked off last Saturday on March 26 with Bilibili Gaming taking on Rare Atom in Round 1.
Today, as the playoffs proceed to Round 2, the LPL announced on Twitter that due to the ongoing COVID-19 situation in China, they have postponed the remaining playoffs to April instead. All matches will also be played remotely.
The spotlight continues to shine on the 2021 World Champions Edward Gaming, who advanced to Round 2 after eliminating FunPlus Phoenix 3-1 in the first round.
---
---
2022 LPL Spring Playoffs has been posted starting from Round 4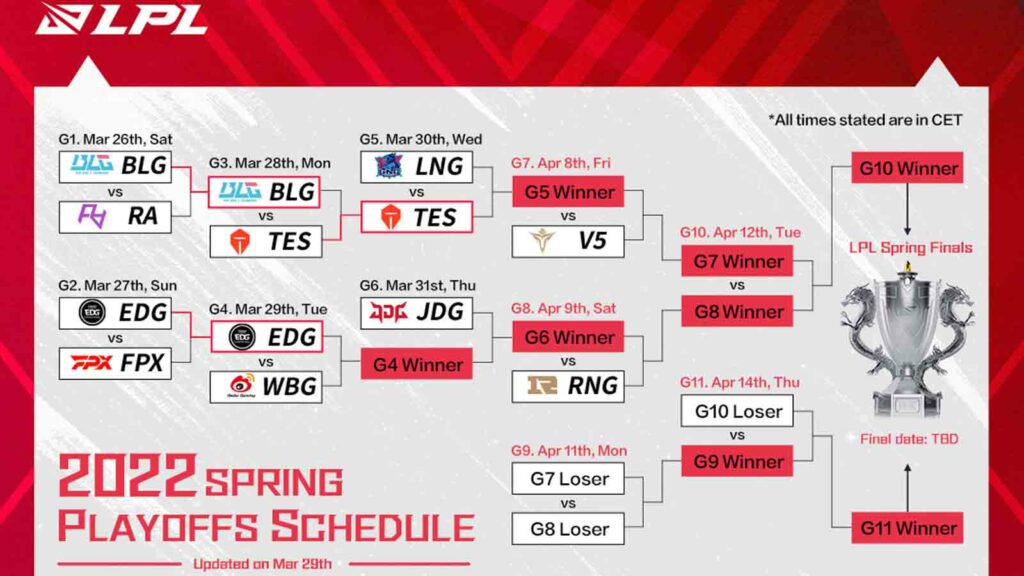 To protect the health and safety of players, coaches, and staff, the LPL has postponed all playoffs matches from Round 4 onwards.
The scheduled Round 2 and 3 playoffs matches will continue as planned. Weibo Gaming and Edward Gaming will face off in a best-of-five today, while Top Esports will take on LNG Esports tomorrow on March 30.
On March 31, JD Gaming will compete against the winner of Weibo Gaming versus Edward Gaming.
The 2022 LPL Spring Playoffs will then take a one week break before resuming on April 8, where fans will finally get to see first seed Victory Five in action.
The LPL will confirm the date and time of the final soon.
Catch the 2022 LPL Spring Playoffs livestream on its official Twitch and YouTube channels.
READ MORE: Why TheShy believes attitude is key to managing injuries in esports