Updated on January 19, 5:12 p.m. (GMT+8): Added "The Exquisite Night Chimes" gameplay and Yaoyao to the list of free 4-star characters.
Liyue's annual Lantern Rite event is a spectacle that travelers shouldn't miss, with plenty of activities and games for everyone to enjoy. Of course, a Genshin Impact event would not be complete without generous rewards and freebies.
Similar to the previous Lantern Rite celebration, HoYoverse is giving away a free 4-star character to all players participating in the event.
How to get a free 4-star character in Genshin's Lantern Rite event
Players will need to complete all four phases of this year's Lantern Rite event, "The Exquisite Night Chimes," and reach 800 Festive Fever in exchange for their desired 4-star character.
Once you have enough Festive Fever, go to Events overview and click on the "Fortuitous Invitation" tab.
Select the character you want to obtain and click on the "Confirm Invitation" button to get your free 4-star character. Only one invitation is offered during the event.
---
Available free 4-star characters in Lantern Rite 2023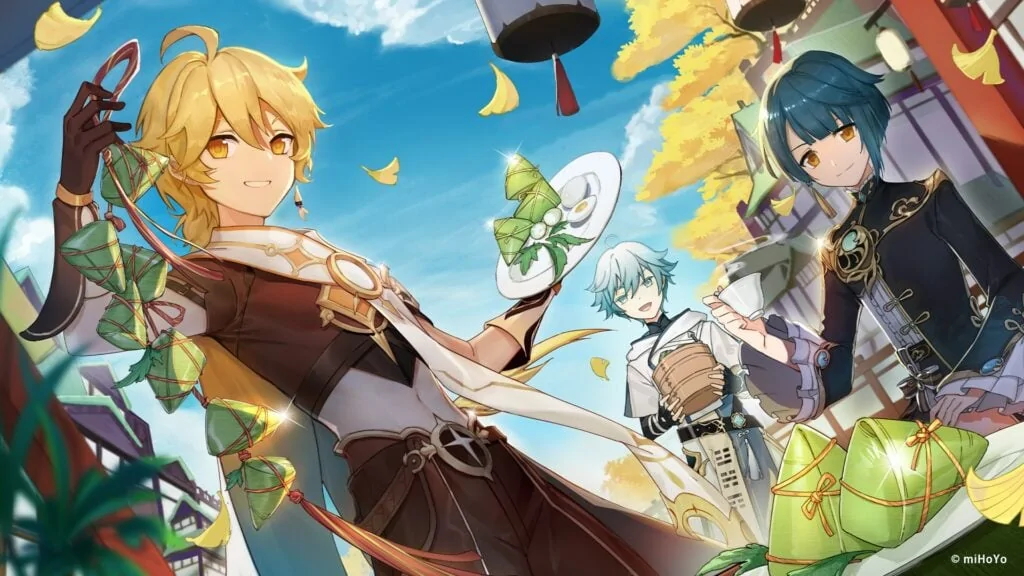 There are a total of nine characters to choose from in the Fortuitous Invitation rewards.
FREE 4-STAR CHARACTER
ELEMENT
VOICE ACTORS
Beidou
Electro
Allegra Clark (EN)
Yajing Tang (CN)
Ami Koshimizu (JPN)
Jeong Yoo-mi (KR)
Chongyun
Cryo
Beau Bridgland (EN)
kinsen (CN)
Soma Saito (JPN)
Yang Jeong-hwa (KR)
Ningguang
Geo
Erin Ebers (EN)
Mingya Du (CN)
Sayaka Ohara (JPN)
Gwak Gyu-mi (KR)
Xiangling
Pyro
Jackie Lastra (EN)
Xiao N (CN)
Ari Ozawa (JPN)
Yun A-yeong (KR)
Xingqiu
Hydro
Cristina Vee Valenzuela (EN)
Yajing Tang (CN)
Junko Minagawa (JPN)
Gwak Gyu-mi (KR)
Xinyan
Pyro
Laura Stahl (EN)
Yaxin Wang (CN)
Chiaki Takahashi (JPN)
Kim Chae-ha (KR)
Yanfei
Pyro
Lizzie Freeman (EN)
Ziwu Su (CN)
Yumiri Hanamori (JPN)
Cho Kyung-yi (KR)
Yaoyao
Dendro
Kelsey Jaffer (EN)
Mai Kadowaki (JPN)
Yun Jin
Geo
Judy Alice Lee (EN)
Wenxiao He (CN)
Koiwai Kotori (JPN)
Sa Mun-yeong (KR)
Yang Yang (ALL)
---
---
"The Exquisite Night Chimes" Lantern Rite 2023 events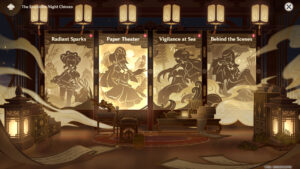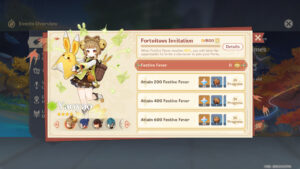 Genshin Impact players can gain Festive Fever through the following events:
Radiant Sparks – players are tasked to complete racing trials and collect as many Challenge Coins as possible
Paper Theater – in this mini-game, travelers must help complete the Paper Play performance by adjusting the positions of paper theaters
Vigilance at Sea – this mode will test travelers' Waverider maneuvering skills in race challenges
Behind the Scenes – players must head to the challenge destination and defeat monsters
"The Exquisite Night Chimes" Lantern Rite 2023 eligibility
To participate in "The Exquisite Night Chimes," players need to accomplish the following:
Reach Adventure Rank 28 or above
Complete the Archon Quest "Chapter I: Act III – A New Star Approaches"
Complete the Archon Quest Interlude Chapter: Act I – "The Crane Returns on the Wind" and Yelan's Story Quest "Umbrabilis Orchis Chapter: Act I" (if you haven't finished these quests, you may click on the "Quick Start" option in the event page)
The Genshin Impact Lantern Rite event runs from January 19, 10:00 a.m. to February 6, 3:59 a.m. server time
---
Follow ONE Esports on Facebook for more Genshin news, guides, and highlights.
READ MORE: How to get the free Lisa skin 'A Sobriquet Under Shade' in Genshin