Razer takes another big leap into mobile gaming with its newest product, the Razer Kishi. Similar to last year's Razer Junglecat, the gamepad features two Nintendo Switch-like Joy-Con controllers that attach to either side of your phone.
However, unlike the Junglecat, which required you to put your phone in a special case, and only worked with a small handful of Android phones, the Kishi works with almost any Android phone or iPhone.
It accomplishes this through a stretchable belt at the rear of the device that easily stretches to fit your phone. When you're done playing, the two sides snap into each other for a quick and easy put-away.
Additionally, the Kishi provides players with an ultra-low latency connection by connecting directly through the charging port. It also has a passthrough charging port at the bottom just in case you're a marathon gamer.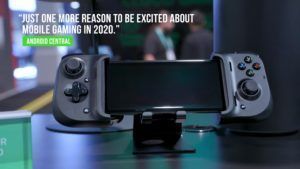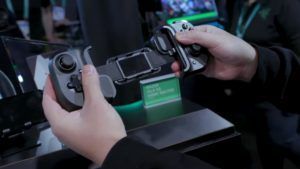 On top of its instant button response, the Kishi gives you the classic tactile feeling of a console controller, complete with clickable analog thumbsticks and a directional pad for extra inputs.
The Razer Kishi will be available in 1Q 2020. Although the price hasn't been announced, it's likely to be around the same price as the Junglecat (US$100).
READ MORE: Alienware's Concept UFO is a handheld gaming dream