ESL and DreamHack have partnered to launch a new esports circuit for Counter-Strike: Global Offensive (CS:GO) called the ESL Pro Tour in 2020, featuring a combined prize pool of over US$5 million.
The ESL Pro Tour will link over 20 ESL and DreamHack tournaments and leagues held across five continents and will be split into two event tiers: Challenger and Masters.
The tour's Challenger events include the DreamHack Open, Mountain Dew League, and ESL's National Championships, and will aid participating teams in qualifying for Master tournaments.
ESL One, Intel Extreme Masters (IEM), DreamHack Masters events, and the ESL CS:GO Pro League will comprise the Masters tier, and will each give away at least US$250,000.
Teams will win points from the Challenger and Masters tournaments in the ESL Pro Tour Ranking, with the best of them advancing to the two Masters Championship tournaments; IEM Katowice in the winter and ESL One Cologne in the summer.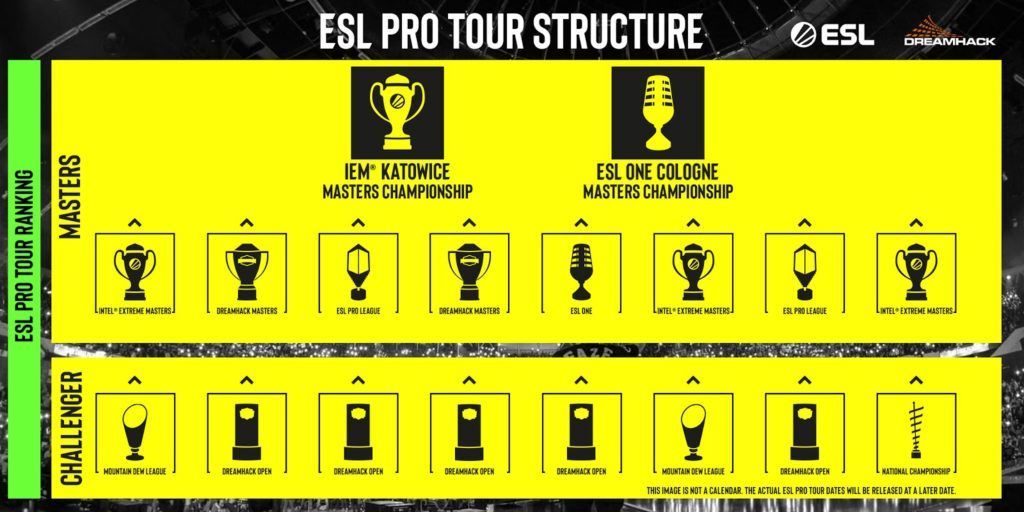 ---
---
"This partnership between ESL and DreamHack will give youths a clearer and more complete path to becoming somebody and a structure that is more welcoming and digestible for new esports fans," said ESL CEO Ralf Reichert in a press release.
"ESL Pro Tour mirrors our ambition to provide up and coming players a clear path to the professional on their way to becoming tomorrow's esports professionals," added DreamHack co-CEO Marcus Lindmark.
The first two Challenger events of the ESL Pro Tour will be DreamHack Open Leipzig from January 24-26 and DreamHack Open Anaheim in February 21-23. The Masters events are slated to begin on April of that year. IEM Katowice will be held in February while ESL One Cologne will be hosted in July.
READ MORE: ESL's Clash of Nations Dota 2 tilt set for October in Bangkok