Vici Gaming (VG) has announced that star offlaner Zhou "Yang" Haiyang and coach Bai "rOtK" Fan have left the team after both decided not to renew their contracts with the team.
With Yang and rOtK both opting out of renewing their contracts with VG, they now become free agents and are free to join any team.
Yang has been with the VG organization since he started his professional career in 2015, starting out in the organization's development squad before playing his way into its main roster. His stellar play with VG made many acknowledge him as the best offlaner China.
Meanwhile, rOtK joined the VG organization as a coach in 2016 after a decorated career as a player, which included a second place finish at The International 2014 as the captain of VG from 2013 to 2014.
In their time with VG, Yang and rOtK helped cement the team as one of the best in the world with two championships and three podium finishes at Majors as well as Top 6 finishes at TI7 and TI9.
"We have no doubts that Yang-God will achieve whatever he plans on doing next and we wish [that he] follow his path towards his dreams so valiantly. Thank you, Yang, for all your contributions to Vici Gaming," VG said in a statement on Yang's departure.
"We wish rOtk a smooth way forward and a shining light upon his future path as he decides to pursue new challenges. We want to thank him for his many years of dedication, team efforts and responsibility," VG said on rOtK's departure.
---
---
With his departure from VG, reports that Yang is joining PSG.LGD star players Lu "Somnus丶M" Yao and Xu "fy" Linsen to form a Chinese superteam under the banner of the new Four Angry Men (4AM) organization seem all but confirmed.
Yang was not the only VG player that was reported to have been pursued by 4AM for its superteam. The team's carry player, Zhang "Eurus" Chengjun, more commonly known as "Paparazi," was also touted as another player being pursued by 4AM.
With no announcement from VG regarding Eurus departing the team alongside Yang and rOtK, it has been assumed that he has elected to stay with the team.
VG is also rumored to have acquired former Fnatic carry player Nuengnara "23savage" Teeramahanon to replace the departing Yang.
The organization recently posted a job opening for a Human Resources director that has to be "fluent in Chinese and Thai" and "familiar with Dota 2 and its tournaments." 23savage is from Thailand and was released from Fnatic at the end of July.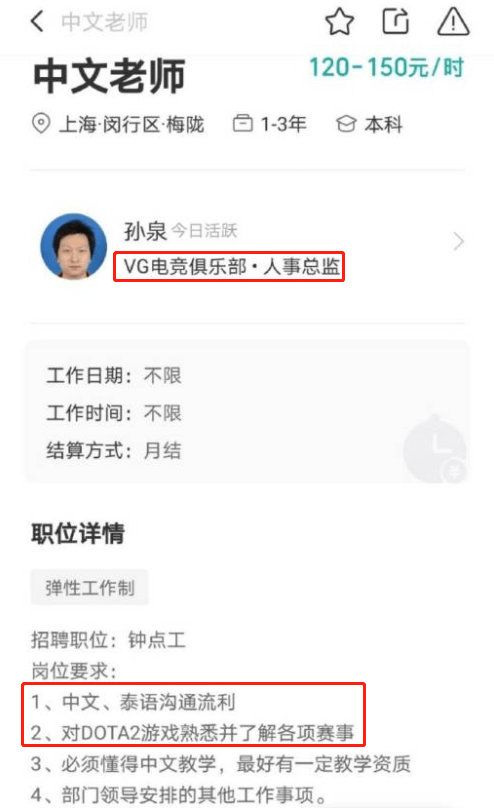 Yang and rOtK's departure from VG is but the first of many massive roster changes that is expected to come from the Chinese Dota scene in the coming weeks after its month-long hiatus in August.
Team Aster notably announced the departures of star players Song "Sccc" Chun and Pan "Fade" Yi at the end of last month.
With the formation of 4AM's superteam looming in the horizon, announcements are also expected from the likes of PSG.LGD and EHOME, whose players have been reported to be pursued by the new organization.
READ MORE: TI10 has broken the record for the all-time biggest prize pool in esports