The International 2019 (TI9), this year's iteration of Dota 2's annual marquee tournament, is almost here. 18 of the best Dota teams from all around the world will clash for the right to claim the coveted Aegis of Champions and the lion's share of the massive US$32 million prize pool.
Whether you're a long-time Dota fan or this will be your first time watching one of the biggest events in esports, here's what you need to know about TI9:
Schedule and Venue
TI9 will be split into two stages, a preliminary Group Stage and the Main Event. The Group Stage will be held from August 15-18 and will determine the seeding for the Main Event, which will run from August 20-25. While the Main Event will be open to watch live for fans in the Mercedes-Benz Arena in Shanghai, China, the Group Stage will be held at a separate venue and will not be available for live viewing.
All four days of the Group Stage and the Day 1 of the Main Event are scheduled to run from 9 a.m. to 7 p.m. GMT+8. Day 2 will kick off with the awarding of the winners of the TI9 Film Contest, the first of a number of special events for the tournament, with matches set to run afterwards from 10 a.m. to 7 p.m.
Day 3 will start with the announcement of the winning hero for the community "Arcana" Vote, with matches slated from 10 a.m. to 9 p.m. Day 4 will begin with the All-Star Game, with the matches beginning a bit later than usual at 10:40 a.m. and ending earlier at 6 p.m.
As TI9 starts to wind down with Day 5 of the Main Event, the cosplay contest will precede the matches that will determine the Top 3 teams from 10:40 a.m. to 5:40 p.m. The final day of TI9 will open with the Lower Bracket Finals at 10:40 a.m., followed by a short break before the Grand Finals begins on 2 p.m.
Format
As with previous TI's, the Group Stage will see the 18 participating teams split into two groups of 9 teams each where they play each other in best-of-two matches in a round-robin format.
The top four teams in each group will start the Main Event from the Upper Bracket, with the first-placed team of each group able to pick their opponents from either the third or fourth-place finishers in the opposite group. Meanwhile, the fifth to sixth-place teams from each group will proceed to the Main Event in the Lower Bracket, with the two bottom teams will be eliminated.
The Main Event will be a double-elimination bracket spread over six days. The Upper Bracket teams will have a relatively easier path to the championship, only needing to win three best-of-three series to advance to the Grand Finals and also having the cushion of dropping to the Lower Bracket should they lose a series.
Meanwhile, the Lower Bracket teams will start with a treacherous best-of-one first round that will see four teams eliminated right off the bat. The proceeding rounds of the Lower Bracket will all be best-of-three, but will have the losing teams from the Upper Bracket matches in the mix. A team starting from the Lower Bracket will have to overcome a grueling gauntlet of six series under threat of elimination just to get to the Grand Finals.
The Grand Finals will be a best-of-five series with no game advantage granted to the team coming from the Upper Bracket. The only advantage that Upper Bracket team will have is that their opponent from the Lower Bracket has to first win the best-of-three Lower Bracket Finals before they face off in the Grand Finals.
How to Watch
There will be a number of ways to watch TI9 for those who cannot go to the event itself. All tournament matches will be broadcasted live on multiple languages on the official Dota 2 Twitch and YouTube channels. There is also an option to watch in-game, which allows viewers to control their own camera and other viewer settings.
Valve has also partnered with Barcraft United to facilitate Pubstomps, or TI9 watch parties, in bars and other venues around the world. Check with Barcraft or other venues in your area to enjoy TI9 with your friends and other Dota 2 fans and enthusiasts.
You can also follow the official TI9 Twitter and Instagram accounts, as well as official media page, for behind-the-scenes and other content.
Teams
Of the 18 teams competing in TI9, 12 were given direct invites courtesy of their top 12 placements in the Dota Pro Circuit (DPC) leaderboards, where teams were awarded points based on their placements on the 5 Minor and 5 Major tournaments throughout the 2018-2019 season.
The remaining 6 teams qualified through qualifier tournaments for each of Dota 2's six competitive regions: North America, South America, Europe, CIS, China, and Southeast Asia.
Direct Invite Teams (based on DPC placement):
Team Secret (Europe)
Michal "Nisha" Jankowski
Yeik "MidOne" Nai Zheng
Ludwig "zai" Wåhlberg
Yazied "YapzOr" Jaradat
Clement "Puppey" Ivanov
Virtus Pro (CIS)
Roman "RAMZES666" Kushnarev
Vladimir "No[o]ne" Minenko
Pavel "9pasha" Khvastunov
Vladimir "RodjER" Nikogosyan
Alexei "Solo" Berezin
Vici Gaming (China)
Zhang "Paparazi灬" Chengjun
Zeng "Ori" Jiaoyang
Zhou "Yang" Haiyang
Pan "Fade" Yi
Ding "Dy" Cong
Evil Geniuses (North America)
Artour "Arteezy" Babaev
Sumail "SumaiL" Hassan
Gustav "s4" Magnusson
Andreas "Cr1t-" Nielsen
Tal "Fly" Aizik
Team Liquid (Europe)
Amer "Miracle-" Al-Barkawi
Aliwi "w33" Omar
Ivan "MinD_ContRoL" Ivanov
Maroun "GH" Merhej
Kuro Salehi "Kuroky" Takhasomi
PSG.LGD (China)
Wang "Ame" Chunyu
Lu "Somnus丶M" Yao
Yang "Chalice" Shenyi
Xu "fy" Linsen
Yap "xNova" Jian Wei
Fnatic (Southeast Asia)
Anucha "Jabz" Jirawong
Abed Azel "Abed" Yusop
Daryl "iceiceice" Koh Pei Xiang
Djardel "DJ" Mampusti
Kim "DuBu" Doo-young
Ninjas in Pyjamas (Europe)
Marcus "Ace" Hoelgaard
Adrian "Fata" Trinks
Neta "33" Shapira
Martin "Saksa" Sazdov
Peter "ppd" Dager
TNC Predator (Southeast Asia)
Kim "Gabbi" Villafuerte
Armel Paul "Armel" Tabios
Carlo "Kuku" Palad
Timothy "Tims" Randrup
Nico "eyyou" Barcelon
OG (Europe)
Anathan "ana" Pham
Topias "Topson" Taavitsainen
Sébastien "7ckngMad" Debs
Jesse "JerAx" Vainikka
Johan "N0tail" Sundstein
Alliance (Europe)
Michael "miCKe" Vu
Maximilian "qojqva" Bröcker
Samuel "Boxi" Svahn
Tommy "Taiga" Le
Aydin "iNSaNiA" Sarkohi
Keen Gaming (China)
Wang "old chicken" Zhiyong
Zhai "一" Jingkai
Ren "eLeVeN" Yangwei
Hu "Kaka" Liangzhi
Song "dark" Runxi
Qualifier Teams:
Newbee (North America)
Yawar "YawaR" Hassan
Quinn "CCnC" Callahan
Jingjun "Sneyking" Wu
Arif "MSS" Anwar
Johan "pieliedie" Åström
Infamous (South America)
Hector Antonio "K1" Rodriguez
Jean Pierre "Chris Luck" Gonzales
Adrian Cespedes "Wisper" Dobles
Elvis "Scofield" De la Cruz Peña
Steven "Stinger" Vargas
Chaos Esports Club (Europe)
Cheng "vtFaded" Jia Hao
Lasse "MATUMBAMAN" Urpalainen
Maurice "KheZu" Gutmann
Milan "MiLAN" Kozomara
Rasmus "MISERY" Filipsen
Natus Vincere (CIS)
Vladislav "Crystallize" Krystanek
Idan "MagicaL" Vardanian
Evgenly "Blizzy" Ree
Bakyt "Zayac" Emilzhanov
Akbar "SoNNeikO" Butaev
Royal Never Give Up (China)
Du "Monet" Peng
Gao "Setsu" Zhenxiong
Su "Flyby" Lei
Zhang "LaNm" Zhicheng
Tue "ah fu" Soon Chuan
Mineski (Southeast Asia)
Nikolay "Nikobaby" Nikolov
Kam "Moon" Boon Seng
Damien "kpii" Chok
Ryan Jay "Bimbo" Qui
Michael "ninjaboogie" Ross Jr.
You can also check out Road to TI9 series for a closer look at the participating teams at TI9.
Prize Pool Breakdown
TI9 has once again set the record for the biggest prize pool for a single esports event with over US$32.7 million and counting at the time of writing, according to the TI9 prize pool tracker. With 13 days left until the crowdfunding for the tournament ends, we could possibly see the prize pot swell up to 34 or even 35 million.
READ MORE: How the prize pools for The International became the biggest in esports
The champions of TI9 can walk away with over US$14.8 million, which could easily swell to more than 15 million as crowdfunding continues. For comparison, last year's champions, OG, won US$11,234,158.
Split five ways and ignoring any cuts from taxes and organizations, the members of the TI9 winning team could also set the record for the highest individual winnings from a single esports tournament with over US$3 million, exceeding the US$3 million that Kyle "Bugha" Giersdorf won for becoming the Fortnite World Cup Solo champion.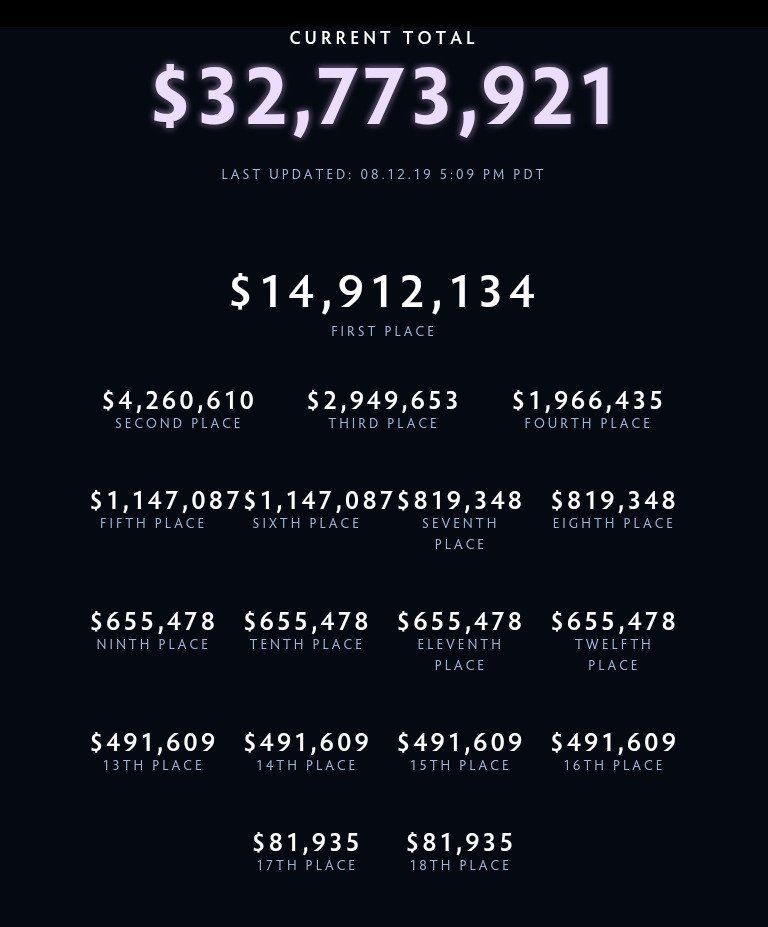 Even if the champions will pocket the lion's share of the prize pool, the podium finishers will still be rewarded handsomely. With the runners-up still getting US$4.2 million as consolation, while the third place team can go home with almost US$3 million.
Making it to the top four at the event will net almost US$2 million, while the fifth-sixth place teams will be guaranteed over US$1 million apiece. Landing in the Top 8 will earn teams over US$800,000, while the 9th-12th placers can still earn almost US$650,000 each. The 13th-16th teams can still pocket over US$480000, while the bottom two teams will have to settle for over US$80,000 each. Not too shabby.
For more information regarding TI9, check out the official tournament website.
READ ALSO: Road to TI9 — a closer look at the teams participating at The International