16-year-old Kyle "Bugha" Giersdorf dominated the Fortnite World Cup Solo Finals to take home the whopping US$3 million grand prize.
Beating out 99 of the best Fortnite players in the world, most of whom were much older than him, Bugha has now won the most prize money for an individual player at a single esports event at just 16-years old and rocketed up to number ten in the all-time esports highest earnings list.
Bugha made his mark early in the competition, notching nine eliminations and the Victory Royale to top the leaderboard with 19 points after Game one.
One of the other younger players competing in the Solo Final, a 13-year old Argentinian going by King, also showed that he could roll with the pros by taking down the likes of Tyler "Tfue" Tenney and Cody "Clix" Conrod in Game two. However, it was Clément "Skite" Danglot who emerged with the Victory Royale in the end.
In a tense Game three, FaZe Clan's Danny "Dubs" Walsh emerge victorious against Team Liquid's River "Riversan" Handley to move to third place in the leaderboard. Bugha retained his hold on the top spot despite lackluster showings in the last two games.
Game four saw FaZe Clan's Kyle "Mongraal" Jackson go on a rampage, only to be stopped by Harrison "Psalm" Chang who ended up with the Victory Royale and moved to third place in the boards.
In a pivotal Game five, Bugha padded his already significant lead by notching three eliminations and placing in the top five. Nate "Kreo" Lou ended up with the Victory Royale to take the third spot, with Psalm performing well enough to move up to second place.
Bugha held a comfortable 15-point lead heading into the final game of the Finals. Only Psalm and Kreo were in a position to wrest the top spot away from him, but both were eliminated well before they could nip at the heels of the eventual champion.
Swedish pro Crue would end up with the Victory Royale in the last game of the final, but Bugha had already won the tournament by that point.
Bugha finished his run to the Fortnite World Cup Solo Championship with 23 eliminations and 59 points — 26 more than runner-up Psalm, who had 33. Despite having no Victory Royales, NRG Esports' EpikWhale made a run in the last two games to finish with 32 points to edge Kreo out of third place.
Psalm took home US$1.8 million for his second-place finish, while EpikWhale won US$1.2 million for finishing in third.
Here's the Top 20 finishers for the Solo Finals, along with how much prize money they won: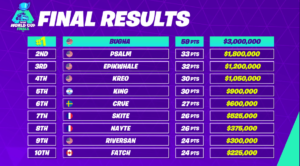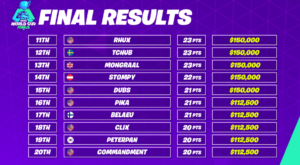 READ MORE: Fortnite World Cup Finals: Nyhrox and aqua reign supreme in duos competition