Dawnbreaker is the latest hero introduced in Captain's Mode, Dota 2's standard tournament mode. She was introduced to the game on April 9, but was only allowed in competitive games on September 11 during the release of Dota 2 patch 7.30c.
This means that Dawnbreaker will be playable in Dota 2's biggest tournament, The International 10. The hero's debut on the global stage has left pros wondering if she is balanced enough for competitive play.
---
OG Topson shows just how overpowered Dawnbreaker is in Dota 2
Topias Miikka "Topson" Taavitsainen, the midlaner for OG Esports recently demonstrated how strong Dawnbreaker can be in the right hands in a pub match.
Valora is typically played as either a tanky offlaner or a support who prioritizes her healing abilities.
Topson took advantage of the hero's durability while hammering opponents into submission. Thanks to Luminosity and Satanic, Topson is able to take on three enemy heroes alone while waiting for backup.
---
---
One of Dawnbreaker's biggest strengths is her laning flexibility. Valora's skillset includes two stuns, a global heal that also damages enemies and teleports Dawnbreaker, a passive heal, and a slow that functions as a pseudo-blink. Whatever a player needs, Valora can provide
Topson's highlight goes to show that the hero has a lot of untapped potential. Playing her mid, he focuses on maximizing Dawnbreaker's attack speed and damage by building items like Echo Sabre and Assault Cuirass, which keep her health up as enemies are taken down.
---
Miposhka believes it's too early to add Dawnbreaker to Captain's Mode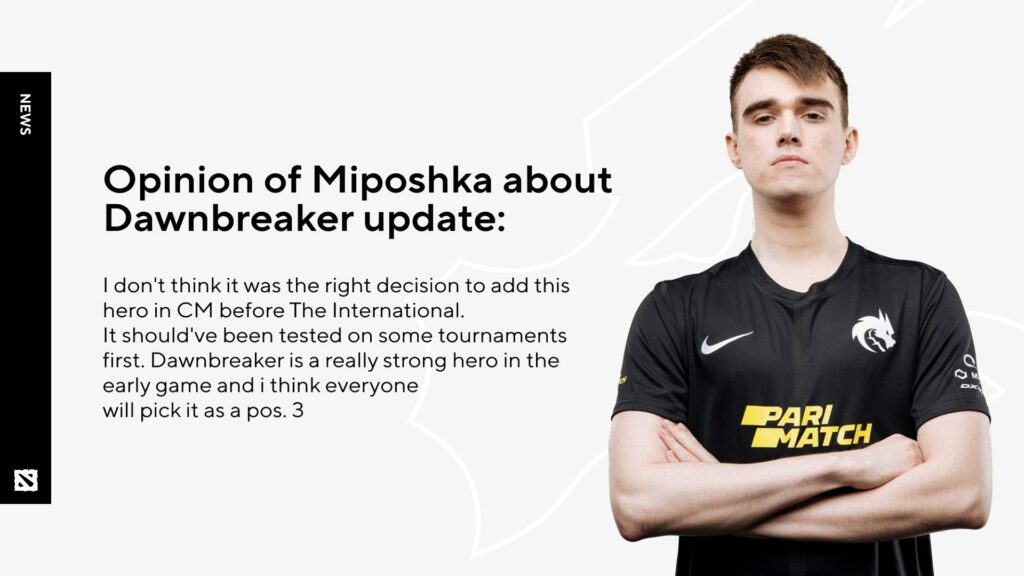 Yaroslav "Miposhka" Naidenov, the captain of Team Spirit, recently shared his thoughts on Twitter about the hero's inclusion into Captain's Mode, and he's not a fan.
Introduced less than a month before The International 10, and with no prior major tournament, there simply isn't enough time to gauge if the hero is balanced enough for Captain's Mode. So far, all we know is that she's one of the most banned heroes at the recent BTS Pro Series Season 8.
OG Esports and Team Spirit will be competing in The International 10 starting on October 7.
READ MORE: Why Io is the most banned hero of all time at The International