Yaroslav "Miposhka" Naidenov, the captain of Team Spirit, shared his thoughts for Dota 2 patch 7.30c on Twitter, specifically on the inclusion of Dawnbreaker into Captain's Mode.
Dawnbreaker was introduced to Dota 2 on April 9 and she is the latest hero added to the game. Since her introduction, she has gone through several balance changes and was admitted into Captain's Mode in the most recent Dota 2 patch 7.30c update on September 11.
---
---
Miposhka believes Dawnbreaker is too strong right now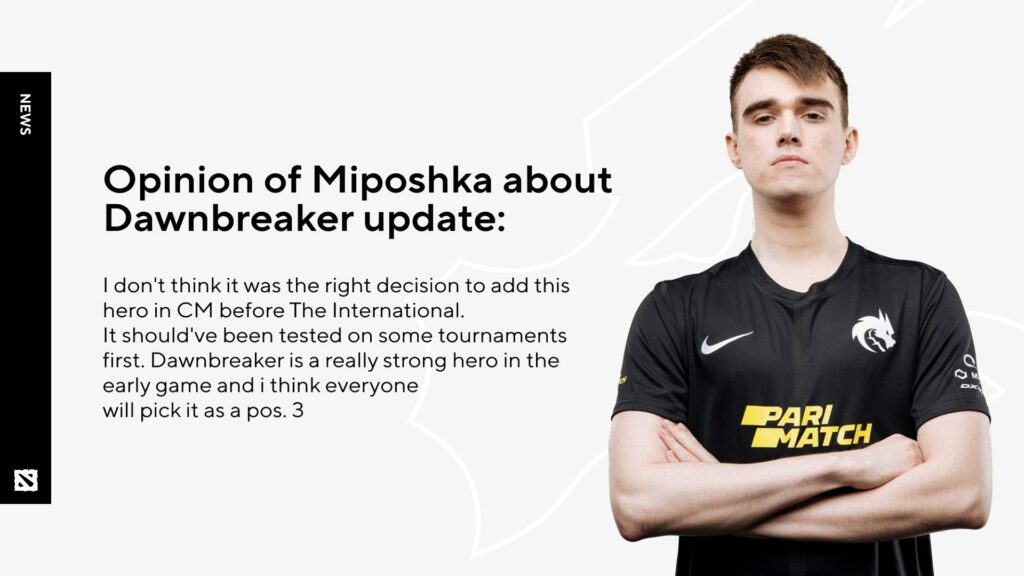 It's unheard of for a Dota 2 hero to make its first major debut in the biggest tournament in the world. Heroes are usually played in at least one Valve-sponsored tournament before appearing in The International.
Dawnbreaker is skipping that trial phase and heading straight to The International 10. With no DPC or major event, teams will have to quickly figure out how this hero fits into the meta, as she would have spent less than a month in Captain's Mode when TI10 starts.
Miposhka elaborated on the hero's strengths. "Dawnbreaker is a really strong hero in the early game and I think everyone will pick her as a position 3," he explained.
Miposhka and the rest of Team Spirit will be competing at The International 10 after having won the Eastern Europe Qualifier. Follow the team on Twitter for more updates.
READ MORE: Will Dawnbreaker be a hard-hitting offlaner or healing support at TI10?