German sportswear and footwear brand Puma is teaming up with Nintendo to bring out a fresh new collection for all fans of the Super Mario Bros. franchise.
Puma has redesigned their Future Rider, Clyde, and RS-Fast sneakers to reflect all three video titles compiled under Super Mario 3D All-Stars, which was released last September for the Nintendo Switch.
"We teamed up with Nintendo to create a shoe for every game in Super Mario 3D All-Stars," said Puma in a tweet.
The Puma Future Rider is based on the Nintendo 64 title Super Mario 64, released back in 1996. It comes in white color for its base, with blue, green, red, and yellow details taken from the outfits of Italian plumber brothers Mario and Luigi. The midsole shows off a classic row of brown bricks while the heel highlights a subtle wing imprint.
The Puma Clyde pays homage to Super Mario Sunshine, a GameCube title that transported Mario to the tropical paradise Isle Delfino. Its Puma blue and glossy Formstrip has been designed to remind players of the island's cool and calm waters. The model name "Puma Clyde" can be seen on the side in red lettering. A pair of yellow laces are included to bring out the sunshine in these kicks.
The latest title in Super Mario 3D All-Stars collection is the 2007 Wii game Super Mario Galaxy, which is what the RS-Fast pair is based on. The shoe incorporates indigo and white details, while on the heel are white dots representing heavenly bodies scattered across the galaxies.
If that's not enough, the tongue and the quarter show off cute stars taken directly from the game. One of the Power Stars has been imprinted on the shoe's heel.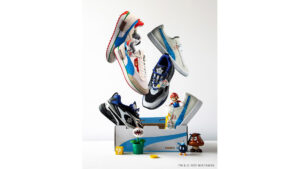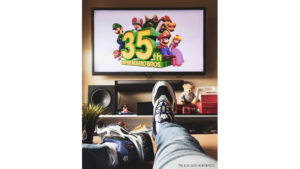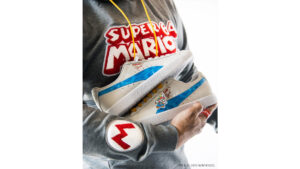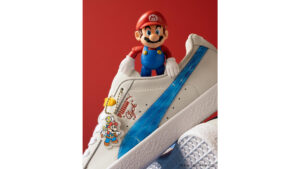 ---
---
All the shoes in this collection come with detachable Mario hangtags, each with a different art style according to the game's respective eras.
Puma will be releasing this Nintendo collection next month, November 27.
Before this Super Mario 3D All Stars collection, Puma has already released the RS Dreamer Super Mario 64 Basketball Shoes which comes in bright red and blue shades. Mario and the video game's text logo can be seen on the insoles.
READ MORE: The Adidas x Pokémon collection includes comfy tracksuits and cute tees