The idol anime Oshi no Ko introduces a captivating array of female characters, each with their own distinct personalities and talents. Among the noteworthy cast members, Kana Arima and Akane Kurokawa, both up-and-coming actresses, stand out as the most beloved supporting characters in the series. Their fates intertwine in a love triangle with the main character, Aqua Hoshino.
Kana, a prodigious child actor showcased in the hour-long pilot episode, possesses a remarkable talent for shedding tears within a mere 10 seconds. Nevertheless, as the storyline progresses, Kana's journey takes a poignant turn as she grapples with the harsh realities of the entertainment industry, facing a decline in her once-soaring popularity.
Adding to the authenticity of the series, J-pop singer and real-life idol, Akase Akari breathes life into the character through her mesmerizing Arima Kana cosplay.
---
---
Akase Akari brings Oshi no Ko's best girl to life in her Arima Kana cosplay
Among the myriad outfits showcased by this fashion-forward character, Akari chose to cosplay Kana in her high school uniform — an ensemble that includes a gray high-waisted skirt, a cropped blue coat, and a massive pink ribbon. Paying meticulous attention to detail, the cosplayer is also adorned with a matching beret and ribbon, showcasing Kana's impeccable sense of style.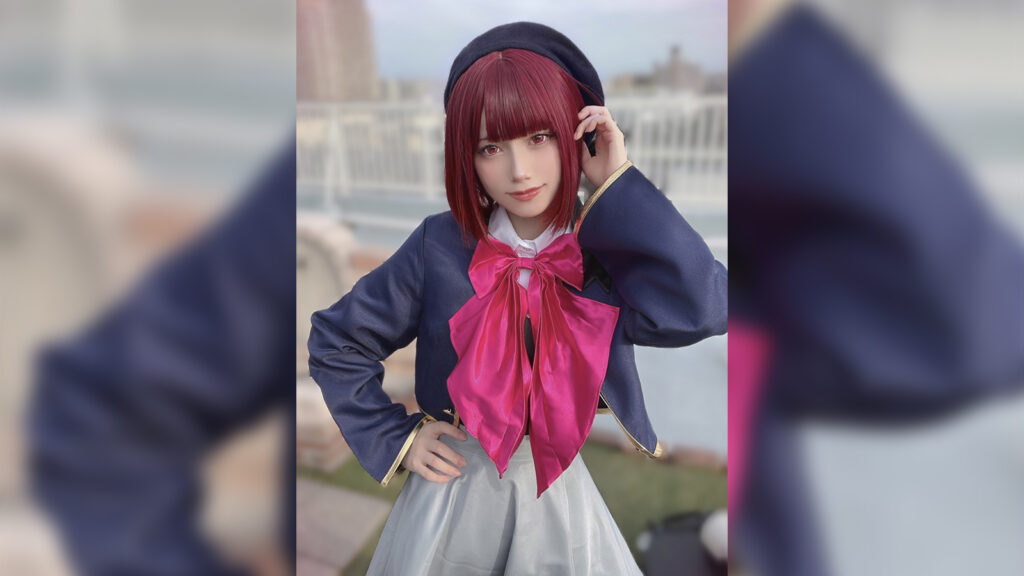 The Kana cosplayer's captivating photos capture the essence of her charm, portraying a determined expression that embodies her aspiration to become the brightest star in the entertainment industry.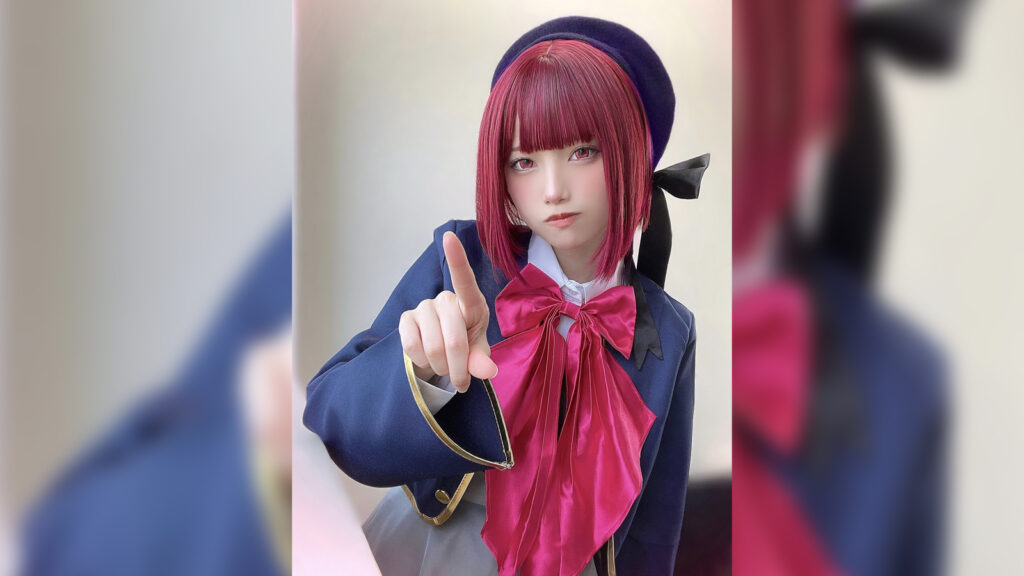 In the series, Kana shares a close friendship with Ruby and Aqua, the twins of Ai Hoshino, with whom she has worked with during her early years in the industry. The trio attends Yoto High School together, an exceptional institution in Japan that offers a specialized performing arts program.
Here's where you can watch Oshi no Ko.
Akari rose to fame with her captivating performance of the ending song "Koi no Yukue" for the anime My Dress Up Darling. Known for her remarkable cosplays, she frequently delights fans by portraying characters from popular anime and video games, including Spy x Family, Kaguya-sama: Love is War, Genshin Impact, and Honkai Star Rail. Notably, Akari's portrayal of Marin Kitagawa in a music video for My Dress Up Darling remains one of her most popular cosplays.
Fans can check out her other cosplays on her Twitter account (@akase_official).
READ MORE: Every reference explained in the Chainsaw Man anime opening sequence