Doga Kobo's Oshi no Ko has undoubtedly become the most popular anime show of the season, accompanied by an incredible opening song performed by J-pop duo Yoasobi.
The music video for the song, titled "Idol," has recently reached a significant milestone, garnering over 115 million views on YouTube as of the time of writing. Impressively, it has become the group's fastest music video to reach the coveted 100 million views mark, accomplishing this feat in just about a month since its release.
Premiering on April 12, the same day as the anime's pilot episode, the Idol MV features stunning and vibrant animation styles, juxtaposing bright and chaotic symbolism, all centered around the Hoshino family — Ai and her twins, Aqua and Ruby. Composed by Ayase and sung by Lilas Ikuta, the song provides an overview of the anime's plot, delving into the life of the protagonist, Ai Hoshino, as an idol. It portrays her as an artiste who hides her weaknesses and lives a life filled with falsehoods.
---
---
J-pop duo Yoasobi strikes gold with Idol MV as it surpasses 115 million YouTube views
To commemorate the achievement, an English version of the song will be released on Friday, May 26 on the artiste's channels.
The J-pop sensation expressed their gratitude to fans on their Twitter account and assured them that the series will only become more captivating moving forward.
The duo rose to fame with their debut single, "Racing into the Night," and has since become known for their performances of anime songs, including "Monster," "Gentle Comet," and "Ultramarine" for Beastars, as well as "The Blessing" for Mobile Suit Gundam: The Witch from Mercury. Their latest work, "Idol," is the opening theme for Oshi no Ko.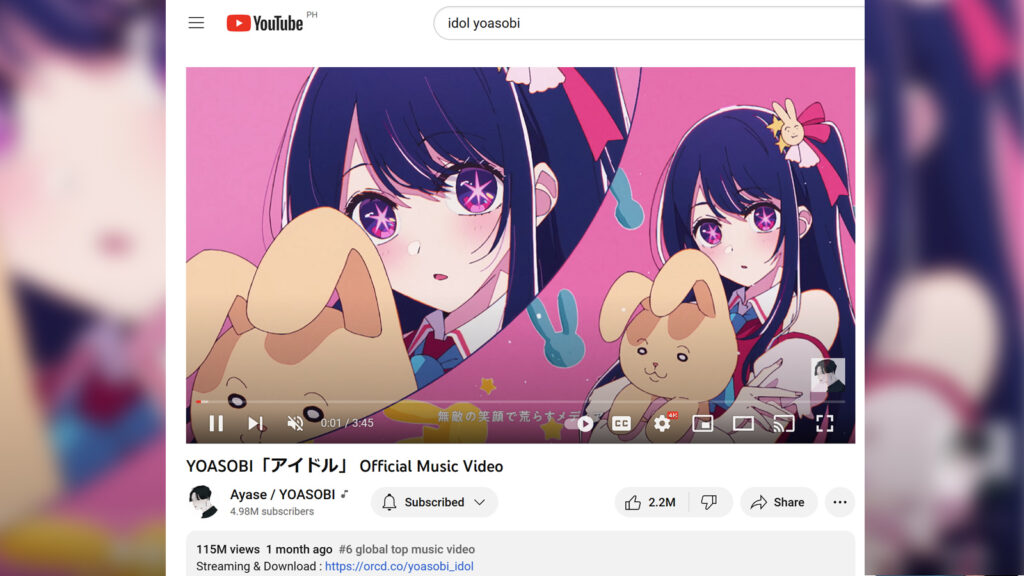 Created by Aka Akasaka, the mastermind behind Kaguya-sama, Oshi no Ko tells the story of Ai, a Japanese idol whose unexpected pregnancy compels her to take a hiatus from the spotlight.
Watch the full Idol MV below:
---
---
Follow ONE Esports on Facebook for more anime stories.
READ MORE: 10 anime references in rap music that only true otakus will understand