Streamer Zack "ZLaner" Lane recently picked up Turner "Tfue" Tenney's Street Sweeper class and shared his thoughts on the shotgun's playability in Call of Duty: Warzone.
Tfue usually rocks the Street Sweeper as a close-combat finisher alongside his RAM-7. Once the streamer hit the sidewalks and interiors of buildings, you'll see him empty the shotgun's clip and take a few squads down in an instant.
ZLaner's notes on Tfue's Street Sweeper class in Warzone
ZLaner gave us the details of the actual class, citing the different attachments Tfue uses. He highlighted the importance of the Ember Sighting Point for its increase in Effect Damage Range and the SAS Combat Stock for more Movement Speed.
When testing it out in Quads mode, ZLaner played alongside Guy "Dr Disrespect" Beahm IV and picked up 38 kills, proving that the Street Sweeper is not to be messed with.
While the streamer said the gun is definitely viable for close-range combat, the biggest downside of the Street Sweeper is the incredibly long reload time. It takes around 18 seconds to fill up an empty 18-slug magazine.
To remedy this flaw, ZLaner reloads as much as he can after downing an opponent and even jumps in and out of vehicles for quick cover.
---
---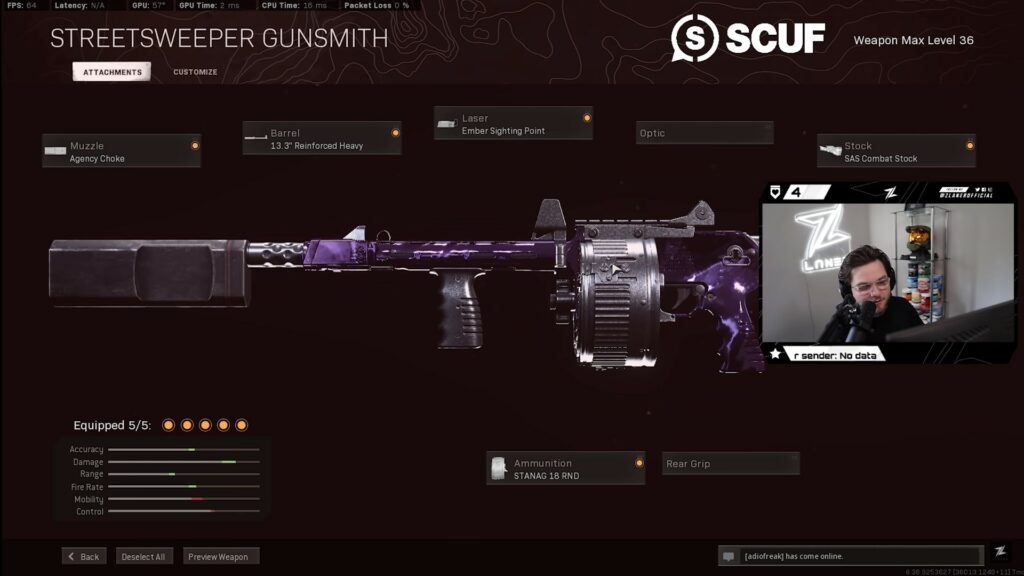 Here are the details to the Street Sweeper class:
Muzzle: Agency Choke
Barrel: 13.3″ Reinforced Heavy
Lazer: Ember Sighting Point
Stock: SAS Combat Stock
Ammunition: STANAG 18 RND
You can check out ZLaner's take on Tfue's Street Sweeper in his official video down below: