If you're looking for the best assault rifle in Modern Warfare 2 Season 2 Reloaded, you're looking for the ISO Hemlock.
According to a recent video from Call of Duty expert WhosImmortal on YouTube, the powerful rifle is the best in the category when it comes to the update.
"Not only does it have a super competitive TTK over range, up there with some of the harder hitting rifles — it also is about as easy to use as it can possibly get. The TAQ-56, the SCAR, is easy to use, this is also so so easy to use. I would argue even easier than the TAQ-56," he explained.
---
---
The ISO Hemlock continues to shred in Season 2 Reloaded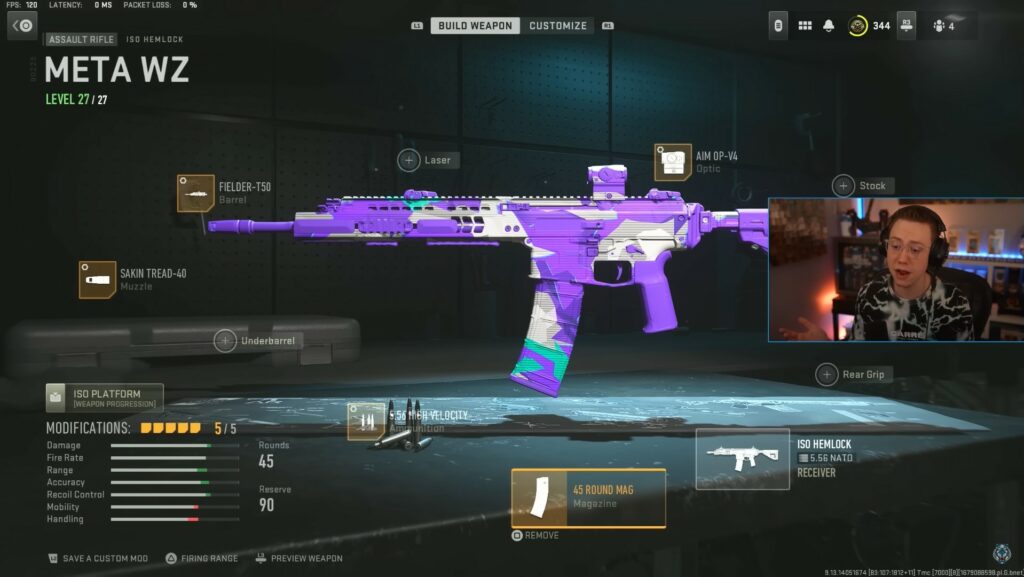 Kicking things off with the optic, WhosImmortal opts to use the AIM OP-V4 thanks to its faster ADS.
For the mag, he selects the 45 round mag and fills it with the 5.56 high-velocity ammo which is tuned to support better range and velocity.
Previously he would have been running an underbarrel but states he's recently been testing out the Fielder-T50 barrel instead. This is due to the range, velocity, and control it offers.
And lastly, it's the Sakin Tread-40 in the muzzle slot. The goal of this attachment "is to make this thing an absolute laser beam," according to WhosImmortal.
| | | |
| --- | --- | --- |
| SLOT | ATTACHMENT | TUNING (VERTICAL, HORIZONTAL) |
| Muzzle | Sakin Tread-40 | +0.52, +0.21 |
| Barrel | Fielder-T50 | +0.24, +0.22 |
| Optic | AIM OP-V4 | -1.16, -1.65 |
| Ammo | 5.56 High Velocity | +0.45, +6.39 |
| Mag | 45 Round Mag | N/A |
---
If you're looking to update your ISO Hemlock for the Modern Warfare 2 Season 2 Reloaded update, then we recommend trying this one out. It is worth noting that the weapon is still banned from ranked play and the Call of Duty League.
READ MORE: Another weapon banned from Call of Duty League and ranked play