If there's a player you want to trust when it comes to a TAQ-56 loadout, it's probably Anthony "Shotzzy" Cuevas-Castro. The OpTic star has made a name for himself in the Call of Duty League and represents one of the most renowned organizations in the space with OpTic Texas.
Even though he's often using an SMG, in a recent livestream on his Twitch channel, the 21-year-old provided a look at exactly how he builds out the assault rifle for optimal performance in ranked play.
---
---
Shotzzy shows off his updated TAQ-56 loadout on stream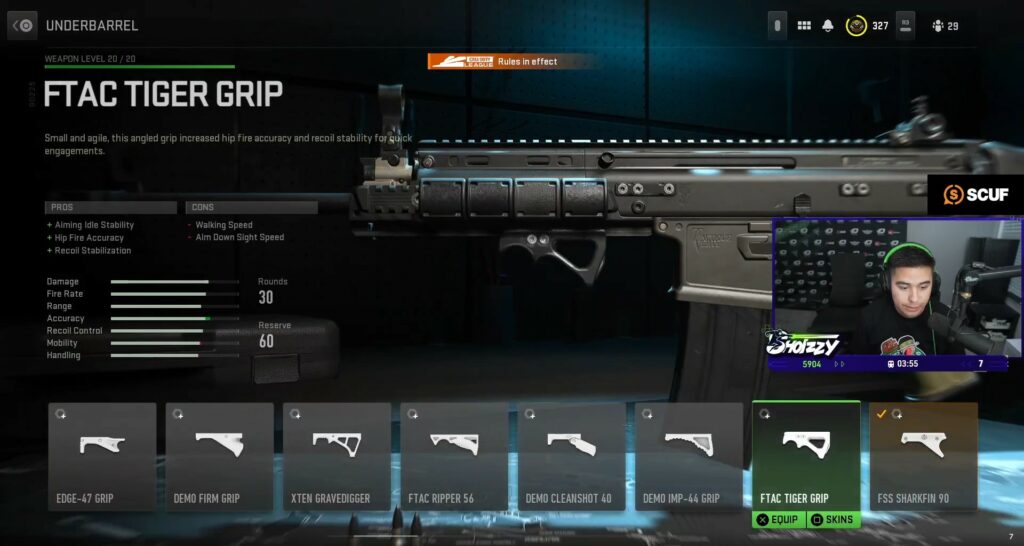 Not normally known for utilizing longer-range weapons, he's been a fan of this updated build. More players are moving to the weapon after the ISO Hemlock was banned in ranked as well as in the Call of Duty League. Players are still free to use the weapon in other modes including Warzone and we recommend this build from his OpTic Texas teammate Daniel "Ghosty" Rothe.
The main change from his previous loadout for the popular rifle is the Commando Foregrip rather than the FFS Sharkfin 90 he'd used previously in the underbarrel slot. The newly added attachment helps to improve aiming idle stability, hip fire accuracy, and recoil stabilization.
For the other slots, he runs the 17.5″ Tundra Pro bareel alongside a TV Cardinal for his stock and a Demo Cleanshot for the rear grip. In terms of ammunition, he selects the 5.56 High-Velocity rounds.
| | |
| --- | --- |
| SLOT | ATTACHMENT |
| Barrel | 17.5″ Tundra Pro barrel |
| Stock | TV Cardinal stock |
| Rear Grip | Demo Cleanshot grip |
| Underbarrel | Commando Foregrip |
| Ammo | 5.56 High-Velocity rounds |
---
---
You'll notice there's no tuning for the weapon and that's expected due to the fact that professional players are not allowed to do so in the Call of Duty League. This means it's safer for him to not get used to the changes he won't be able to utilize in his matches.
For you, we say have at it and make the weapon even better.
READ MORE: The best audio settings to hear footsteps in Warzone 2.0 and Modern Warfare 2