The ISO Hemlock was introduced in Warzone 2 Season 2 and since that fateful day, it's caused havoc across servers all around the world. The weapon was so powerful that it was banned from ranked play in Modern Warfare 2 and the Call of Duty League within the first two weeks.
The weapon currently sits atop the list of best guns in Warzone 2 on WZRanked.com. According to the stats provided there, the ISO Hemlock has been consistently holding at near 20% popularity with a current 19.5%.
This stat means that roughly 20% of players across every lobby are running this weapon out of all the weapons the game has to offer.
---
---
The ISO Hemlock has taken Warzone 2 Season 2 by storm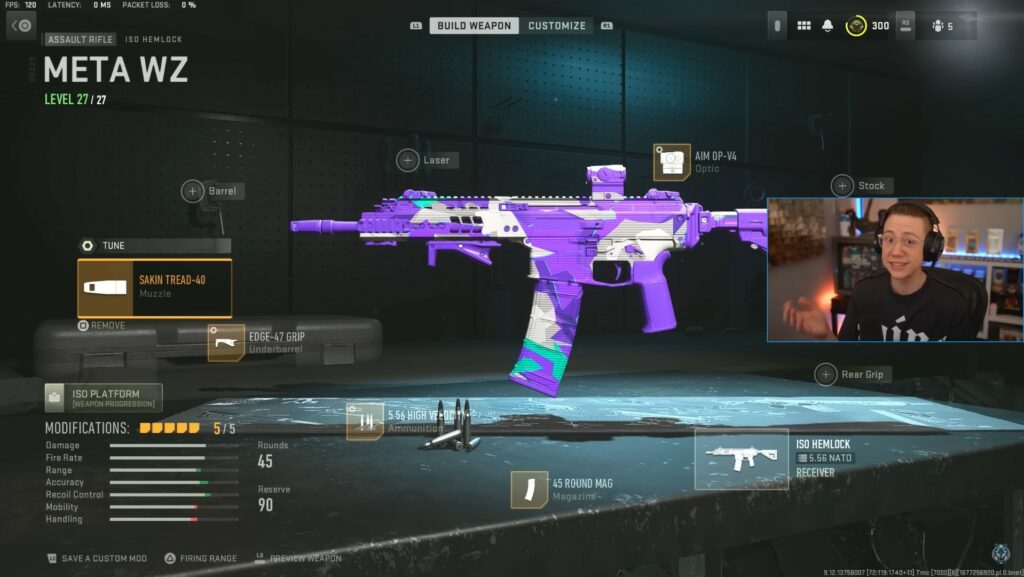 The weapon comes with a bit of kick to it, but if you fit it with the appropriate attachments you will barely notice it while you mow down your targets. The weapon's damage, range, and fire rate make it insanely useful in almost all situations which explains why it's the most popular weapon in the game currently.
There are a few unique ways to build the weapon out, but we'll share a base version from someone who definitely has the reputation to back it up.
Ghosty No tuning build
If you're looking for a solid starting point, this no tuning build from OpTic Texas' Daniel "Ghosty" Rothe is the one for you. Given that tuning is not allowed in the CDL, it's a base set of attachments ready for you to play with.
| | |
| --- | --- |
| SLOT | ATTACHMENT |
| Optic | Cronen Mini Pro |
| Underbarrel | FSS Sharkfin 90 |
| Rear Grip | Phantom Grip |
| Stock | Raid 90 |
| Ammunition | 5.56 High Velocity |
WhosImmortal Warzone build
For a more specific build meant for dominating Warzone, then you'll definitely want to check out this loadout from WhosImmortal. The goal of this build is to "make this thing as easy to use as possible," according to the video.
| | | |
| --- | --- | --- |
| SLOT | ATTACHMENT | TUNING (vertical, horizontal) |
| Muzzle | Sakin Thread-40 | +0.52, +0.21 |
| Underbarrel | Edge-47 Grip | +0.41, +0.22 |
| Optic | AIM OP-V4 | -1.16, -1.65 |
| Mag | 45 Round Mag | N/A |
| Ammunition | 5.56 High Velocity | +0.45, +6.39 |
READ MORE: Top five most popular weapons in Warzone 2.0