With years of FPS experience under his belt, Hershel "Dr DisRespect" Beahm IV prides himself as one of the most battle-hardened players of Call of Duty Warzone.
Just a few days ago, the streamer flexed his skills in the battle royale with an incredible no-scope sniper shot heard throughout all of Verdansk.
Watch Dr DisRespect's no-scope highlight in Call of Duty Warzone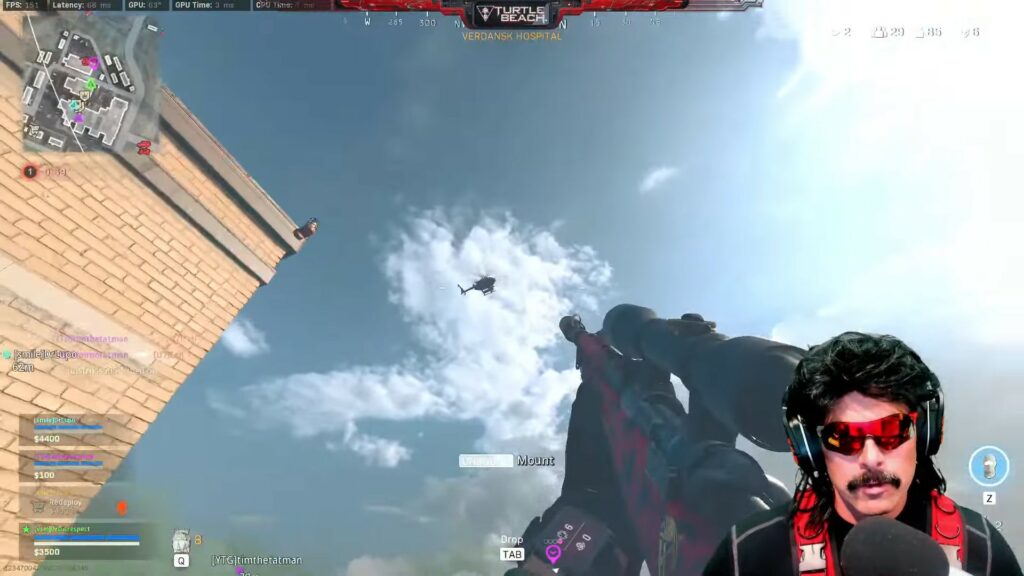 It was just another day for Doc and his usual squad. Making their rounds at Verdansk Hospital, the streamer picked up his classic Kar98k marksman rifle loadout and ziplined to the top of a building.
Since teammate Zack "ZLaner" Lane took an early death in the match, he managed to catch Doc's immaculate highlight in real time.
After calling out an approaching enemy helicopter, Dr DisRespect had his eyes on the skies for some Hail Mary shots.
The helicopter finally emerged from the clouds — a potential target for Doc. Despite the distance, the streamer instantly lined up to the flying vehicle and landed a killing no-scope shot on one of its passengers.
---
---
Seconds after the impressive highlight, and Z and Doc's baffled reactions, the kill feed confirmed that the no-scope was indeed a precise headshot.
Whether it was Doc's sniping expertise or just pure luck, it's safe to say that the highlight will go down as one of the best no-scopes in Call of Duty Warzone history.
You can catch Doc's full gameplay in the video down below:
Follow ONE Esports on Facebook for more CoD news, guides, and highlights.
READ MORE: TimTheTatman's Warzone reunion with Dr DisRespect is proof that bromances do exist