After the nerf to the popular Bren light machine gun, players have been searching for the best gun for Warzone in Season 2. The Cooper Carbine is a fast-firing assault rifle that can be kitted out to give you an edge in long-range fights in Caldera, and it is shaping up to be one of the strongest weapons in the game with the right attachments.
The PC and console metas are very different, according to FaZe Clan's Kris "Swagg" Lamberson, largely due to the lack of a field of view (FOV) slider on console. Swagg recently hosted his first console-only tournament, and he noticed that one gun, in particular, was dominating the lobby.
"The Cooper Carbine is the number one Warzone meta gun today. It dominates Warzone in console, and is actually currently dominating Warzone in general," the FaZe streamer said.
---
---
Best gun for Warzone console: Cooper Carbine loadout, attachments, class setup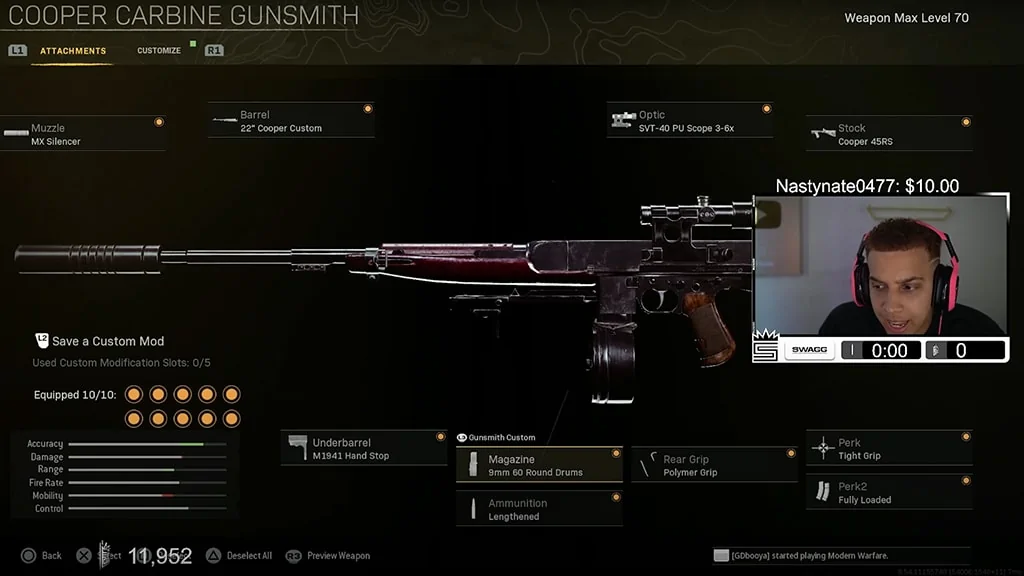 | | |
| --- | --- |
| SLOT | ATTACHMENT |
| Muzzle | MX Silencer |
| Barrel | 22″ Cooper Custom |
| Optic | SVT-40 PU Scope 3-6x |
| Stock | Cooper 45RS |
| Underbarrel | M1941 Hand Stop |
| Magazine | 9mm 60 Round Drums |
| Ammunition | Lengthened |
| Rear Grip | Polymer Grip |
| Weapon Perk 1 | Tight Grip |
| Weapon Perk 2 | Fully Loaded |
This build increases the fire rate of an already fast-firing weapon, in addition to improving your accuracy with attachments to help with recoil control. This is a long-range class setup, so it is best paired with a submachine gun for close-quarter engagements.
The MX Silencer, Cooper 45RS, m1941 Hand Stop, and Polymer Grip all help with accuracy and recoil control, turning the gun into a laser at long range.
At the same time, the 22″ Cooper Custom barrel reduces scope sway and gun bob and boosts the fire rate. To keep things feeling snappy, the 9mm 60 Round Drums further increase the ADS speed and fire rate.
The Tight Grip perk caps it all off, increasing accuracy while continuously firing. This is especially helpful when you need to track someone at a distance.
Swagg dropped a whopping 35 kills with this class setup in Warzone's Quads mode, more than double that of any of his teammates. You can watch his full gameplay in the video below.
READ MORE: Warzone is the easiest battle royale right now, says Tfue