The RPK is one of the most devastating LMGs in Warzone 2.0 and Modern Warfare 2. It combines the range and stopping power of an LMG with the mobility and handling of an assault rifle, making it truly a beast to contend with.
It is a particularly strong pick for Al Mazrah, thanks to its excellent range and large 75-round magazine, which allow you to mow down entire squads.
Here's a look at the best RPK loadout and class setup.
---
---
The best RPK loadout and class setup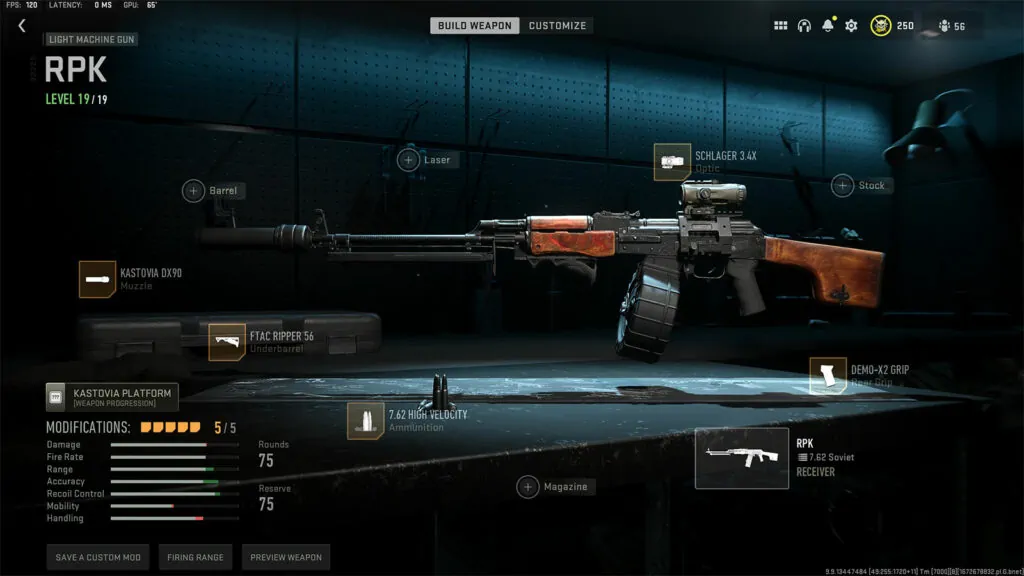 | | |
| --- | --- |
| SLOT | ATTACHMENT |
| Optic | Schlager 3.4x |
| Rear Grip | Demo-X2 Grip |
| Muzzle | Kastovia DX90 |
| Underbarrel | FTAC Ripper 56 |
| Ammunition | 7.62 High Velocity |
The RPK is currently the most popular weapon in Al Mazrah, according to WZ Ranked, sitting above even the Fennec 45 and Kastov 762.
It also plays more aggressively compared to the RAAL MG, providing much more maneuverability in mid-range engagements.
This build, courtesy of WhosImmortal, prioritizes recoil control and bullet velocity, turning the weapon into a laser beam at range.
The Demo-X2 Grip improves recoil control, while the Kastovia DX90 suppressor also increases bullet velocity. Paired with the FTAC Ripper 56 and 7.62 High Velocity ammunition, this particular setup should feel very reliable in hand.
READ MORE: How to earn all Modern Warfare 2 Atomgrad Raid rewards