Riot Games has a stacked weekend of competitive Valorant matches lined up for the VCT EMEA Stage 1 Challengers Group Stage from March 11 to 14.
Week 5 will now include four additional matches that were previously postponed due to the ongoing Ukraine conflict with Russia.
However, Russian organization Gambit Esports is notably missing from the schedule with three games still left to play. Riot did not provide an official reason for the team's absence.
---
Riot Games adds four more matches to the VCT EMEA Stage 1 Challengers for Week 5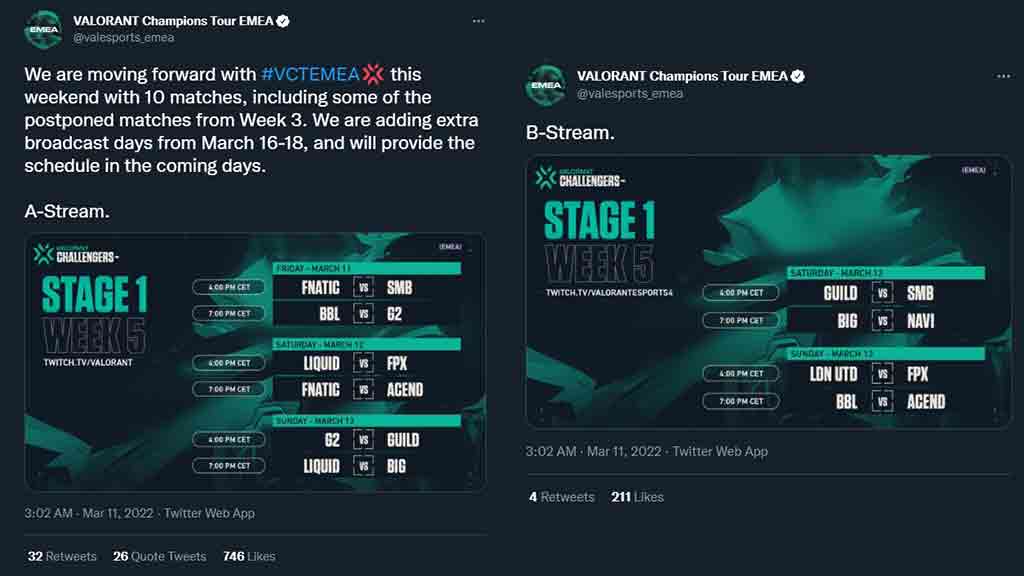 The competitive weekend begins on March 11 with a match between SuperMassive Blaze and Fnatic, followed by another series featuring G2 Esports and BBL Esports.
The next two days will feature four matches each, with the VCT EMEA Stage 1 Challengers broadcast split between two Twitch streams.  
March 12's A-Stream matches will see Team Liquid going up against FunPlus Phoenix, and Fnatic facing Valorant Champions 2021 winner Acend. Guild Esports will battle SuperMassive Blaze, while BIG will match up against Natus Vincere over in the B-Stream.
Week 5's final day, March 13, will also feature four matches. G2 Esports will first take on Guild Esports, followed by Team Liquid versus BIG on the A-Stream. LDN UTD will face FunPlus Phoneix, while BBL Esports goes up against Acend on the B-Stream.
All matches are scheduled to take place at 11:00 p.m. GMT+8 | 7:00 a.m. PT | 3:00 p.m. PT | 4:00 p.m. CET and 2:00 a.m. GMT+8 | 10:00 a.m. PT | 6:00 p.m. GMT | 7:00 p.m. CET.
---
---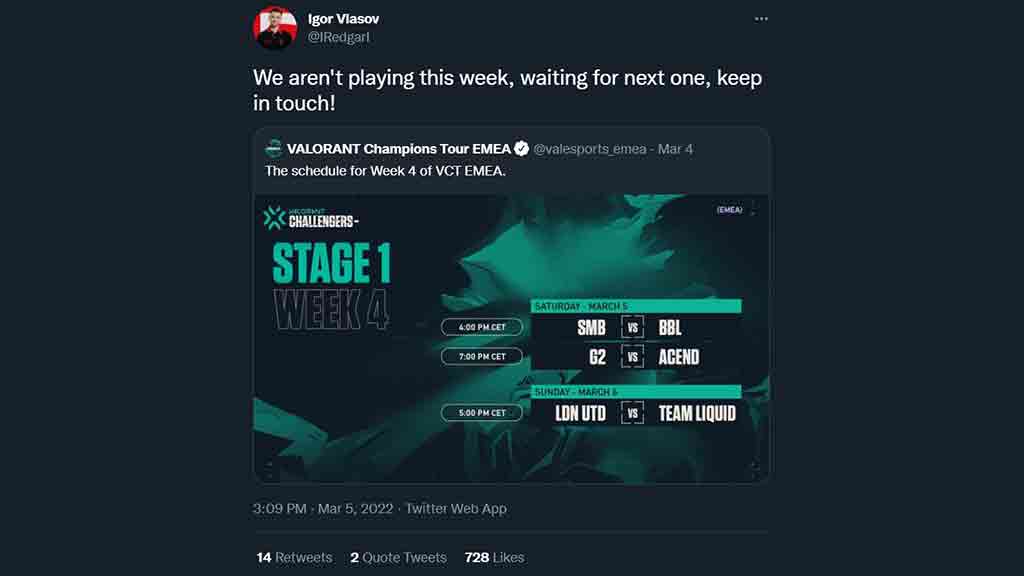 Gambit Esports was originally scheduled to kick off Week 5's VCT EMEA Stage 1 Challengers' matches with a game against LDN UTD. While Riot Games did not explain why the VCT Stage 3 Masters Berlin champions were left out of the schedule, it's likely due to the ongoing Russian invasion of Ukraine.
Week 5 was supposed to be the final week of the VCT EMEA Stage 1 Challengers Group Stage. However, after the delays in Week 3 and 4, there will still be five more games to play before teams can move on to the playoffs.
To make up for the lost time, Riot Games has announced that it is adding extra broadcast days from March 16 to 18 in order to conclude its group stage.
READ MORE: Hiko explains what went wrong with 100 Thieves' Valorant roster