To find success in Valorant, you need sharp aim, in-depth strategies, and excellent team coordination.
But having something extra also doesn't hurt — like a perfectly timed lineup, or a Valorant weapon skin with custom sound effects and visuals that make you feel like a star.
Even pro players swear by certain weapon skins. In a recent behind-the-scenes video at their bootcamp ahead of the VCT NA Last Chance Qualifier, Sentinels players revealed their preferred weapon skins in-game that help them play better.
According to them, these skins just hit different.
---
---
Sentinels Valorant roster names their favorite Valorant weapon skins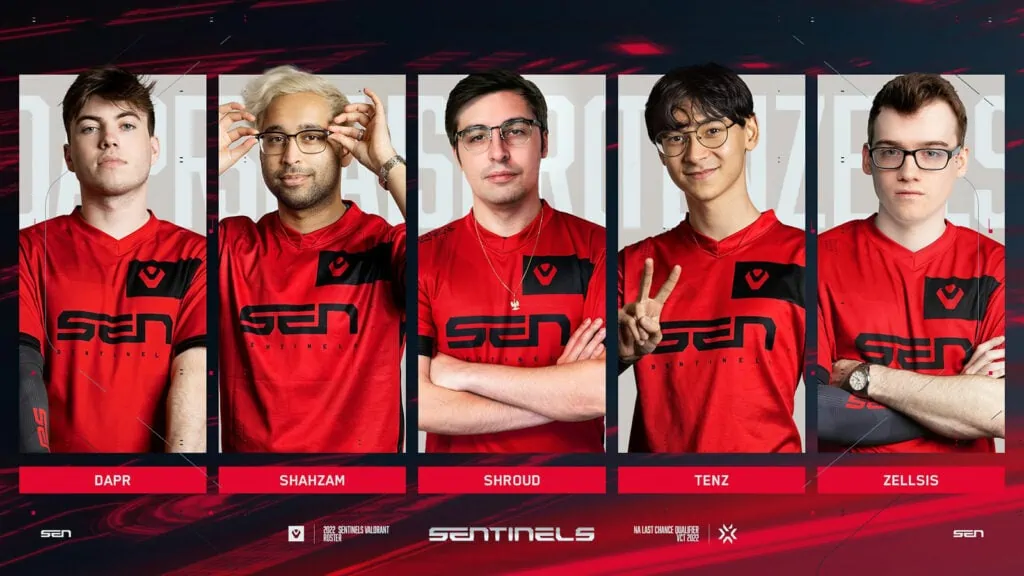 Shahzeb "ShahZaM" Khan immediately picked the Ion bundle as his favorite skin set. In fact, the 28-year-old waited five months for the Ion Sheriff to show up in his Valorant in-game store.
However, Sentinels coach Shane "Rawkus" Flaherty is partial toward the Prime Vandal. It's one of the best skins in the game, he said, and ShahZaM also agreed.
"I always go back to the Prime Vandal," said ShahZaM. "I feel like you just multi-frag with the Prime Vandal."
The Reaver Vandal also got a special mention from the Sentinels in-game leader. "With the Reaver Vandal, I just get one-taps," he said. "And if you pick the Reaver Vandal up from someone else, it gives you better aim."
That said, the popular RGX bundle did not get much love from the boys in red as ShahZaM declared his aversion to the skin bundle. "If you drop an RGX Vandal to me, I'm going to give it to someone else and buy a gun," he said.
Tyson "TenZ" Ngo also did not favor the RGB-inspired skin set. "I've never whiffed more than with the RGX Vandal," said TenZ. 
On the other hand, Michael "Shroud" Grzesiek was surprised to hear his teammates' takes on the RGX bundle, especially since it was his weapon skin of choice.
"I use all RGX. Everything," concluded Shroud.
Elsewhere, Michael "dapr" Gulino selected the Japanese folklore-inspired Oni bundle as his preferred weapon skin, while new addition Jordan "Zellsis" Montemurro chose the alien-like Spline set.
It's not even the fanciest skins that win out all the time. In a surprising twist, TenZ added that the Recon Ghost — a military-style bundle that is one of the game's most realistic — actually gives him aimbot.
| | |
| --- | --- |
| SENTINELS PLAYER/COACH | FAVORITE VALORANT WEAPON SKIN |
| TenZ | Reaver Vandal, Recon Ghost |
| ShahZaM | Ion Operator, Prime Vandal, Singularity Phantom |
| Shroud | RGX |
| dapr | Oni |
| Zellsis | Spline |
| Rawkus | Prime Vandal, Recon Phantom, Gaia Vandal |
---
---
You can catch Sentinels in action again in the VCT NA Last Chance Qualifier in August.
READ MORE: These organizations have reportedly made it to the next round of VCT 2023 partnership