Riot Games has announced that its Valorant Champions bundle has raised US$7.5 million for the 16 qualified teams at the event.
To celebrate Valorant's first-ever world championship tournament, Riot Games released an exclusive skin bundle that would only be available until December 13, 2021.
Riot Games announced that half of the revenue from the Valorant Champions Bundle would go to the participating teams, which means that the collection raised around US$15 million in total.
Valorant Champions bundle raises at least US$468,750 for each team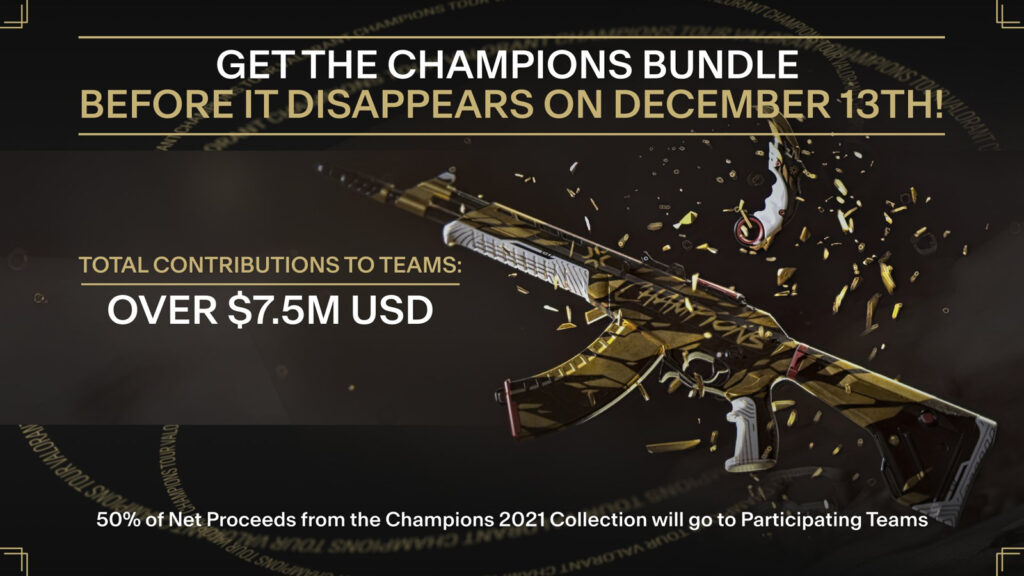 Valorant Champions 2021 features 16 of the best teams in the world who've earned their place in Riot Games' first-ever world championship. The majority qualified into the tournament by securing enough VCT points. while Gambit Esports made it into the competition by winning VCT Stage 3 Masters Berlin.
The 16 teams are competing for the US$1 million prize pool at Valorant Champions, an amount that's dwarfed by the Valorant Champions bundle that raised over US$7.5 million dollars.
This means each team at the event will walk away with at least US$468,750, which is more than the first place cash prize of US$350,000 awarded to the event winner.
With the bundle still being sold in the store until December 12, 2021, teams stand to gain more from Riot Games' crowdfunding efforts.
---
---
What is the Valorant Champions bundle?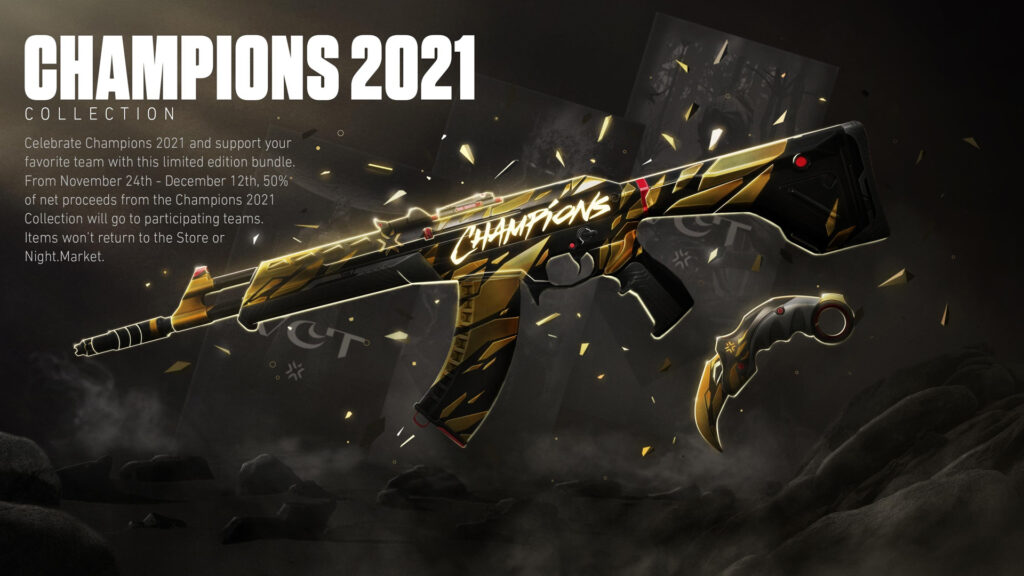 Weapon skins in the bundle include the Champions Vandal and the Karambit knife. Both feature the Valorant Champions 2021 black, gold, and red color themes.
What makes them unique is the Champions Aura design. A glowing outline appears on the Vandal and Karambit knife if you are the top fragger in the match. The Vandal's Champions text on its side also lights up after each kill.
The Valorant Champions bundle costs 6,264 VP and will only be available from November 24, 2021, to December 13, 2021. It will not return to the in-game store or the Night Market.
READ MORE: How to get the free VCT spray and gun buddy in Valorant