The new Episode 4 Act II Valorant Battle Pass comes with three new weapon skin lines, including Striker, Lycan's Bane, and the absolutely adorable Divine Swine.
Featuring none other than the portly Theo the Pig, who made a previous appearance in a player card that showed him flying away from Ascent, Divine Swine is probably one of the cutest weapon skins in Valorant to date.
---
---
What's the story behind the Divine Swine skin in the new Valorant Battle Pass?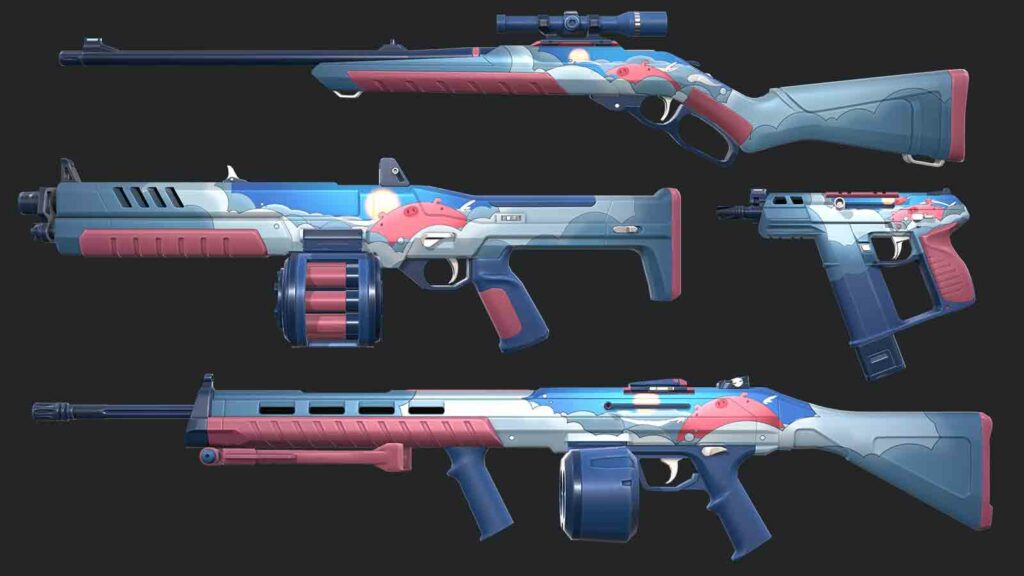 When talking about the best weapon skins from previous Battle Passes, two skin lines come to mind – Ruin and Velocity. The Ruin melee boasts a sleek design that looks similar to Game of Thrones' Valyrian steel dagger, while Velocity brought Valorant fans the first Karambit melee in a Battle Pass.
Divine Swine goes in the opposite direction. It's not cool or edgy, but what makes it so special is the fact that it's the first troll skin we're getting from a Battle Pass.
This brings to mind the Elderflame set, which had fans wondering what exactly the trigger of each weapon was. The Gravitational Uranium Neuroblaster had an odd-looking Baton melee. The Nerf-inspired BlastX set had a cheeky finisher that put opponents in a Christmas gift box.
Divine Swine has a cute, round pig with wings flying in the sky. As it turns out, it started out as a misinterpretation by one of Riot's interns who had been tasked to create a pink-themed skin, according to Laura Baltzer, Associate Producer at Riot Games.
The best part about this is that you can equip the skin on the Judge, the most tilting weapon in Valorant. Nothing quite beats getting killed by a shotgun with a pig on it. For good measure, it even has a weapon skin animation that shows more pigs with wings flying through the sky.
The Valorant Episode 4 Act II Battle Pass will be available on March 2.
Riot Games has yet to announce when the Act ends, but if the previous Battle Pass is any indication, players will have 10 weeks to unlock all the items.
Act II also comes with the new Gaia's Vengence skin bundle, alongside the highly anticipated Yoru rework.
READ MORE: Valorant Gaia's Vengeance skin bundle is infused with a dark, ancient power