Team Envy's Victor "Victor" Wong has tested positive for COVID-19 two days before the North American squad is set to compete at Valorant Champions 2021.
"A member of Team Envy produced a positive result from a PCR test," Riot Games announced via Twitter.
Team Envy's Victor tests positive for COVID-19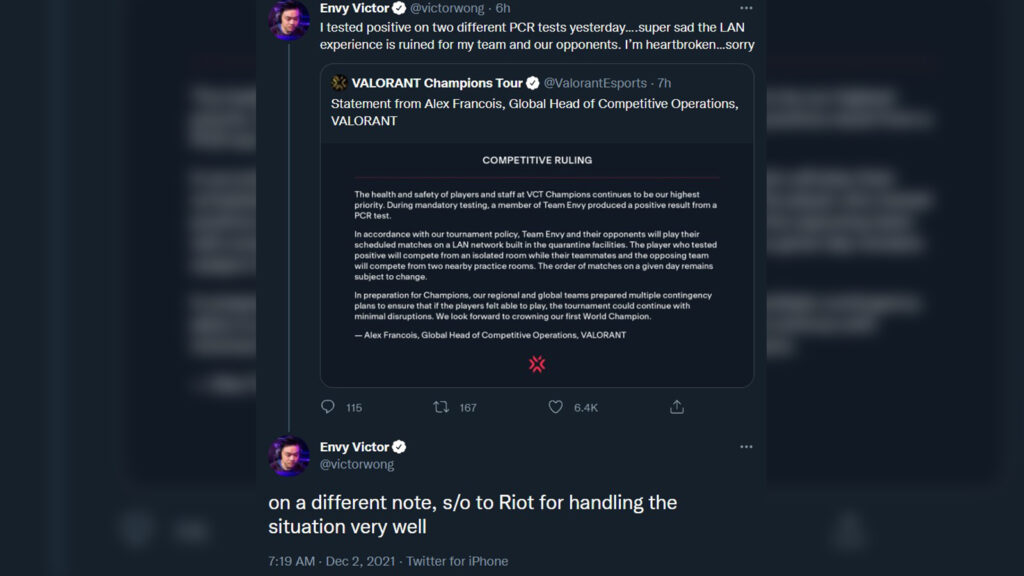 Riot Games' Global Head of Competitive Operations, Alex Francois, announced that Team Envy had a member who produced a positive result during the tournament organizer's frequent mandatory testing protocol.
Shortly after the news broke, Victor revealed he tested positive on two different PCR tests a day before Valorant Champions 2021 started.
"Super sad the LAN experience is ruined for my team and our opponents," he expressed. "I'm heartbroken. Sorry."
---
---
Riot Games' competitive ruling for Valorant Champions 2021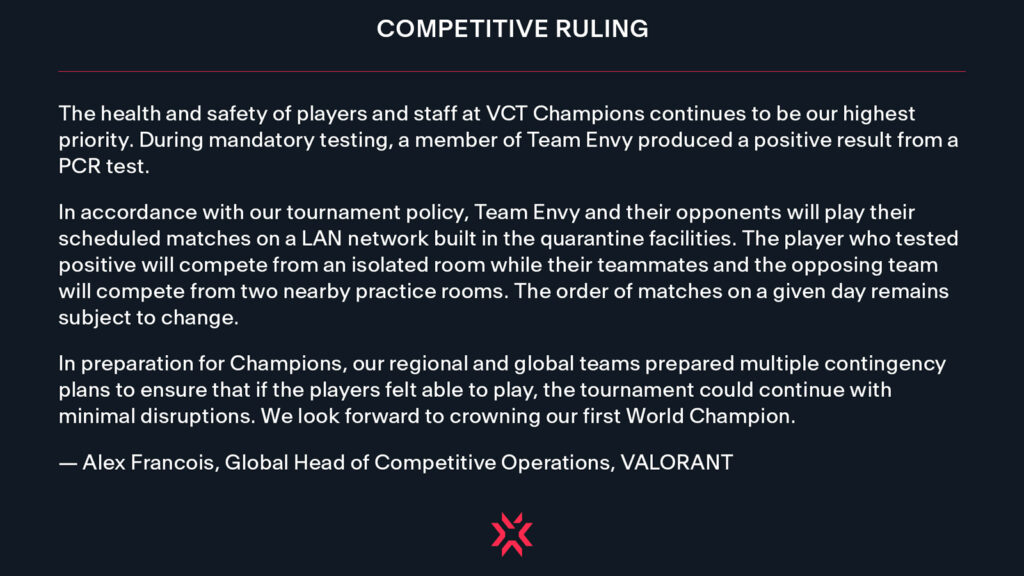 Envy was the second roster to have a member test positive for COVID-19. Riot Games previously announced that Team Liquid's Nabil "Nivera" Benrlitom tested positive for COVID-19 a day before Champions began.
According to Riot Games' policy, "when a player returns a positive result for COVID-19, but feels well enough to compete and chooses to play, the affected team and their opponents will play the scheduled match on a LAN network built in the quarantine facilities."
Envy will still be allowed to play with Victor within a LAN environment, but not on Valorant Champions 2021's main stage.
Team Envy's first match of the tournament is scheduled to take place on December 4 at 1:00 a.m. GMT+8, or December 3 at 5:00 p.m. GMT | 9:00 a.m. PT.
Team Envy is one of the favorite teams competing at Valorant Champions 2021. They were the runner-up team during VCT Stage 3 Masters Berlin, where they lost to Gambit Esports 0-3 in the grand final.
READ MORE: Sentinels ShahZaM reveals the 3 teams that impressed him during scrims