Team Liquid's Nabil "Nivera" Benrlitom has tested positive for COVID-19 a day before Valorant Champions 2021 is set to kick off.
"A member of Team Liquid produced a positive result from a PCR test," Riot Games announced via Twitter.
Team Liquid's Nivera tests positive for COVID-19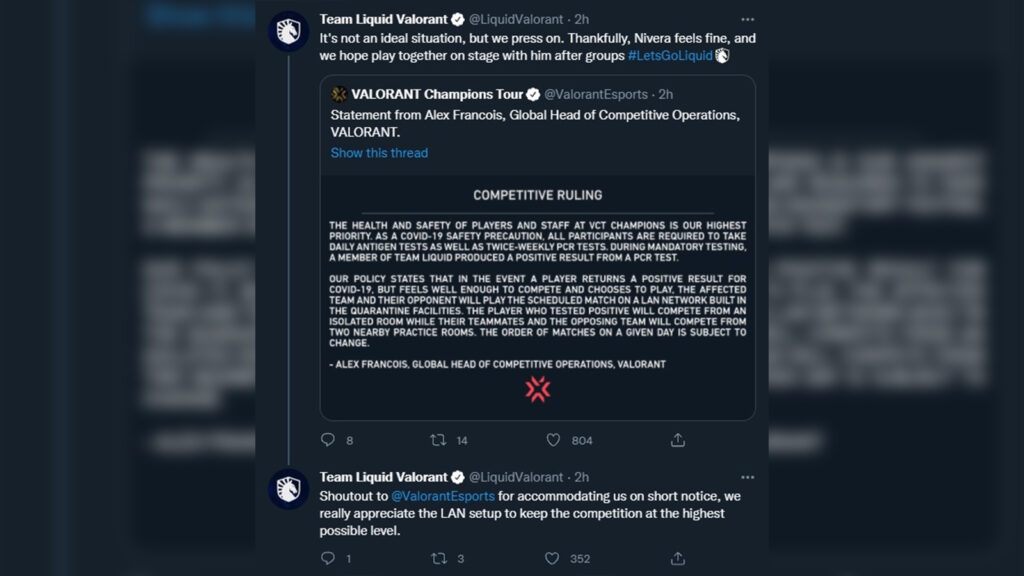 The European esports organization disclosed that their member was the one who tested positive for COVID-19.
"It is not an ideal situation, but we press on," write Team Liquid. "Thankfully, Nivera feels fine, and we hope [to] play together on stage with him after [the group stage]."
---
---
Riot Games' competitive ruling for Valorant Champions 2021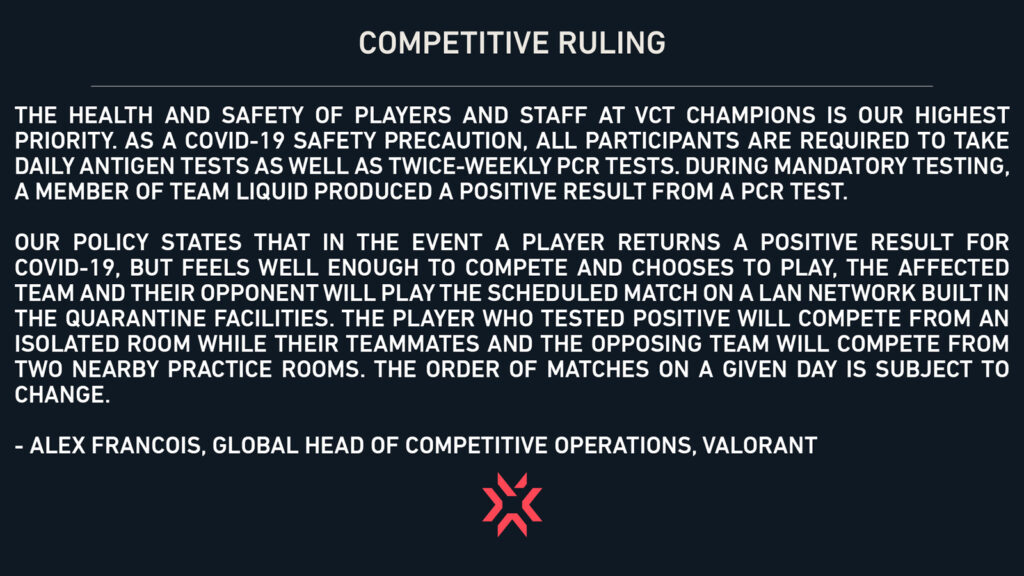 According to Riot Games' policy, "when a player returns a positive result for COVID-19, but feels well enough to compete and chooses to play, the affected team and their opponent will play the scheduled match on a LAN network built-in the quarantine facilities".
Team Liquid will still be allowed to play with Nivera within a LAN environment, but not on Valorant Champions 2021's main stage.
"He will compete from an isolated room while [his] teammates and the opposing team will compete from two nearby practice rooms," explained Alex Francois, Valorant's Global Head of Competitive Operations.
Team Liquid's first match of the tournament on December 3 was also moved to 4:00 a.m. GMT+8 | 1:00 p.m. PT | 9:00 p.m. GMT to account for the offsite play.
Nivera joined Liquid on September 25, 2021, and helped the team qualify for Valorant Champions 2021 by winning the EMEA Last Chance Qualifier, where they defeated Guild Esports 3-1 in the Grand Final.
READ MORE: Sentinels TenZ: 'I bring the firepower, I bring the TenZ effect'